9 foolproof ways to get an apartment in SF
Let's face it, trying to get an apartment in SF is a nightmare; even worse than the one where you've forgotten to study for your finals and your teacher is Charlize Theron and you forgot pants and it's really cold. So, in order to help you guys out, we've compiled a few anecdotes, tricks, and real, legit advice from an SF real estate agent/our friend, Veronica. So, read on and find out how to land that sweet, sweet apartment!
1. Be on top of your sh*t
Veronica: "Set up an RSS Feed on CL so you get a notification when new apartments in your parameters are posted, then respond first."
2. Bring a life resume
V: "A personal bio including your job, hobbies, and positive attributes with a photo on top [will help them] remember you."
3. Show up with a filled-out application
V: "A completed, generic rental application (just Google it) with your employer's info, work history, personal & professional references, etc. They might accept this boilerplate form, and if they don't, you have all your info in one place to easily transcribe for a quicker turnaround."
4. Have your credit score ready
V: "A recent credit score printout. They might charge you $50 to run their own, but they might accept yours. Either way, it shows you are creditworthy and serious."

5. Get a letter from your boss verifying you're not a vagabond
V: "Have a letter from your employer verifying your income, with a recent date on top, and preferably on company letterhead."
6. Bring your checkbook (Yes, that obsolete thing in your... closet? Desk? Where did you put that?)
V: "Have two checks: one for the deposit after you find out how much it is, and another for the first month's rent (and maybe a third for the credit check), so they know you mean business."

7. Be competitive with your offer
V: "If you sense that there are a ton of people competing with you, don't be afraid to offer $50 more a month, or more. $600 a year could make the difference between getting the apartment you love, and the one you don't."
8. Get your stuff in quick!
V: "Turn your packet in before anyone else does! I've lost a rental by turning my application in a second before. Shockingly, it matters!"
9. Know the difference between an owner and agent
V: "Speak to the host to find out if they are the owner or an agent. An agent will want to know more about how financially qualified and low-risk you are, while an owner might want to know how much you love and will respect the property and neighbors, and contribute to the neighborhood (along with financial stability)."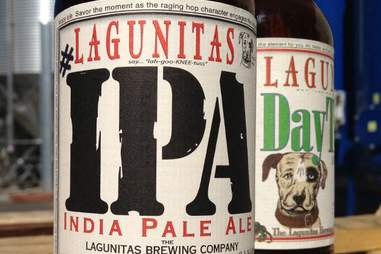 Lagunitas Brewing Co
BONUS ADVICE
If you're meeting with potential roommates from Craigslist, bring a six-pack of beer. No one is above a little friendly bribery. (Lagunitas' Little Sumpin' Sumpin' is responsible for our current apartment).
Also, make sure your social media profile makes you look like someone you'd want to live with if someone Googles you. Not sure how that looks? Then maybe Google it...
Joe Starkey is Thrillist's San Francisco Editor and hopes he never has to move again. Follow him on Twitter.