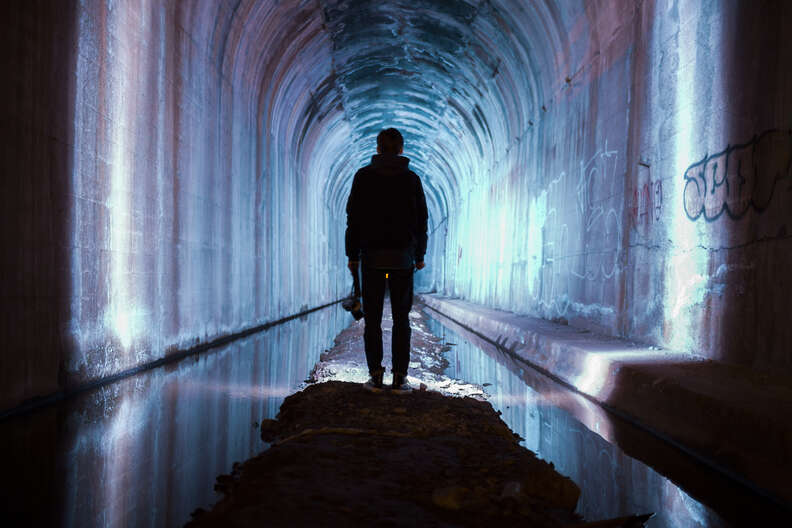 Evan Thompson/Thrillist
Evan Thompson/Thrillist
Inside San Francisco's Underground Tunnels
I've been taking photos for as long as I can remember, and have been a bender of rules for even longer. At no time did I think I could combine my love for the two. Exploring tunnels began as a way to clear my head. Sharing a fifth of whiskey in a bunker from WWI, where you can't even see the hand in front of your face, to me, is oddly peaceful.
You immediately forget that you were worrying about how rent is going to get paid, or the fact that Dolores is such a letdown nowadays. Your main concern is how tf* (the fuck*) am I going to get back up this 20ft shaft slightly buzzed. Half the mission is in the research; finding your entry and confirming it -- a feeling I can only describe as "running down the hall on Christmas morning." You're exploring history, and in some instances these places haven't been touched since the '90s.
Some of the tunnels below have taken years of searching, tons of liquid courage, and a few tips from underground legend Sierra Hartman. Sharing the exact locations would draw too many unwanted eyes and ultimately get the point of entry sealed up by the boys, so we'll keep this as general as we can. (Plus, finding them is part of the fun, right?)
Somewhere along Market St
Normally all exploring is done in the shadows of the night, shrouded in darkness and anonymity. Welllllllll, five weeks ago my adrenaline told me to hop into this old Muni Station... before noon. "Aren't there cameras?" someone asked me after sharing the photo. "Err, uh yea... there probably was, I forgot to look."
It was running-down-the-hallway-Christmas-morning again, and I had to get there; didn't even think of the consequences. Hopping a fence (filled with cameras) and running alongside the J with no destination probably wasn't the smartest move. We luckily found coverage behind the bench, snapped some photos, heard some walkies, and ran like hell.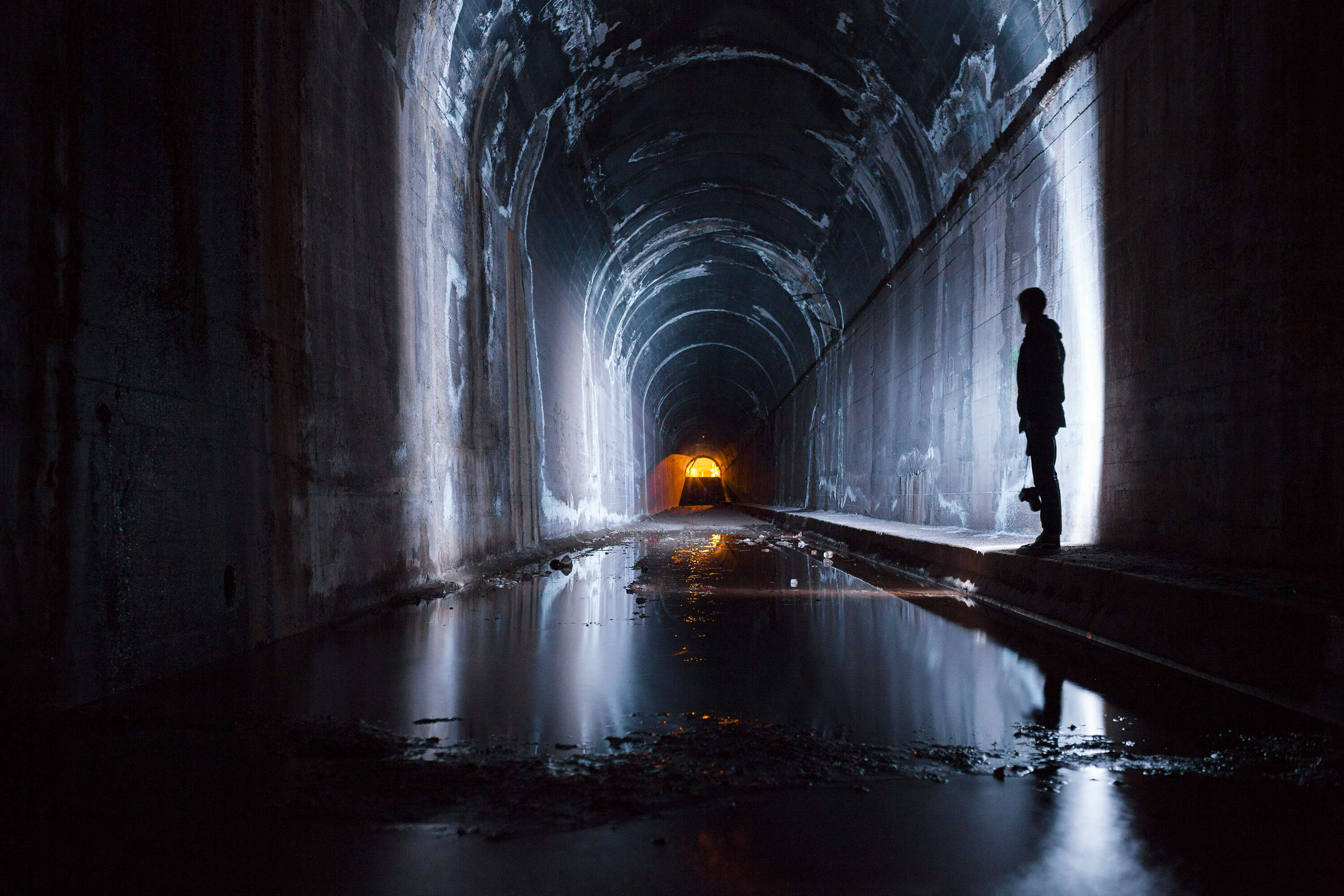 Somewhere north of Civic Center
Built in the early 1900s, this tunnel used to transport soldiers and materials, but closed its gates in 1990. Standing between you and epic photos are two 20ft+ gates and your fear of descending into darkness -- which you will once you clear a huge-ass metal door.
This is one of the quietest tunnels in the 7x7, outside of the sound of water dripping down (quite heavily in some places if you go on a rainy night, which I did). Inside it's dead silent, and, after you get a good 10-15ft in, almost graffiti free. Deep inside there's a nuke-esque sign that reads "Fallout Shelter," and best believe I'll be there when the time comes. Okay, okay you're all invited, too.
?????
Can you believe this is in SF? I spent three years looking for this cave and it lived up to the hype.
If you aren't terrified of "running" waist-deep in FREEZING COLD water with nothing but darkness in sight, there's something wrong with you. (And also born to find this tunnel, which forces you to do exactly that in order to enter.)
Once successfully inside, it's cold, loud, and overwhelming. Shaking from the freezing cold water and the adrenaline, I was only able to snap a few photos.
This is the most scared I've ever been, but I was excited as ever. We only allotted one hour (thanks to the whole fear-of-drowning thing), and I used every last second.
Somewhere in SOMA
Okay, I lied -- this is the most scared I've ever been. When in sewers, there's a lot more to worry about than getting a good photo.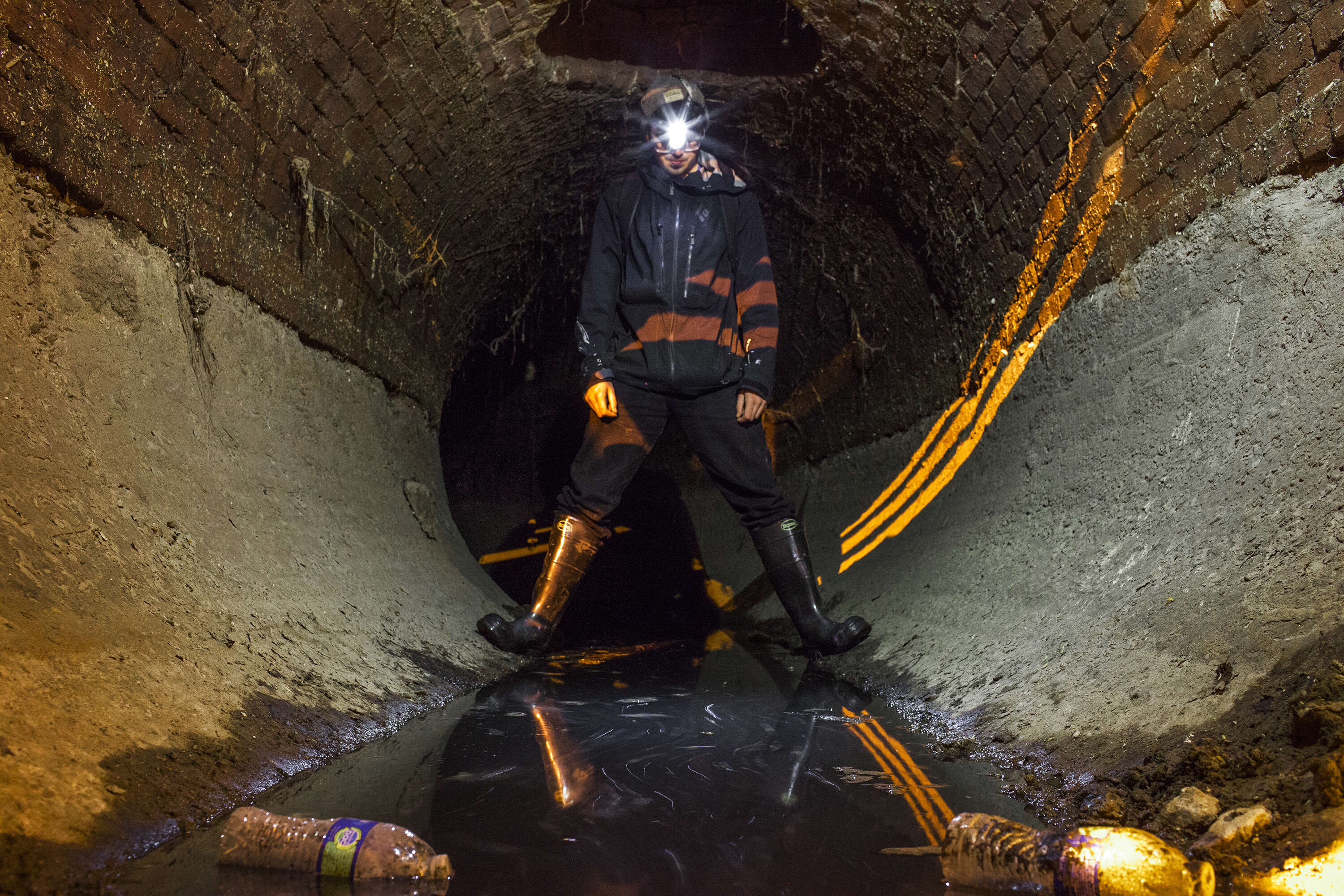 Running directly under 4th St, towards Market, each storm drain filled this sewer line with 100s of needles. And to think the needles were the least of my worries -- the scent literally brought a grown man to his knees.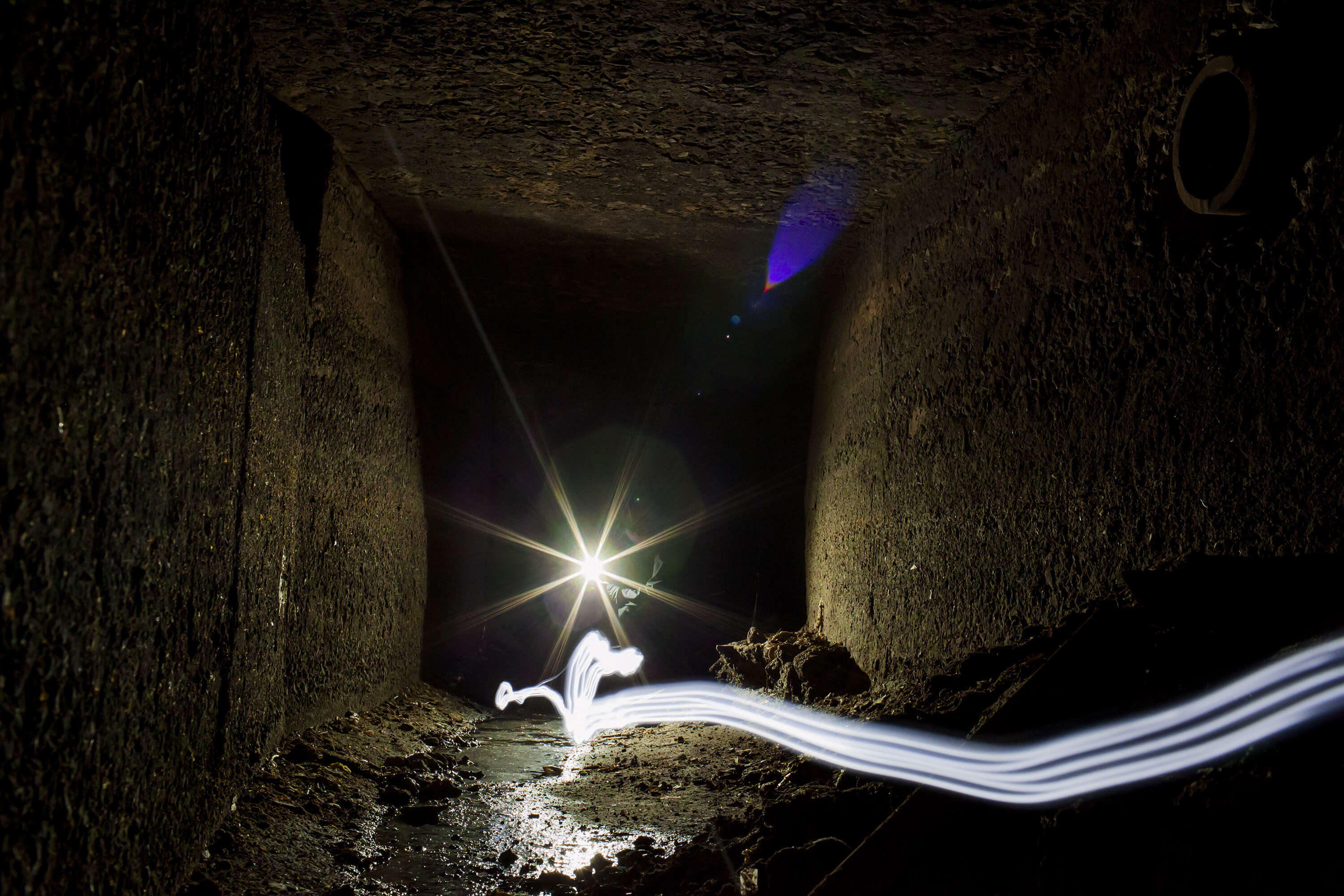 On a positive note, we got to experience the original brick sewers of SF, now being dug up (and I think rebuilt) by the new Muni line.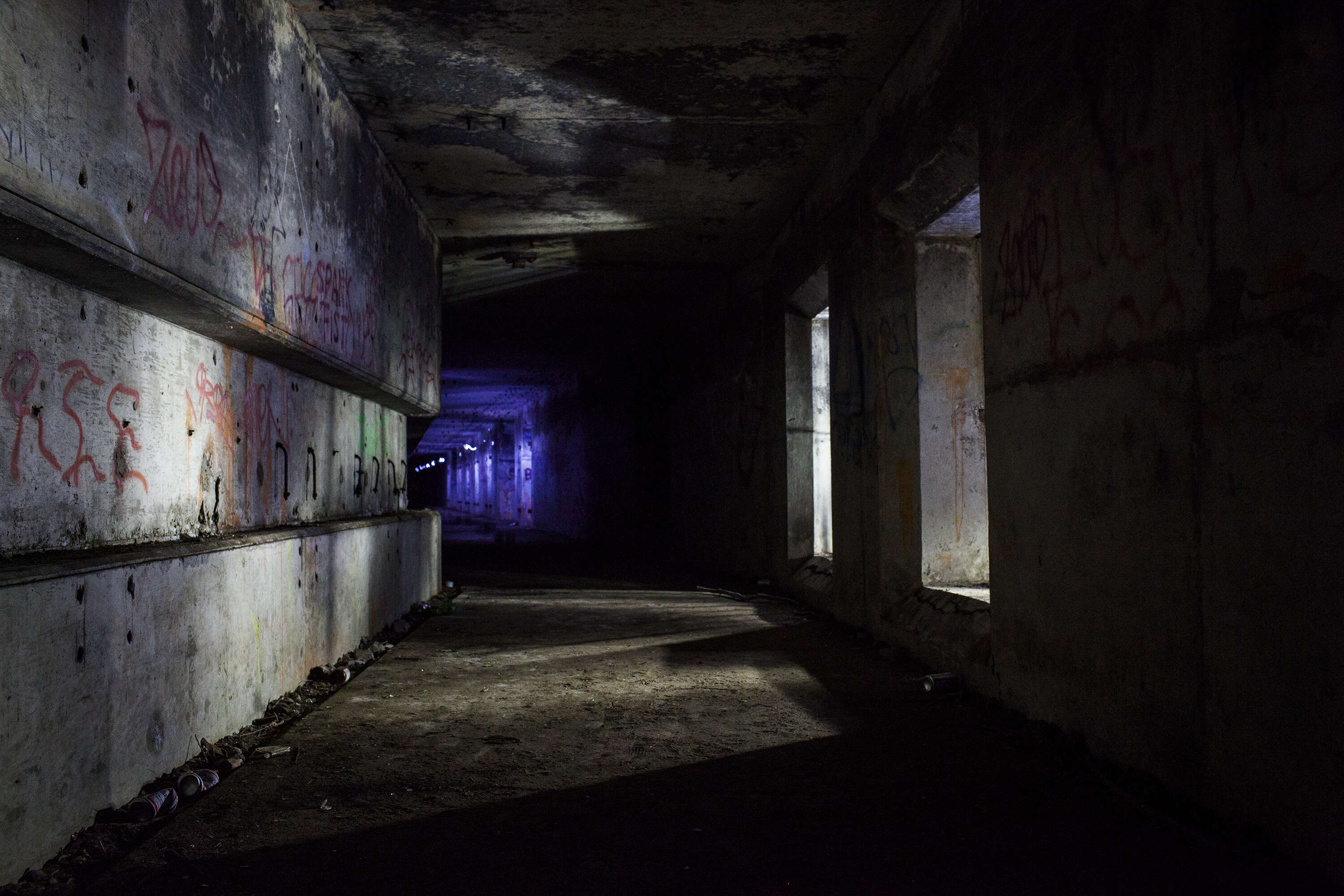 Somewhere south of The Sunset
Through the smallest hole in the world lies a piece of history that seemed to be untouched since the early '90s (shout out to whoever blowtorched an entrance hole).
This reinforced concrete passageway, littered with racist graffiti, was originally constructed in the mid-1900s.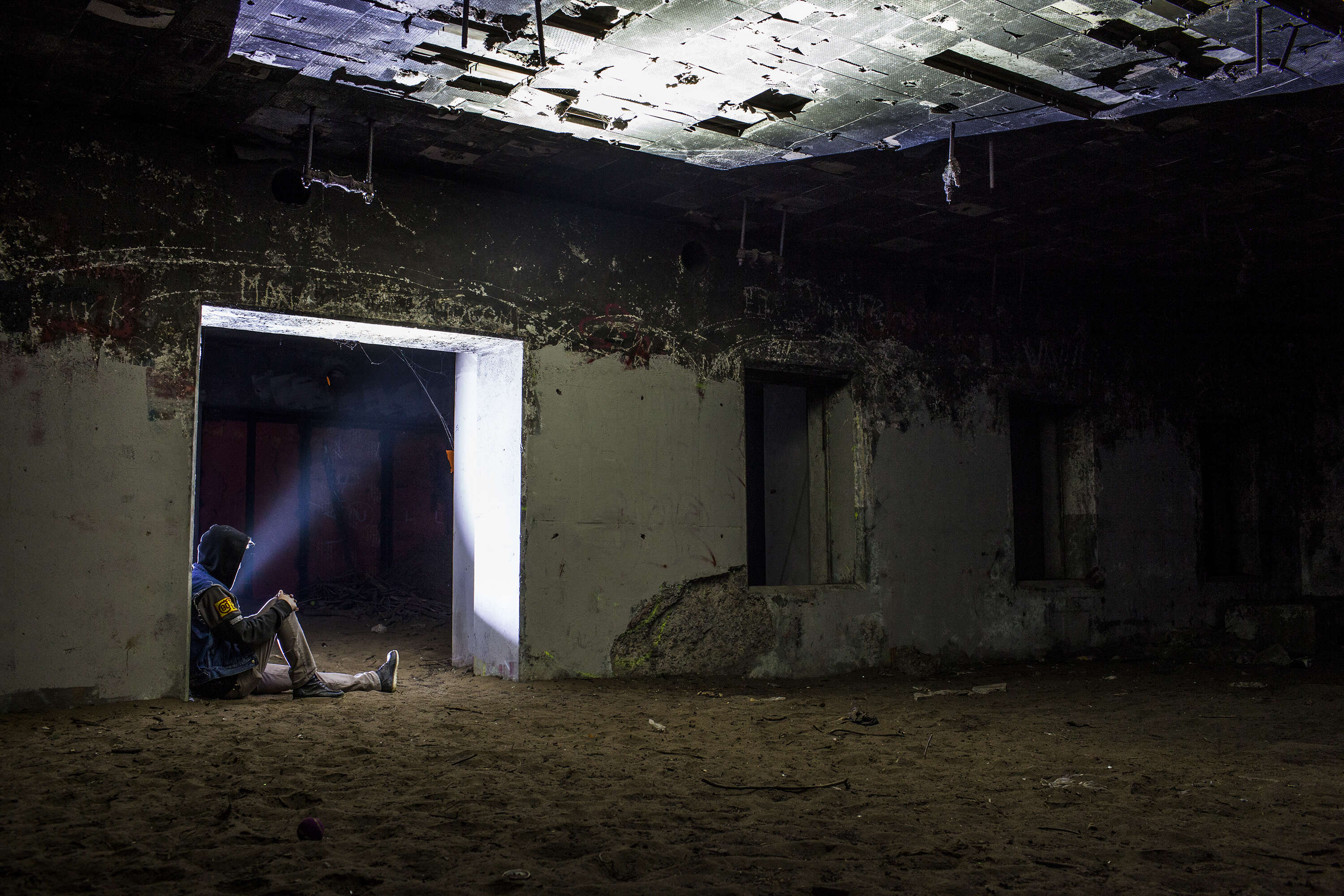 With our entry picked into this WWII landmark, we descended into where I thought I would be finding my first dead body.
Sign up here for our daily San Francisco email and be the first to get all the food/drink/fun SF has to offer.
Evan Thompson is a photographer and freelance drinker with a proclivity for risk-taking. Find out if he found that dead body on Instagram @evanthompsonphoto.