10 Great Near-SF Lakes That Are All Closer Than Tahoe
Lake Tahoe is The Best. But Lake Tahoe is also The Farthest -- the 200-plus-mile drive from SF takes three and a half-ish hours if there isn't any traffic (hahahaha... right). Good news though: there are other lakes in NorCal (whaaaaaaaa?), ones where you can swim, hike, fish, day drink, rope swing, kayak camp, day drink, bike, boat, backpack, and... day drink!
Here are the 10 best, all of which are closer than Tahoe.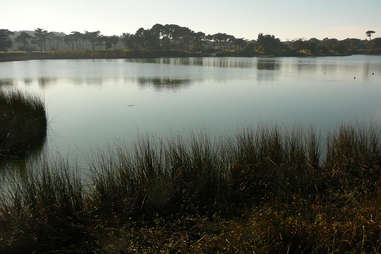 San Francisco
Distance from SF: Seven miles by car from 16th St and Mission BART; 25 minutes. Eight miles by bike; 50 minutes.
You don't even need sun to enjoy the activities at this city lake in the southwest corner of town. Get a foursome for a tee time at the lakeside Harding Park golf course, watch high school regattas rowing early in the morning, or cross the road over to the sandy trails of Fort Funston to watch the hang gliders catch air. Unfortunately, the Pacific Rod & Gun Club lost its 80-year lease, so no more practicing your aim at clay pigeons here. Bonus: the 4.5-mile paved loop around the lake is prime real estate for retro track suit spotting.
Berkeley
Distance from SF: 18 miles by car; 35 minutes
Snag one of the 13 reservable sites for a picnic, take a dip in Lake Anza (after you've checked here to make sure you have the green light), then hit just-off-the-lake Tilden Park, where they've got both a steam train AND a horse-drawn old-timey train (how many little kid dreams can come true in one little regional park?), plus biking, hiking, and exhibited flora and fauna at the Botanic Garden. Also don't forget: this is environmental-friendly Berkeley, so you'll see South Park Dr seasonally closed to cars to protect "newt migration" across the road.
Fairfax
Distance from SF: 25 miles by car; one hour, 20 minutes
No need to travel too far out of town for the ubiquitous dating app photo of you holding the fish you just caught. California Department of Fish and Wildlife allows fishing in all seven of the Marin water district reservoirs with a license. If you can't sit still for that long, the trails also offer varied levels of mountain biking loops, and you can avoid the Mt. Tam weekend crowds by hiking up and down the less-traveled, but equally beautiful Northside. Parking can get tight at the free trailheads, but $8 toward park maintenance after a scenic drive gets you in at the Sky Oaks trailhead lot.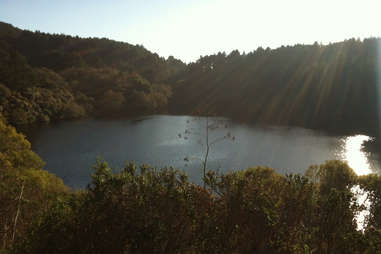 Bolinas, Marin County, CA
Distance from SF: 34 miles by car, plus a 2.6-mile hike in; one-hour-21-minute drive, 30-45-minute hike
Unofficially dubbed the best swimming lake in Point Reyes, Bass Lake can be a stopover or a destination. On the path of the Alamere Falls hike from the Palomarin Trailhead (which you should also do if you want to see a waterfall that flows DIRECTLY INTO THE OCEAN), Bass Lake is the first sizable lake you approach on the Coast Trail. The resting platform can get crowded when San Franciscans try to escape the cold, but a clearing right above the lake provides a picnicking area for several groups. Traverse/swim on the right side to get to the rope swing (keep an eye out for poison oak), then finish off a day in the sun with dinner in the sleepy lagoon surf town of Bolinas.
Pleasanton, Alameda County, CA
Distance from SF: 41 miles by car; 48 minutes
The quarry landscape and the dry hills of the East Bay may not seem a likely tranquil setting, but Shadow Cliffs has been helping locals cool off since 1971. The water is 72 degrees, and the air is sometimes 100+, so it makes complete sense. BYOB here means bring your own boat (and beer, too, duh) to the launch (electric motors only). You can also fish and swim, and if one swim event isn't enough, Shadow Cliffs has been the site of Tri For Fun, a sprint distance triathlon summer series, for 28 years now. This swim/bike/run event is actually really good for complete newbies (so... you) to try their hand at tris.
Marshall
Distance from SF: 47 miles by car; one hour, 15 minutes
We're not going to split hairs over what counts as a lake, or a reservoir, or an arroyo, or a bay. Tomales is a body of water you can access by car from both long sides of the 15x1-mile inlet. Famous for its leisure weekend pursuit of oyster shucking, Tomales is also a choice destination for kayak camping, swimming, and hiking to the very northern tip among the nationally protected (but mangy) tule elk at Tomales Point. The paved road on the east side of the bay is narrow and winding, but cycling enthusiasts have long embraced the dreaded (11% grade in places), but beloved (views for miles!) Marshall Wall, which splits off at the town of Marshall, where you also rent kayaks for your paddle.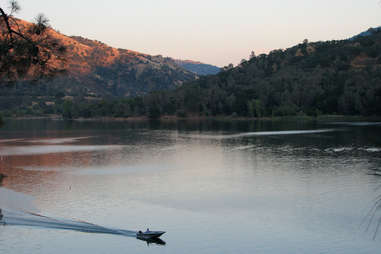 Livermore
Distance from SF: 57 miles by car; one hour, nine minutes (optional zero-to-two-mile hike to campsite)
The yellow sun-scorched hills greet you as you descend into the basin of this Regional Park reservoir, which is great for swimming, boating, and diverse lakeside backpacking (walk a mile from the parking lot or finish here, traversing from Fremont on the demanding 28-mile Ohlone Wilderness Trail). The main parking area provides facilities for rentals and picnics, and the backcountry sites offer group and individual accommodations. In the spring, wildflowers abound on the way to Rose Peak (only 32ft lower than Mt. Diablo, but a whopping 13 miles from the Del Valle trailhead, so you may want to try that over a couple of days).
Greenfield
Distance from SF: 159 miles by car; two hours, 46 minutes
Its oxymoronic name (translating from Spanish as "Dry Creek") actually refers to the stream's disappearance underground for more than 10 miles. Whatever water from the Salinas River doesn't get diverted for irrigation emerges from the mountains for your enjoyment near a recreation area and a campground. But the most unique part about this stream is an easy canyon-river walk. A couple of miles of exhilarating walking/floating/swimming in crystal-clear water downstream (mellow toward mid-summer or likely anytime in a low snowmelt year) bring you back to the main parking area, which'll be flush with water toys and BBQs. The slot area has a lot of deep pools to play in -- and trust that you will be walking this three times as slow as on ground. When it gets chilly, the Tassajara Hot Springs (operated by the San Francisco Zen Center) are relatively nearby.
Echo Lake
Distance from SF: 177 miles by car; three hours, two minutes
Just below the tip of South Lake Tahoe, Echo is actually worth not making it all the way to South Lake. If you can score one of the rentals on the western edge of the lower lake, you're in for beautiful views and porch-side dock access. For more rugged accommodations, pack up your tent and either head north on the Tahoe Rim Trail into the pristine Desolation Wilderness (permit required), or take a water taxi to the top of the lake and go from there. The boat taxi is operated by the Echo Chalet (Memorial to Labor Day only) which also has a boat launch, kayak rental, and a grocery where the long-distance hikers of the Pacific Crest Trail resupply. Echo Summit was also the site of the high-altitude training camp for athletes preparing for the 7,400ft-high competition in Mexico City in 1968. So... there's that.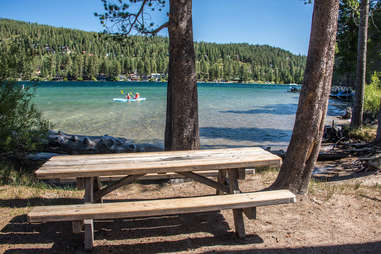 Truckee, Nevada County, CA
Distance from SF: 184 miles by car; three hours, three minutes
Yes, this is the lake where those peeps ate each other in the 1840s. No, no one eats each other there anymore. We think. A large lake to the northwest of North Lake Tahoe, Donner has boating, fishing, hiking, climbing, and spectacular/challenging high-altitude cycling to the top of the summit. The large campsite accommodates many summer visitors, and rentals are plentiful in the area. Plus: Truckee is basically attached to the lake and, get this, reachable by a long (almost eight hours!), but scenic Amtrak ride from the Bay Area. Who knew? Pro tip: hit Truckee after you're done at the lake, pull up a stool at Casa Baeza, and order a classic Paloma (tequila, lime, Squirt), which'll come in a badass, salt-rimmed clay pot.
Sign up here for our daily San Francisco email and be the first to get all the food/drink/fun SF has to offer.
Ksenya Gusak works in Product for an analytics and advertising company­­­­­­­­­­­­­­­­­­­­­­­­­­­­­­­­­­­­­­­­­­­­­­­­­­­­­­­­­­­­­­­­­­­­­­­­­­­­­­­­­­­­­­­­­­­­­­­­­­­­­, and likes long-distance hiking, bike touring, and making planning spreadsheets. She lives by "GPX or it didn't happen," so you can find the record of her miles on the trail and hill summits on Strava and Instagram @ksenycat.