Now before you go immediately clicking the giant play button above and start watching another hilarious Thrillist video with a Muppet in it, then start Tweet-ing it, Facebook-ing it, and Google Plus-ing it (totally j/k, nobody uses Google Plus), you should at least get a liiiiittle background on this whole Bennett Lane's Hot Air Balloon Wine Tasting Brunch Package. Two bullet points sound good? Of course they do

Bullet 1) It'll involve you and someone-your-mom-has-met-and-knows-could-never-replace-her-but-will-do-a-mediocre-to-adequate-enough-job-of-taking-care-of-you enjoying a champagne brunch at the The Grill at (Michelin-starred) Meadowood, an hour spent at 2000ft above ground in a hot air balloon (the first ever owned by a Napa winery), and a vino tasting at Bennett Lane's vineyard complete with a picnic lunch. Bullet 2) Opened in 2003, Bennett Lane... you know what, forget it, just watch the hilarious video with a Muppet already.
Recommended Video
Add Some Wine to a Manhattan. Trust Us.
Previous Venue
Next Venue
Venue Description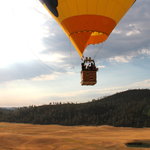 1. Bennett Lane's Hot Air Balloon Wine Tasting Brunch Package
3340 Hwy 128, Calistoga, CA 94515
Now before you go immediately clicking the giant play button above and start watching another hilarious Thrillist video with a Muppet in it, then start Tweet-ing it, Facebook-ing it, and Google Plus-ing it (totally j/k, nobody uses Google Plus), you should at least get a liiiiittle background on this whole Bennett Lane's Hot Air Balloon Wine Tasting Brunch Package. Pour yourself a glass of their Cabernet Sauvignon or Bennett Lane's red wine varietal blend called Maximus and get as high as you want in their hot air balloon. (You're not drinking and driving.)