10 Oakland Secrets You Had No Idea Existed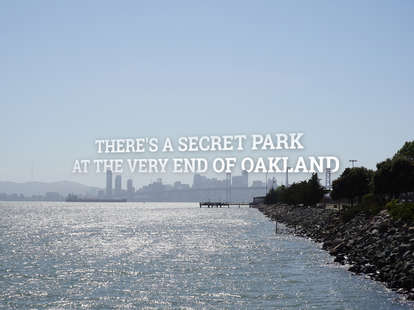 It used to be that all of Oakland could've been considered a secret -- and a lot of locals liked it that way. And while the secret is for the most part out, Oakland still has a few secrets up its secret sleeves. From a lake on top of a parking garage (wut?) to a pair of hidden labyrinths, here are 10 you had no idea existed.
The lake above the lake
"Ugh, Lake Merritt is allllllll the way across the street," thought the architect of Oakland's Kaiser Center, the curvy office building that towers over Lake Merritt. "We're for sure gonna need our own lake." And so he built one. On the roof. Of the parking garage. If you find yourself in need of just a little more lake, just walk across the street, head upstairs, and voilà: more lake. Also? Total lunchtime solitude.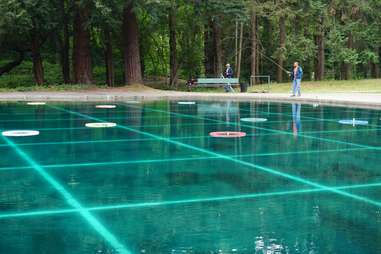 Trout fishing in Oakland
If you're looking for the best local secrets, some will tell you to ask a cabbie. But if you're looking for super-weird and strange secrets, try a fisherman. Only fly fishing enthusiasts or immediate neighbors will have come across the Leona Casting Pools, one of Oakland's more peculiar public park facilities. At one time there were trout ponds here, but what remains today are two practice ponds with target rings and grids lines to help you work on your perfect cast.
Oakland's best urinal
Those old-timey shoe-splashers at the Grand Lake Theater deserve an honorable mention, but the winner of Oakland's Best Urinal has to go to the venerable Merchant's Saloon, where an old tiled urinal trough runs the length of the bar. Thankfully (sadly?), this public pee chute is no longer in service, but it's fascinating (disgusting?) to think that back in the day patrons didn't even have to move away from the bar to relieve themselves. Nowadays, patrons have to go all the way to the bathroom when they want to pee on the floor.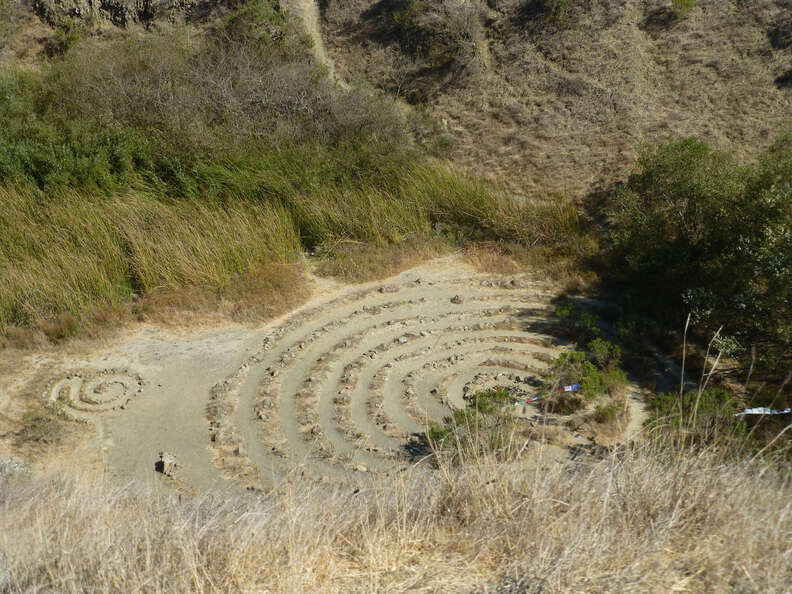 Hidden labyrinths
Sibley Volcanic Regional Preserve holds a few surprises. For one, there was once a volcano in Oakland???? For two, park explorers will find a few hidden treats, namely stone labyrinths built into quarry pits in the park. The largest of these, dating from the late 1980s, is easy to find and known by the dog walkers of the Oakland Hills. In the middle of the labyrinth you'll find a pile of offerings and trinkets left behind by visitors over the years. The second, smaller labyrinth is heart-shaped and a bit harder to spot (look for the other spot marked "Quarry Pit" on the park map).
Secret stairs
Pretty much every Oaklander knows of at least one set of public stairs cutting through their neighborhood. Back when Oakland was connected by the Key System streetcars, these stairways were built to help people up on the hills get down to public transit. Today, more than 270 different public stairways and paths crisscross the city, some beautifully maintained, others (some of the best ones) crumbling, overgrown, and forgotten. The longest stretch of connected stairs is a matter of some debate (hinging on what you mean by "connected"), but try out the little used Merriewood Steps, starting on Thornhill, where you can make a loop of 635 steps. Or was it 636?
Skulking gnomes
In the past five years, a large group of bearded, beanie-wearing folks with brightly colored pants took up residence in Oakland. No, not priced-out San Franciscans: gnomes. Even locals may not have noticed these little woodsy folks, painted on small wooden shingles and covertly affixed to the base of telephone poles in the Grand Lake area. Some even have little mushrooms. Only in Oakland can "going on a gnome hunt" be a totally plausible weekend activity.
Ancient dwarves
Gnomes aren't the only tiny residents hiding in Oakland. Inside the often overlooked, seven-acre Gardens at Lake Merritt there's a lovely Japanese garden. And tucked inside this Japanese garden (Inception alert!) there's a bonsai garden run by a small team of loving volunteers. And inside this bonsai garden inside the Japanese garden (DOUBLE INCEPTION ALERT!) there are two mind-blowingly historical trees: a daimyo oak from Japan that was given to Abraham Lincoln's envoy to Japan (seriously, what is going on) and a California juniper that's estimated to be around 1,500 years old.
Secret Fentons
The constantly crowded Fenton's Creamery is hardly an Oakland secret -- uh hello, it's one of the 33 best ice cream shops IN THE COUNTRY. Uh, double hello, Fentons even enjoyed a cameo in Pixar's UP. But there are still Fentons secrets: a handful of special off-menu items for those in the know. The kid's menu has mac & cheese, which you can ask for an adult version of and the staff will send a massive steaming one your way. There's a secret olive salad sandwich from menus of old that they'll still make, but the pièce de résistance is the grilled PB&J, buttered up like a grilled cheese sandwich.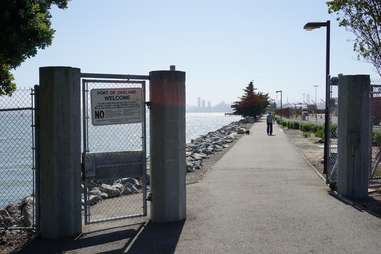 The Park at the End of the World
When Mumford & Sons played Oakland's little-known Middle Harbor Shoreline Park in 2011, the venue was a revelation to thousands of angsty banjo lovers. Who knew there was a public park way out at the tip of the Port of Oakland amongst all of the enormous shipping cranes? But wait... it gets better. If you keep going on 7th St, there's still one MORE small park jutting out into the bay: Port View Park, with a small port history museum and a path that extends as far west as you can go in Oakland. Take a stroll: it'll be just you, a few folks fishing, and one of the most interesting views in Oakland.
The Black Dahlia's grave
A hundred strolls around Oakland's Mountain View Cemetery will result in at least a hundred discoveries. Founders of Oakland, Civil War veterans, labor leaders, duelists, architects, poets, and railroad barons are all here. Also: the tragic Elizabeth Short, aka "The Black Dahlia," subject of a popular novel and movies, and one of Los Angeles' most notorious unsolved crimes. (How to find the Black Dahlia's grave: head to Plot 66 above the hillside mausoleum; the grave is halfway up the hill, not far from the long north-south staircase, and often surrounded by flowers.) If your tastes run more practical than morbid, head to St. Mary's cemetery next door and pay respects at the grave of a man with a squeaky clean reputation: Ettore Steccone, the Oakland-based inventor of the Squeegee.
Sign up here for our daily San Francisco email and be the first to get all the food/drink/fun SF has to offer.
Andy Murdock is an East Bay native and travel writer. He firmly believes that the churro will be the next cupcake, and is helping to make this come true by planting the word churro in his author bios. Tweet about churros to @andy_murdock to show your support.