Your outdoor party guide for this weekend
San Francisco Because you're gonna need something to do this weekend during the three hours you aren't binge-watching season two of Orange Is the New Black, we've gone ahead and rounded up five outdoor parties worth busting out of solitary Netflix confinement for.
OminoDay 2014
McLaren Park, Saturday, June 7th
This free, crowd-funded festival in McLaren Park will have all-day DJ sets and local music celebs like Bayonics, Papa Joe, and DJ Epic, plus Papalote is one of the "sponsors", so there's a good chance there's gonna be burritos nearby. Continue Reading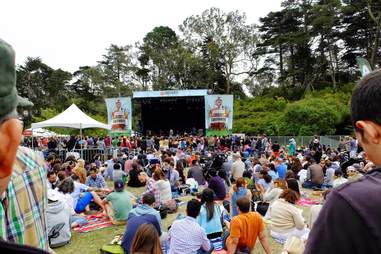 Cultivate Festival
Cultivate Festival
Golden Gate Park, Saturday, June 7th
Chipotle is bringing back its giant, free concert/food festival this year with presentations by celebrity chefs (that you may get to try!), a lineup of bands including Neon Trees (they're cool, right?), and all the Chipotle you could ever want (so... all of it).


Grillin' in the 'MO
Hamilton Rec Center, Saturday June 7th, 12pm
The Fillmore is having its Summer kick-off with a grill-out at the Rec Center, complete with $1 food tickets and a performance by legendary blues singer Freddie Hughes. Also, they're promising GIANT BUBBLES.
Union Street Festival
Saturday, June 7th and Sunday, June 8th
Union St is closing down from Gough to Steiner from 10am-6pm both days this weekend, so you can take part in wine tastings, chef demos, and drinking craft beer on the street legally (for once!).
Haight Street Festival
Sunday, June 8th
Hit up the Haight Ashbury area this Sunday starting at 11am, if you've ever wondered what the street might look like if it was closed off for more than 200 vendors (WITH FREE SAMPLES!!!) and live performances.