14 Peninsula Secrets You Had No Idea Existed
Much like your deodorant stick, the San Francisco Peninsula is filled with Secret(s). From secluded pocket beaches and waterfalls, to WWII bunkers and Cold War missile silos, here are 14 Peninsula secrets you had no idea existed.

There's a reflecting pool in the middle of nowhere
Technically this landmark-looking thing in the Pulgas Ridge nature preserve commemorates where water running through 160 miles of pipe originating in the Sierra Nevada Mountains finally arrives in the Bay Area. Less technically, it's just really freaking cool -- a grassy knoll looks down on a reflecting pool and a circular colonnade, plus there's a water fountain just to the left of it where you can get what is quite literally the freshest water in the Bay Area. One important note: the tiny parking lot alongside it has a strict 30-minute time limit, but if you park on Canada Rd right after you get off 92 you can do the 45-minute walk there and stay as long as you want.
You can hike to a 60-year-old plane crash
In 1953, a DC-6 crashed into what's now El Corte de Madera Creek Preserve killing eight crew members and 11 passengers and leaving debris strewn throughout the forest. Because it was so deep into the forest, the crash site was never cleaned up, meaning you can hike to it and see the eerie remains of the downed plane. Park at the Skeggs Point lot, pick up a trail map, and follow the Fir Trail from Skeggs until you get to the Resolution Trail. Take that, then just before you get to the next fork trail, on your lefthand side you'll see remains like the photo I snapped above, and the deeper you peer into the forest, the more insane stuff you'll see littered about. Just don't touch/take any of the artifacts, because 1) it's illegal (and stupid), and 2) IT'S ILLEGAL (AND STUPID).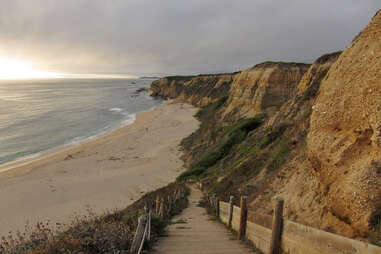 There's a legitimately secret beach
The incredibly hard-to-find Cowell Ranch State Beach actually consists of two secluded pocket beaches -- one that's open to the public and one that's a harbor seal protection area that isn't. Both stay hidden behind a staircase at the end of a half-mile trail that's the only way in or out. Bonus: there's a good chance you'll see newborn seal pups on the beach in the springtime.

And a legitimately secret waterfall (whoa)
It's very likely completely dry right now, but if the "Godzilla" El Niño ever hits, this secret waterfall 10 minutes from San Francisco becomes a veritable must-find. You'll park your car in a residential neighborhood on a cliff bordering Daly City and Pacifica, find a "no parking" sign on the cliffside that's directly in front of Westline Dr & Skyline Dr, and head down the trail to the left of that. Once down it you'll find a rope that'll help you scale down the cliffside (and scale back up later), then -- facing the ocean -- you'll turn left and find the falls, which're created by an underground creek that shoots out of the side of the cliff and then runs about 100 yards over rocks, out to the beach, and into the ocean. Bad. Ass.
There's a secret saltwater beach you'll actually want to swim at
The only way to get to Parkside Aquatic Park (which borders a saltwater lagoon in San Mateo) is to drive through a whole bunch of residential neighborhoods, a trek that actually turns out to be totally worth it when you get to a park with its own beach and swimming hole. And since you're in San Mateo and not San Francisco, you can actually feel your extremities when you hop in. Pro tip: don't be the guy who didn't BYO kayak.

And you can live in a heart-shaped neighborhood
Dubbed "Cupid Row," this tiny San Bruno 'hood looks pretty unassuming -- it's just a half-mile in diameter and only has roughly 250 residents -- but pull up Google Maps and you'll see where it gets the moniker from.
There's a mansion bigger than the White House in Hillsborough
Built in 1915, Carolands was the second-largest home in the country when it was built at just over 65,000sqft. It boasts 98 rooms (NINETY-EIGHT), four kitchens, 17 bedrooms, 18 bathrooms, and there are separate rooms designed for flower arranging, polishing silver, baking, and storing vegetables. What. The. Fuck. It was shuttered for 20+ years on two separate occasions, during which time porn was secretly filmed there, and a caretaker assaulted two teenage girls on the property, one of whom died. Then in 1991, Charles "Principal Owner of the SF Giants" Johnson bought it and his wife spent $20 million restoring it. It's now closed to the public and occasionally used for charity functions/98-person sleepovers.
Abandoned WWII bunker? Check.
High atop Devil's Slide just south of the trail entrance you'll find the graffiti-covered remains of a World War II bunker used as a triangulation/observing station (literally, someone would stare at the ocean waiting to see if the Japanese were invading). It was abandoned in '49 when we got, like, radars and stuff, and now sits on private land that's "fenced off," but really you can just walk right over to it -- you could, not us, we're total rule followers.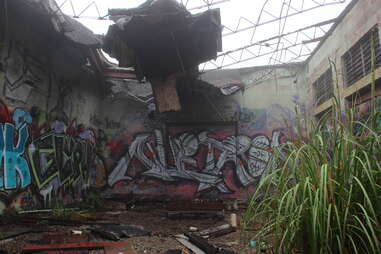 Abandoned Cold War Nike missile silo? Double check.
It's crazy to think that this now-gutted, graffiti-ravaged building was supposed to save us from a Russian air assault, but that's exactly what this Pacifica spot on the Mori Ridge trail was built for before being decommissioned in the '70s and left to rot.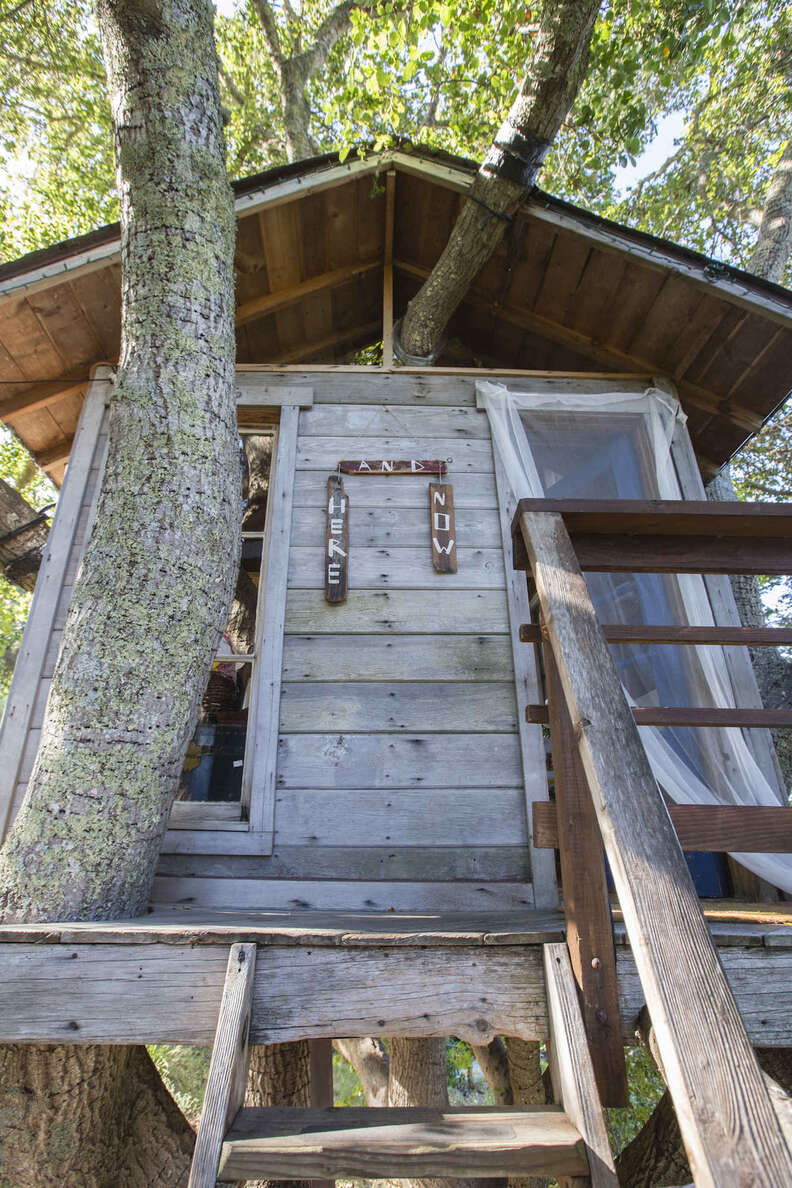 AND get pizza delivered directly to it.
And hike to the exact spot where the San Francisco Bay was first discovered
Retrace the footsteps of our San Francisco Bay-discovering European bros by hiking out to the San Francisco Bay Discovery Site in Pacifica, where Spaniard Gaspar de Portola discovered the bay in 1769. Once you get there, you'll find the monument version of a high-five.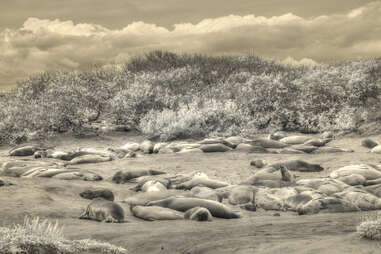 One of the world's largest mainland populations of elephant seals is on the Peninsula
Remember Año Nuevo Island? One of the 14 most insane abandoned places in California? Turns out the Peninsula shoreline it's directly off of is home to one of the largest mainland breeding colonies in the world for the Northern elephant seal. #TheMoreYouKnow.
As is one of the world's largest Aeolian harps
What the hell is an Aeolian harp? It's basically a wind harp (think Wave Organ, except sub in air for water), and in the case of the one in South San Francisco, it's the Lucia and Aristides Demetrios Wind Harp, a 92ft-er built in 1967 with a panoramic view of South SF and the bay.
There's a secret artist ranch in the Santa Cruz Mountains
Only open to the public twice between April and October, Djerassi Ranch is a private 580-acre ranch that doubles as an artistic refuge that provides free one-month residencies to artists -- since the late 1970s it has hosted more than 2,000 artist residencies, which has resulted in 50 sculptures all throughout the property, including one that you can only see by traversing a winding tunnel in absolute darkness. Sounds... fun?
Sign up here for our daily San Francisco email and be the first to get all the food/drink/fun SF has to offer.
Grant Marek is Thrillist's senior cities director and he's really considering permanently working remotely at the Pulgas Water Temple. Follow him on Twitter to more Peninsula secrets at @grant_marek.