Your crib sheet to entertaining not-as-cool-as-you visitors
If you just got a call from someone telling you they "can't wait to see 'Frisco" (*shudder*) and that they've only packed shorts and t-shirts because "it's near LA, right?", you may want to hit the ol' save-er-rooni button down at the bottom of the page so you can show your "San Fran" (*dry heave*) visitors a good time with these dandy step-by-step guides for out-of-towners like: THE GUEST: YOUR SISTER AND HER THREE-YEAR-OLD KID Her days of taking shots of Apple Pucker with her sorority sisters (and you!) have sadly been replaced by a toddler and a harried expression on her face that tells you she just wants to keep the little one happy and possibly knock back a glass or two of "mommies-only juice". Here're five ways to make her visit not suck suck less. Subpar Miniature Golf, 1151 Park St; Alameda; 510.521.4653 Though you may have to help the little tyke with the golf club, this spot has putt-putt holes designed by local artists to represent all the major monuments in the greater Bay Area, meaning you can do a cheating tour of everything from the Golden Gate to Lombard St without having to actually go to any of them.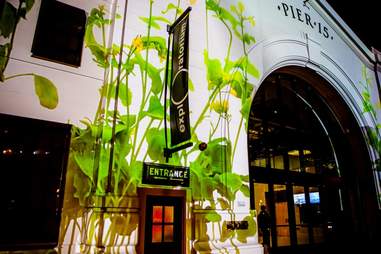 Lowell Robinson
Exploratorium, Pier 15; The Embarcadero; 415.563.7337
The Explo's new digs on the Embarcadero now have everything an eager toddler could want to look at, play with, and get his/her hands all over, plus there's a bar where you can grab a drink/meal while the kid's on brain-overload.

The Carousel at Yerba Buena Gardens, 745 Mission St; SOMA; 415.820.3550
Take the little guy/gal on a ride around the merry-go-round before he's too old to realize how boring old-fashioned entertainment really is.
Facebook.com/CalAcademy
The California Academy of Sciences, 55 Music Concourse Dr; Inner Richmond; 415.379.8000
Despite the fact that you've probably only been to their adults-only (in a boozy way, not sexy way) Nightlife events, this place is super rad with a planetarium (WALL-E!!!), aquariums (Dory!!!), and an Earthquake Simulation Room (probably inappropriate for a toddler!!!). It's entertaining enough that you could probably handle things alone here while your sister takes a break and indulges in her totally-useful-in-real-life Art History Major at the de Young.

Straw, 203 Octavia Blvd; Hayes Valley; 415.431.3663
If you want to feed the kid, what better place than a carnival-themed restaurant where everything seems garnered to a little kid's tastes (potato chip nachos, mini corn dogs, Jenga French toast). Bonus: you and your sis can grab a cotton candy or Fun Dip cocktail, all while sitting in a tilt-a-whirl booth. Seriously.


THE GUEST: YOUR GRANDPARENTS
Gramma and Grandpa are finally coming to town (after you've assured them all the damn hippies are [mostly] gone), and these two Greatest Generationers deserve the Greatest Time. Here, the five stops to give it to them:

Conservatory of Flowers in Golden Gate Park, 100 John F. Kennedy Dr; Inner Richmond; 415.831.2090
Avoid the homeless-shanty-town parts of GG Park and instead opt for the gardens and Conservatory of Flowers, which'll have your g'ma so delighted, she won't even notice your g'pa appreciatively checking out the girls in Lulus jogging by.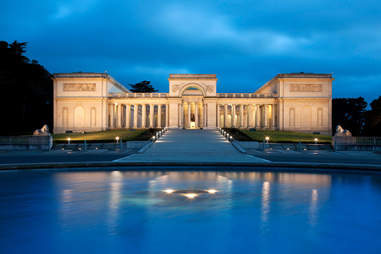 DATravelMagazine.com
Legion of Honor, 34th Ave & Clement St; The Richmond; 415.750.3600
Trick your g'pa into coming with the vaguely militaristic-sounding name before Shyamalan-ing him with the fact that it's actually a classic art museum your grandma'll find lovely, even if those Impressionists are a little modern for her tastes. 
House of Prime Rib, 1906 Van Ness Ave; Nob Hill; 415.885.4605
Old-school San Francisco at its finest, this spot has everything your parents' parents could want, an extremely classy restaurant where you'd feel out of place without a tie and sport coat. Also: meeeeeaaaaattttt!!!
Bobak Ha'Eri
Top of the Mark, 999 California St; Nob Hill; 415.616.6916
Because you're pretty sure their generation invented it, take them for a Happy Hour at this super-high-up spot with amazing views of the entire Bay (or fog layer, depending), where you can grab stiff drinks, hear some stories about the Korean War, and re-learn that your sweet little grandma could drink you under the table if she wanted.

Palace of Fine Arts, 3301 Lyon St; The Presidio; 415.563.6504
Just take a (slow) walk around this historic building before going in for whatever cool event you bought tickets for (the Broadway exposition over Russell Brand?) right before your grandpa makes the most of your spent money by falling asleep.


THE GUEST: YOUR FRAT BUDDY WHO CAN'T DRINK ANYMORE FOR VARIOUS REASONS
After one too many times waking up pantsless in an area he's not quite familiar with, Ol' Kimball is on the sober-only fun path, and since he's your brother-in-frat-arms, it's your duty to get into as much mischief that doesn't actually involve mischief, like, say, five still-fun-with-no-booze spots:

House of Air, 926 Mason St; The Presidio; 415.345.9675
Take him and a group of buddies to this trampoline spot for some serious fun with dodgeball, the giant trampoline stadium, and a brutal reminder that your Bro Nameth's sobriety has left him in much better shape than you.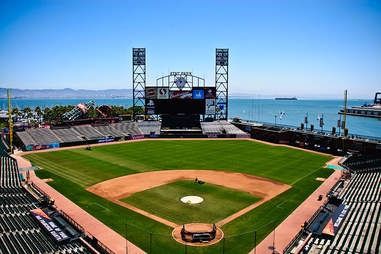 Giants Game at AT&T Park, 24 Willie Mays Plaza; SOMA; 415.972.2000
Arguably the best sports team we have has arguably one of the best stadiums around with some of the most gourmet/delicious food that you will ever get from concession stands, plus you should really spring the extra dollars for Club Level, because it's basically the difference between the Capitol and District 12... you know, from The Hunger Games... oh, well, it's this movie where... nm.

Mission Chinese Food, 2234 Mission St; The Mission; 415.863.2800
Just because he no longer has a taste for the suds doesn't mean he doesn't have a taste for grub, so go to this quintessentially SF spot for an absolutely amazing/famous grown-up version of the delivery you used to get from the spot around the corner.
Mission Bowling Club, 3176 17th St; The Mission; 415.863.2695
Relive that glorious semester of Bowling PE that you two took together at this awesome Mish spot. Get the Mission Burger, which you're required to try before you die, and then sneak in a beer or two while your buddy's bowling a frame.

S&R Lounge, 55 5th St; SOMA; 415.321.6000
Even though ostensibly the downstairs is more of a cocktail bar, you can grab some food from the same team behind some of the best restaurants in the 7x7 before heading upstairs to take part in a myriad of great games like giant Jenga, soccer ball Plinko, and Wii U.