We may not have cool rooftop hot tub movie screenings like they do in NYC, but we do have something almost as cool: The Hot Tubs, an unassuming spot on Van Ness where you can rent hot tub and sauna rooms by the hour... which sounds just sketchy enough that we decided to spend an afternoon there and put together this step-by-step guide to throwing a hot tub party inside.
1. Pack one bag with pool toys
Squirt guns, inflatable pool toys, beach balls; none of them are on the list of stuff you're not allowed to bring in, but all of them are on the list of stuff you totally should bring in. Also: maybe don't pack your swimsuit -- there's no changing area, so having your bathing suit on underneath your regular clothes is gonna be the move.
2. Pack another bag with, um, sodas?
Alcohol is on the list of stuff you're not allowed to bring in. Related: they didn't check our bags at all.
3. Don't bring more than five friends
Which shouldn't be hard for you! Zing! Really though, the maximum number of people per spa is six, and if you go over that, you'll have to rent out two different ones and be in different rooms.
4. Don't bring towels, but do bring cash (and coupons!)
They provide towels for everyone, which should give you even more room in your bag for extra... sodas. It's $24.50 per person and cash-only, but you can grab coupons to get an extra half-hour any day before 5pm! Oh, and you can call ahead to book one, but you probably don't need a reservation.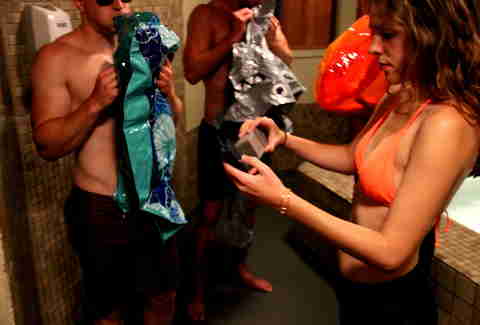 5. Make sure your JAMBOX is charged
Outlets + Jacuzzi = Ahhh!!!
6. Make sure everyone has the proper safety equipment
If one of the people in your group can't swim, floaties are a must.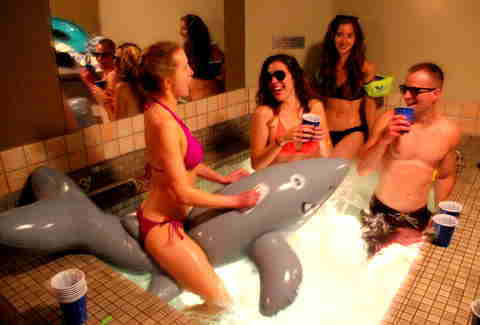 Or at the very least, an inflatable shark.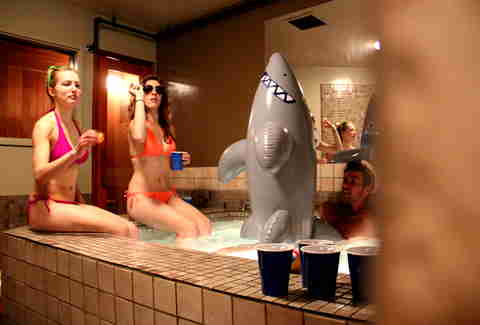 7. Bring plastic cups
There's a conveniently large ledge around the tub that's perfect for (soda) pong.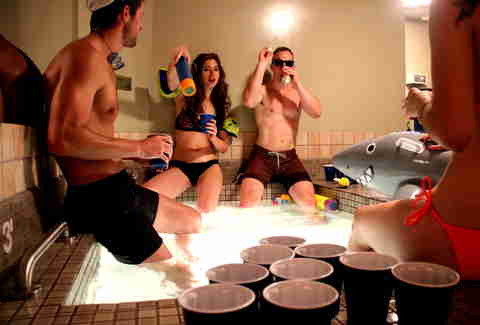 Just mind your aim. Though the tubs are filtered every six minutes (it's like a giant water cup!), balls are a little hard to find in the bubbles.
Flip cup? Also totally doable.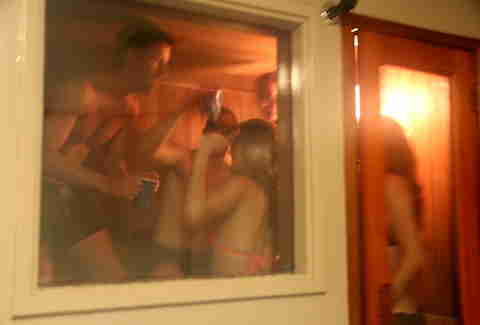 8. Turn off the heat in the sauna
The room also comes with a personal steam room that you should shut off when you get inside. After all, dance parties in tiny rooms get mad sweaty as is.
9. Be cool, honeybunny
If things get a little too hot (the rooms are pretty toasty/OMG bikinis!!!), every room comes with a cold shower, too.
Joe Starkey is Thrillist's San Francisco Editor and can't believe he threw a hot tub party for work. Follow his ridiculous antics on Twitter.