11 Paso Robles secrets, revealed
Grant Marek
Grant Marek
Turns out, the Kettleman City In-N-Out isn't the only awesome thing between SF and LA. There's a Kettleman City Jack in the Box, too!!!! Oh, and also: Paso Robles, a sort of Napa Lite with 200+ wineries, a hotel with a S'mores Butler (?!?!?), and the only brewery in California that'll let you play "human beer pong". Here are 11 Paso secrets that'll make you wanna go there instead of Napa.

1. One of the hotels has a S'mores Butler
Easily the best boutique hotel in Central California, Hotel Cheval is the fancier of two Downtown Paso lodging options (Paso Robles Inn is the other) and has just 16 rooms, all wrapped around a guests-only courtyard that makes the whole thing feel a little like Melrose Place (minus all the Kimberly drama). Oh right, the S'mores Butler: your sticky-fingered Alfred will hook up complimentary s'more-age at one of two courtyard fireplaces, letting you choose from an array of house-made, flavored 'mallows (vanilla bean, raspberry, coconut...) and Dove chocolates.
2. You can play with remote-controlled boats, for free
Bianchi Winery owns two giant remote-controlled sail boats that you can drive around their tasting room-abetted koi pond while aggressively sipping on the only Paso Zin to win a double gold (all the way, across the sky) at the California Zinfandel Championships.
3. It's home to one of the most epic treehouses ever
That's because Paso is also the HQ of the epic-treehouse-making dudes behind Animal Planet's Redwood Kings, who have one of their incredible two-story t-houses parked at a farm supply company on Ramada Dr about a half mile from Daniels Wood Land. And yes, that's a rope bridge.
4. It's the only place in California where you can play "human beer pong"
The dudes at BarrelHouse Brewing Company (try their Brazz Monkey -- it tastes like a shandy, but beer-ier) take a stack of red, 32-gallon trash cans, line them up in classic pong pyramids, fill them with water, and then have teams take turns throwing a giant yoga-ish ball into them. There's no official drinking required, but that doesn't mean there isn't unofficial drinking required! Also important: their back patio has a badass fake mountainscape, a waterfall, Adirondacks, cornhole, a beer garden, and its own access to the backside of the bar.
Oh right, and they sell the Bar-B-Keg, which is exactly what it sounds like: a BBQ, made out of a keg.
5. You can outdoor hot tub it
Paso is somehow one of the greatest natural thermal mineral springs in Central California, which means it has infinity spas, and one actually really awesome one: River Oaks Hot Springs, which is awesome because it has private outdoor hot tubs. Sha. Wing.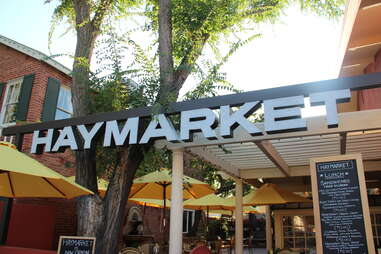 6. You can get specialty blend dark roast coffee for 50 cents
From 9am-3pm. Every single day. And you can drink it out on this glorious al fresco patio. Which has WiFi. And also ice cream sandwiches.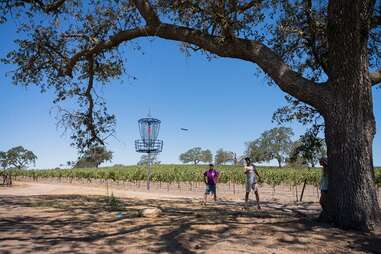 7. There's a winery that has its own disc golf course
Castoro Cellars has an 18-hole course that stretches two whole miles through the heart of its vineyard. We'd say bring a couple tallboys 'cause there are benches at all 18 holes, but since this is wine country, maybe bring... a couple bottles?
8. It's the only place you'll find rye whiskey made with... Firestone Walker beer??
Tucked away up a hill in the outskirts of Paso, Re:Find is a weirdly punctuated 13ft by 13ft distillery (located inside a winery) that takes unused wine juice (from the winery, it's called saignée, a prized free-run juice removed prior to fermentation) and distills it into vodka. Their gin is really good, too, but it's the barrels they have aging under the stills that you should ask about: they're filled with rye that incorporates distilled, non-hopped Firestone 805. Like all rye should.
9. If you bring your own bowl to Pioneer Day, they'll fill it with free beans
Pioneer Day is a free food thing started during the Great Depression that Paso has been celebrating since 1931, wherein they throw a nutso parade, during which they cook 1,200lbs of beans and 400lbs of hamburger in huge whaling vats and give them allllllll away during the free Pioneer Day Bean Feed.
10. Holy crap you can ride your horse into the Pine Street Saloon
It's called the Baron of Higuera and it's loaded with seasoned, charbroiled ground beef topped with melted Cheddar and served on a giant hamburger bun. Apparently if you finish the entire thing (and the fries) you get... a limited-edition "Baron" T-shirt. Two words: worth it. One more word: kinda.
Sign up here for our daily San Francisco email and be the first to get all the food/drink/fun SF has to offer.
Grant Marek is a Senior Editor at Thrillist and has done Sunday night karaoke at Pine Street Saloon sans horse. Follow him on Twitter: @grant_marek.