Everything You Need to Know About Doing a Beach Bonfire in SF
Guys! Memorial Day Weekend starts tomorrow! Unless you added this story to Pocket and are reading it the Friday after Memorial Day Weekend, in which case... Guys! A different, also-weekend starts tomorrow! Either way, there's a very, very good chance that, with summer officially underway, you're going to want to celebrate the glorious, partly cloudy, high-50s, 20% chance of rain SF summer with a beach bonfire. Okay, so maybe not this weekend, and maybe not the weekend after you read this on Pocket, but some weekend. (Hopefully. Please God.)
When you do, you'll be glad you saved this: the only guide to doing a bonfire on a San Francisco beach that requires zero merit badges.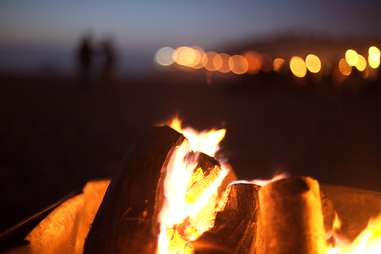 Where can I beach bonfire?
Great question, especially since the San Mateo coast and Sonoma County are totally not cool with beach bonfires:
Muir Beach
Six fire rings are available May-November 6th, and only three rings December-April 3rd; they're located on the beach near the South end of the parking lot.
Ocean Beach
Fourteen rings are available; they're located between stairwells 15 and 20.

When can I bonfire on those beaches?
Depends on your tolerance for cold/fog/wind. But also on what day it is: the only time fires are NOT allowed are on Spare the Air days; you can check if there's one ahead of your bonfire at the website or by giving the Spare the Air hotline a call (1-800-HELP-AIR).
If it's warm (enough) and not a Spare the Air day...
Muir Beach: 9am 'til 1 hour after sunset
Ocean Beach: All fires must be out by 9pm; Ocean Beach parking lot closes at 10pm
Do I need to make a reservation?
Not unless you have a party of 25+. Otherwise, fire rings at both beaches are first come, first serve.
And if you do find yourself with a party of 26 or more, 1) wow you have a lot of friends, and 2) it'll cost you $50.

What can I burn?
Both beaches are BYOFW (bring your own firewood), untreated and unpainted. Also, you CAN'T burn:
-Pallets
-Any wood with nails, hardware, or paint
-Charcoal
-Scavenged wood or kindling from the surrounding beach/park
-Accelerants, like lighter fluid
And duh, don't burn any trash, ya heathens.
How do I put out the fire?
No extinguishers needed, just add water! Bring your own bucket and scoop up ocean water, or bring your own jug of water from home. Whatever you do, do not add sand!

Can I drink on the beach?
You can't have alcohol at either fire ring location. You CAN, however, have a water bottle with definitely-just-water-in-it-yep-definitely. Also: no glass. At all.
Can I BBQ?
Personal grills ARE allowed on the beach (woohoo!), even ones that utilize charcoal, you just have to have a way to put out the coals (ie: a hand trowel). Grills are also available in the picnic area, first come, first serve.

Most importantly though...
Leave no trace. Take all your crap with you, or else you'll be the reason why we can't have nice things like bonfires anymore.
And if for some crazy reason you want EVEN MORE info, check the Golden Gate National Parks website.
Sign up here for our daily San Francisco email and be the first to get all the food/drink/fun SF has to offer.
Margaux Poupard is a freelance writer for Thrillist and BFFs with Smokey the Bear. Follow her on Twitter @MargsSheWrote.