As Benjamin Franklin famously said, "In this world nothing can be said to be certain, except death and taxes and you having a TON of great SF date ideas after reading this super-awesome list from Thrillist." Speaking of which...
Skeeball Tour of San Francisco
Various Locations
On this tour/bar crawl, National Skeeball Champion Joey the Cat leads you to the best skeeball venues in San Francisco while arming you with skills that'll help you dominate future nights at Buckshot. Plus, this follows the time-honored formula for every successful date in the history of mankind: friendly competition... and booze.
Midnight Mystery Ride
Locations Announced Day-of
A bike ride in the daytime -- standard, romantic fare. A bike ride along an undisclosed route to a mystery location that ends in an after-hours party? Infinity-better-than-standard romantic fare.
Virtual golf
Eagle Club Indoor Golf
A virtual, indoor driving range means you can enjoy the best aspects of golf -- hitting balls and "helping" her improve her swing -- without having to endure any of the negatives (stuffy dress codes, early tee-times, committing to 19 holes with a person you met on Tinder).
Pro tip: Upgrade your standard happy-hour date by suggesting an after-work tee-time (it's located on 2nd and Howard, near all your standard happy hour bars, anyway).
Roller disco
Church of 8 Wheels
Ice skating is lame (and cold), but roller-skating? See, that right there is retro and cool, and still provides plenty of opportunities for rom-com-like falls that inevitably lead to touching. Also: DJs spinning old-school funk and disco while you skate around a converted historic church is awesome in and of itself.
Pro tip: Bring a flask -- there's no bar on the premises.
Archery
Golden Gate Park
Tucked away just North of the golf course is Golden Gate Park's archery field, surrounded by woods that look like Robin Hood's Sherwood Forest (the cartoon one with the foxes, not the Costner one). You rent your equipment at the nearby San Francisco Archery Shop, where the expert archers on staff give you a quick tutorial. Then walk down to the field where nine target bales await you and your best Katniss Everdeen impression.
Pro tip: Bring wine or beer (probably just for post-shooting), plus picnic provisions.
Hiking
Lands End
You know what's expensive? Dating. You know what's free? Hiking. And thanks to panoramas around every corner, San Francisco turns what's basically just walking into an exercise in romance. SF offers several awesome urban date hikes, but a walk that ends at Sutro Baths is especially dreamy. Making out... in a cave... while waves crash near by -- it's like Danielle Steel created SF's coastline herself. Wait... did she?
Boat ride
Stow Lake
Take a page out of a Nicholas Sparks novel with a picturesque paddle on Golden Gate Park's Stow Lake. Sure, the waterfall on the center island, sweeping city views, ducks, and storybook wooden bridges could tip this date into cheesy territory, but that's nothing a few tall boys in paper bags can't temper. Plus, is it really the worst thing in the world if you start to remind her of Ryan Gosling?
Pro tip: Rent the pedal boats instead of the rowboats so your hands are free for sipping beer. Oh, and bring snacks to share with the ducklings.
Bowling
Mission Bowl
Classic courtship gets the trendy, hipster treatment at Mission Bowl. It's basically a typical Mission bar -- complete with decent food, craft cocktails, and people in flannel -- only there are bowling lanes, too.
Pro tip: Come during the week when the wait list for the two first-come, first-served lanes is generally shorter. And enjoy drinks or food on the patio while you wait.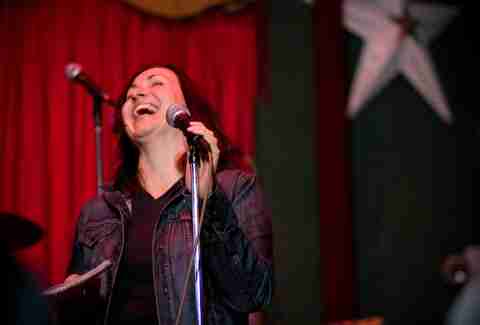 Mortified Storytelling
DNA Lounge and The Uptown
Dating can be awkward and embarrassing, but for once the angst will not be your own when you witness Mortified's hilarious exploration of most embarrassing moments. There's just something about sharing in other other's misfortune that really helps people bond. Newsweek, The Onion's A.V. Club, This American Life, and more rave about the raw storytelling, so even if the relationship doesn't last, this "cultural phenomenon" is worth seeing. Catch it in SF on October 10th, or in Oakland on the 11th. If you're gonna go to Oakland, make sure you read this first.
Sidewalk Food Tours
Various Locations
For around the same cost as a dinner for two at any moderately priced restaurant in the city, you're treated to a much more interactive experience with this food tour of San Francisco's most delicious neighborhoods. Choose from Italian goodies in North Beach, Latin flavors in the Mission, or Chinese delicacies in Chinatown (coming soon) and taste popular dishes from five of the most iconic restaurants and holes-in-the-wall the neighborhood has to offer.
Giant trampolines
House of Air
A massive trampoline park in a historic airplane hangar. Do we really need to explain further why this is awesome?
Pro tip: After you're done jumping around like kids, plan on sharing a bottle of wine on Crissy Field across the street like the adults (with the healthy, active love lives) that you are.
Indoor rock climbing
Planet Granite
Granted, no one looks good in a harness, but once you and your date get past that, rock climbing is practically guaranteed to bring you two closer. It has something to do with endorphins and bonding over harness wedgies.
An astonishingly inexpensive Italian dinner
Amarena
Sometimes the best dates are easy and simple -- drinking wine in a charming Italian restaurant, for instance. And it just so happens that a charming Italian restaurant in Russian Hill offers the best happy hour deal in town every Thursday from 5:30-8pm. Order a glass of wine and help yourself to the fresh, homemade Italian appetizers, breads, and pastas that the owner Paolo generously provides. Just don't expect to Lady-and-the-Tramp your pasta over a candlelit table -- the vibe during Thursday happy hour is more "intimate cocktail party" than "sit-down dinner".
Bungee jumping
Icarus Bungee
There's a reason dating shows like The Bachelor make contestants do adrenaline-pumping activities: it makes people hot for each other. The other reason is that it's totally fun. Either way, you pretty much have to go to Icarus Bungee.
Sign up here for our daily San Francisco email and be the first to get all the food/drink/fun SF has to offer.
Amy Copperman is a freelance writer in San Francisco. Ask her out on Twitter. Or don't... she's totally breezy.