11 Under-the-Radar San Francisco Date Ideas
Dating in SF is complicated enough without also having to constantly think of new activities that'll stoke the flames of love. That's how love works, right? Fire? We're not really sure. But we are sure these 11 new under-the-radar date ideas will shake up your usual dinner-and-drinks routine.

SOMA
If you've never taken in a Giants game from a kayak in McCovey Cove (where you have a slim chance of catching home runs from your boat), you definitely need to right that wrong this season, no matter what your romantic status is. But it just so happens that boat rides make for smooth-sailing dates, too, sure to remind her of every romantic comedy she's ever seen. Bonus points if you catch a ball. And give it to her.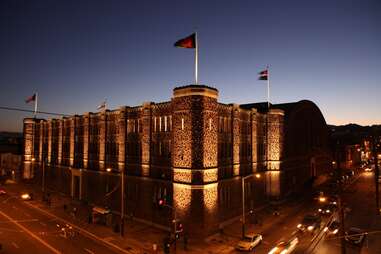 The Mission
Sure you could watch Fifty Shades of Grey in a theater and hope the giggling teens to your right and white wine-sipping housewives to your left don't kill the mood. Or you and your partner could learn what BDSM is really about while touring one of SF's most historic buildings, now home to the city's very own porn studio. The 90min tour of the San Francisco Armory takes you through all five floors that once served the National Guard, but are now home to sexy private parties and elaborate cinematic sets for Kink.com.
Pro-tip: definitely grab an ice-breaking cocktail across the street at the sexy, dimly lit Armory Club to set the mood for the date.
Various locations
Any SF restaurant worth its truffle salt provides a farm-to-table dining experience, but these adventurous tours offer way more education for foodies interested in learning how chefs source ingredients from San Francisco's fertile land and shorelines. Not only do the walks lead you through scenic hikes around the city and allow you to collect raw ingredients for your very own hyper-local meal, but you'll also come away with survival skills to use if you're ever trapped in Golden Gate Park (ahem, surge Uber pricing after Outside Lands) and need a quick snack of wild mushrooms and edible flowers.
Land's End
If you haven't done Fort Miley, you need to do Fort Miley, where an extensive, three-hour ropes course awaits thrill-seekers the first Sunday of every month. Belay your date as she scales a tree, take in views from a tight-rope 30ft in the air, and zip line through the forest for an experience that'll get your adrenaline seriously going.
Various locations
This is pretty awesome: EatWith, a sort of Airbnb for dinner, has chefs host intimate dinner parties in their own homes. The guests don't know each other, but any awkwardness soon melts away once the wine (you bring your own -- yay!) and food start flowing. Browse the site to find a menu, a host, and a price that you're cool with, sign up online, and the chef takes it from there. Best part: the rigorous application process means each meal is restaurant-quality, often for way less than what you'd pay if you ate out. Better than the best part: sometimes chefs use these dinners to test recipes or restaurant concepts before taking their creations to market, providing a sneak peek at what's coming up for the San Francisco dining scene.
North Beach
This tiny North Beach café is kind of the perfect spot for anyone looking for a low-stress date with someone new or new-ish. It's charming, it's casual, it's intimate, it's cozy, and it has fondue and wine. Conversation a little awkward? Connect Four, dominos, and other games can give you something to do with your hands. Plus: weekly, free comedy shows and live music several nights a week allow you to seamlessly parlay the typical happy hour into a longer night out.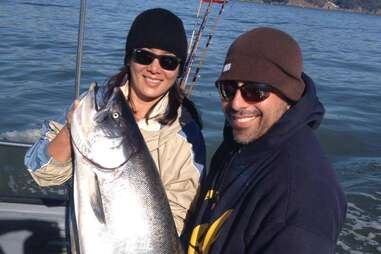 Sausalito
Buy your date a fish and she'll eat for a day; take your date on a fishing tour and you'll both eat for, um, a lot of days. This all-day fishing excursion by Blue Runner Charters departs from Sausalito and cruises you out to the Farallons, Point Reyes, or Half Moon Bay where you'll haul in enough salmon, halibut, or albacore tuna for a killer dinner that evening and a freezer full of fish. The boat leaves at an uncivilized 6am, but it's a small price to pay for a day at sea learning valuable life skills.
Pro-tip: bring a cooler stocked with snacks and beer to turn the excursion into a party.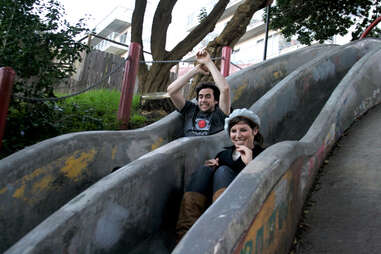 The Mission
Picnics are awesome until you've finished eating and realize there's not much to do but gaze into each other's eyes while remarking about how nice the weather is. But a hidden garden near Douglass and 19th featuring awesome, steep concrete slides solves that problem for you and infuses a bit of play into your day date.
Pro-tip: BYO cardboard for easy sliding.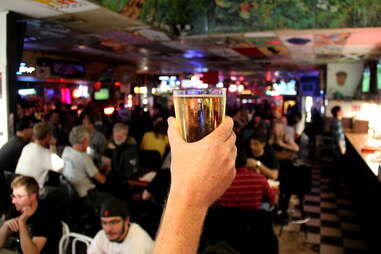 Do a public transit bar crawl
Various locations
Perhaps you've noticed -- we've got a thing for organizing bars into convenient, crawl-ready groups, whether you're cruising on your bike or riding Caltrain, Bart, or Muni. Find a date that's up to the challenge, and you'll be one step closer to true love. Or hitting the 10K step goal on your Jawbone UP. Definitely one of the two.

Van Ness/Civic Center
Catching live music is a solid date move, but for an out-of-this-world, totally unique live-music-catching, head to Audium, the only theater in the world constructed specifically to explore how sound moves in space. You sit in total darkness as 176 speakers envelope you in an auditory journey that allows you to hear and feel music in a totally mind-bending way. An electronic orchestra "sculpts" sound so it feels as if it's moving past, over, and under you for a full-body sensory experience -- the kind of epic date that could very well lead to a very different kind of full-body sensory experience (wiiiiiink!).
Fisherman's Wharf
Fisherman's Wharf is actually a great date spot for a bunch of reasons, but if you're low on cash, check out Musée Mécanique where $5 can keep you entertained for an hour, thanks to the fact that they've got vintage arcade games that cost between a penny and a quarter to play. Start at the Gold Dust Lounge to achieve the required Fisherman's Wharf drink quota, then challenge your date to turn-of-the-century carnival games.
Sign up here for our daily San Francisco email and be the first to get all the food/drink/fun SF has to offer.

Amy Copperman is a freelance writer in San Francisco who loves love. Let her know how your date goes on Twitter!