Every MLB Team, Ranked by How Much Giants Fans Should Hate Them
You'd think it'd be hard to hate anything nowadays if you're a Giants fan (2010! 2012! 2014!), but you'd think super wrong, 'cause there's always something to hate (and, more specifically, someone) when you're an MLB fan. And just so we're on the same haters page, here's a list of every single MLB team, ranked by how much Giants fans should hate them.
29. Kansas City Royals
How can you hate a team you just beat to secure one of the most unlikely World Championship wins ever? You can't. Welcome to No. 29, KC.

28. Houston Astros
They're the doormat of the AL West, and they're in Texas. Maybe the feeling is more pity than hate? Side note: if this was a ranking of teams that Giants fans should hate based solely on their ballparks, the Astros would be in top-five territory -- a hill in center field? Really??

27. Tampa Bay Rays
The AL East version of the A's, you hate this team for trading talent. Unless it's to you. Then you're kind of okay with this team.

26. Toronto Blue Jays
Catch the Fever. (Please.)

25. Baltimore Orioles
Just another East Coast team that gets two or three times as much national media coverage as the Giants for a 90-win season. Also: Manny Machado is a punk.
24. Milwaukee Brewers
Meet another team your eyes glaze over when scanning the schedule. The only reason they aren't lower: as soon as Sergio Romo hangs a slider that gets crushed, Bernie Brewer rubs it in by jumping down that annoying yellow slide.

23. Pittsburgh Pirates
They were once the plucky underdog everyone was rooting for (except you). Now they're a two-time playoff team. BTW, thanks for Barry Bonds.

22. Seattle Mariners
You used to hate them for having Griffey, A-Rod, and the Big Unit. Now you just hate them sans reasons.

21. Cleveland Indians
We literally gave them Matt Williams and those stacked Indians teams STILL couldn't close it out. They had Manny Ramirez hitting 7th!!! They aren't even good at screwing us. Hate.

20. Chicago White Sox
They won a World Series with A.J. Pierzynski at catcher. A year after we traded him. For that, they'll always be dead to Giants fans.

19. Cincinnati Reds
They fired fan favorite Dusty Baker for doing exactly what he does -- getting to the playoffs and losing to a less talented team. Fun fact: they haven't been to the playoffs since firing him. Karma, sons.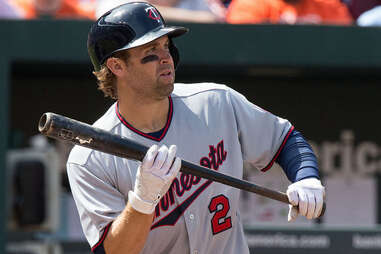 18. Minnesota Twins
They stole Joe Nathan's Hall of Fame career from San Francisco. Forcing us to eventually sign... Armando Benitez. FML.

17. Arizona Diamondbacks
The D-backs are mostly here due to being in the same division. And second-mostly here for having a pool in the outfield. Are you there to watch baseball or work on your effing tan?

16. Texas Rangers
Thanks for the relatively stress-free 2010 championship. Way less thanks for stealing Will Clark from us, assholes.

15. Chicago Cubs
Just because they're the saddest team in professional sports, doesn't mean you can't still hate them. Also: have you ever meddled with that humidity? Good DAY, Sir!

14. Philadelphia Phillies
Cheesesteaks are overrated. OVERRATED.

13. Detroit Tigers
Thanks for laying down for us in 2012.

12. Atlanta Braves
They were SO annoying in the '90s. In the playoffs every year, and three aces to crush any hopes you had of advancing. Also: is there anything more annoying than the "Tomahawk Chop"? No. No there is not.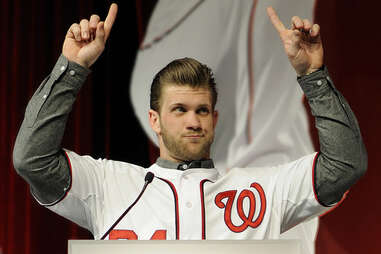 11. Washington Nationals
Even though Bryce Harper makes them easy to hate, this one burns deeper. An extra inning playoff game takes years off a person's life, and an 18-inning one probably almost killed any Giants fan who watched all of last October's Postseason affair. Imagine how much Giants fans would hate them if they'd lost that one...

10. San Diego Padres
Everyone loves flashy off-season moves. Well the Padres went out and made almost all of them, landing Matt Kemp, Justin Upton, James Shields, Will Myers, and Derek Norris. Welcome to the top 10, buttholes.

9. Colorado Rockies
They ALWAYS have a hitter every other team wants. They develop accidental 25 home run crushers yearly. They chew up pitching staffs with Coors Field. Plus if you think long and hard about that year you attended the most Giants games in person, you'll realize 60% of them were against a 70-92 Rockies team.

8. New York Mets
First the Mets (THE METS) knock the Giants out in improbable fashion in 2000 after SF led the league in wins. Then, somehow, they snuck Armando Benitez onto the Giants roster. Double groin punch -- say hello to No. 8, Mets.

7. Miami Marlins
Baseball fans remember the two World Series the Marlins bought. Giants fans remember 1997 and 2003 -- early, disappointing playoff exits to Marlins teams that otherwise weren't good.

6. The New York Yankees
Even though the Evil Empire's payroll is largely tied up with over-the-hill players these days, watching them gobble up everyone's best player gets a little old. The only reason to root for the Yankees is when Vallejo-born CC Sabathia is starting. But even then, it's really, really hard to.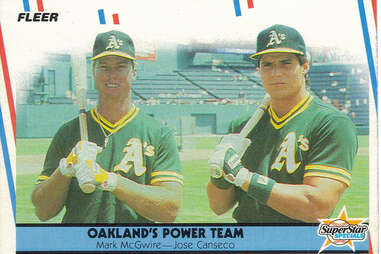 5. Oakland Athletics
A's fans might be offended by this ranking. Too Bad. The A's are annoying. The stadium sucks. Every time they build a team worth watching, GM Billy Beane disassembles it and starts from scratch. But right before he does, an A's fan gets in your face.

4. The Los Angeles Angels
First, they are in Anaheim. Second, the Rally Monkey AND thunder-sticks were ALL THEIR FAULT. 3rd, the 2002 World Series.

3. The St. Louis Cardinals
The Cardinals are good EVERY year. They've been to the World Series FOUR times in the past TEN seasons, winning it TWICE, which is about 33% less impressive than THREE times (burn). Worse, they broke our Dad's hearts in 1987. DOUBLE WORSE, we won't forgive Matt Holliday's hard slide to take out Marco Scutaro. Humm Baby.

2. The Boston Red Sox
There's the Green Monster. And the whining. Plus the accents and... ugh, the fact that Sandoval plays for them now.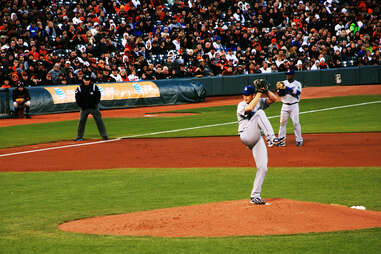 1. Los Angeles Dodgers*
Passed down from generation to generation, the LA hate runs deep in SF. The Dodgers have been and always will be the Giants' most hated team. Even the standings don't matter. If both teams were tied for last place, Giants fans would whisper "Please just finish ahead of the Dodgers." Pick an era, any era, and you'll find a timeless Giants-Dodgers hate-fueling moment: the 1951 "Shot Heard 'Round the World," playoff in '62, Joe Morgan eliminating the Dodgers in '81, Brian Johnson's extra inning walk off HR in '97, Kevin Elster's GREEDY three home runs to ruin Pac Bell Park's inaugural opening day, the Dodgers eliminating the Giants in 2001 the same game Barry Bonds hit 71 & 72. Plus, they spend more money than anyone else, they steal our players, Clayton Kershaw is an annoyingly amazing pitcher, and, ugh: Tommy Lasorda.
* As much as you can hate a team who hasn't won a World Series since 1988 -- how do YOU like asterisks, Dodgers fans???
Sign up here for our daily San Francisco email and be the first to get all the food/drink/fun SF has to offer.
Sam Adams isn't THAT Sam Adams. Sorry. He is, however, a Giants fan who's just realistic enough to tell you when they suck. Vent your hate ranking frustrations to him on Twitter at @samueljayadams. Yes, even if you're an A's fan.