Screw the Leap Bus -- Someone Should Make These Private SF Buses Instead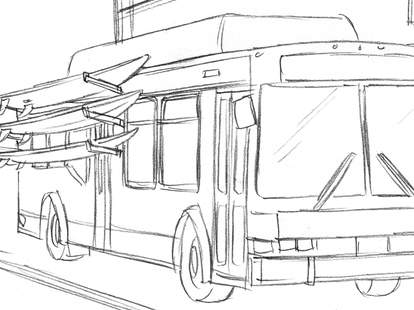 A few weeks ago, a start-up called Leap Transit started running a fancy-ass service that takes people from the Marina to the Financial District in private buses with comfy leather seats, reclaimed wood paneling, free Wi-Fi, USB outlets, organic snack bars, and $7 kale juice for purchase. Because, after all, no Marina girl should have to commute without overpriced raw cold-pressed juice.
Obviously there's something inherently irksome about Leap and it's $6 fare, but still... we couldn't help but think that maybe if the buses were super-catered to OTHER neighborhoods, they'd be kind of amazing? Maybe if they were like THIS, for example?
Outer Sunset
You'll never have to freeze your butt/head/feet/hands/arms/legs/fingers/toes off walking home from a gnarly OB session again. These buses come complete with padded surfboard racks that fit boards up to 9.5ft long. Just hand the concierge up to three boards from your quiver and he'll valet them for you, leaving you free to warm up using the personalized heaters placed by every seat. Hot coffee and cold beer are both available for purchase through the app, as are flax seed wheat grass smoothies and Gordo's burritos. Locals only, please.
Jon Adams/Thrillist
Lower Haight
Beer-lovers will now look forward to commuting thanks to personal beer taps by every seat on this bus. Just tell the app which of the 28 local craft brews you'd like and your IPA/stout/porter/Gose will be ready to flow from your tap within seconds. Don't like to pour your own beer? No worries. A brewmaster will be on board to serve you/blankly stare at you when you pronounce Gose incorrectly. Riders can also pre-order Cheddar Brats and Nuernberger Bratwursts from Rosamunde Sausage Grill or a Smoked Pork Sandwich from Memphis Minnie's.
 
Pacific Heights
The wheels on the bus go 'round, but not as fast as the wheels on the 18 SoulCycle bikes that are bolted to the floor of this Pac Heights commuter. Every bus will have an instructor ready to lead you on a 45-minute full body workout complete with a spiritual mind/body experience. Pre-order your favorite organic water and you'll find a cold bottle waiting for you on your bike. For an extra $5 fee, bikes can be adjusted to the settings in your profile. Finally, we recommend bringing your own cycling shoes, but you can also rent them using the app. Just put in your size and they'll be waiting for you when you board. SoulCycle tanks and tees are also available for purchase through the app.
Note: Due to the fact that most Pacific Heights residents are so wealthy they don't have to work, much less commute, this bus will run on a limited schedule.
Jon Adams/Thrillist
North Beach
Commuting gets competitive with an oyster shell bocce court complete with scoreboard and ball racks IN THE MIDDLE OF THE BUS. The morning commute will see riders sip on espresso and fette biscottate. Whereas during the ride home, it's all about pizza margherita pulled from a a 5,000lb Stefano Ferrara wood-burning oven and paired with a luke-warm Peroni. For the Friday night commute, select buses will place a pole in the middle of the bocce court and ladies from The Condor will be along for the, ahem, ride. Leave your dollar bills at home though; they'll only accept tips paid for through the app. Oh and don't worry about the mess: The bus' cleaning crew will be made up exclusively of sweepers... recruited from Serie A, since that's the only place you can find 'em.
Jon Adams/Thrillist
Noe Valley
Good news Mom and Dad! Now you don't have to worry about your baby when you head off to your fancy tech job in Silicon Valley. Sure, your company probably has free daycare, but why force little Schuyler Ainsley to commute with you when the baby bus will pick her up, keep her all day, and drop her off when you get home at 9pm? Each baby who wants to participate will be injected with a bluetooth chip so that all charges for snacks ($3-$9), bottle feedings ($8), and diaper changes ($3 - $25) can be automatically paid for via the app. Buses are equipped with educational toys and games (no television allowed), and your little one will participate in daily music and meditation sessions. Just pop your stroller on the outside racks, hand your child over, and enjoy a child- and worry-free day.
 
SOMA
We understand that you don't ever want to leave your living room, which is why we've made this bus as similar to it as possible, only without the empty Munchery containers. The tables on this bus are giant iPads. The walls are lined from floor-to-ceiling with plugs and USB outlets. An enormous server is capable of handling even the biggest downloads. All energy drinks and snacks are included in the fare. Talking is forbidden; please use your devices for all communication, as you would in the real world. Unless, of course, you're in the 104 degree "networking" hot tub that sits a top the bus. There, you should feel free to discuss your new app or latest round of funding while the concierge serves you over-priced cocktails for an additional, but nominal fee ($15).

Jon Adams/Thrillist
Upper Haight
Kick back in a bean bag chair while our concierge packs a bong with marijuana pre-ordered from our in-bus dispensary; he'll even light the bowl for you. All you have to do is inhale. Woven tapestries cover the windows to filter out light and a selection of epic jam bands play on the speakers. Use the app to order munchies that include Ben & Jerry's, Cheetos, Pizza Rolls, and Pop-Tarts. Be sure to let the app know your final stop before you board so that the concierge can wake you up and give you a Slurpee to-go.
 
Sea Cliff
This bus will pick your poodle or Bichon Frisé up at your doorstep for a day of non-stop pup pampering. Princess can relax while she gets her paws done, her hair shampooed and set, and unwind with a full doggy body massage. Extras include pig's feet ($10), dehydrated lamb lung ($12), and baked bull penis ($15), all of which Mister Mumbles can devour shame-free and in privacy.
Jon Adams/Thrillist
The Mission
Never wait in line for a burrito again. The Mission bus serves fresh, tasty tacos ($5), burritos ($8), and quesadillas ($6), with only local, organic, sustainable, farm-to-table, foraged ingredients. You can pre-order using the app and your food will be hot and ready for you when you board, or watch your burrito get rolled while we roll down Valencia. Corona, Sol, and Pacifico are also available for on-board purchase, as are four seasonal flavors of agua frescas. Bike racks are available for your fixie. And every Tuesday is Taco Tuesday where your $20 fare gets you as many tacos and Tecates as you can get down during the ride.
Sign up here for our daily San Francisco email and be the first to get all the food/drink/fun SF has to offer.
Daisy Barringer is Thrillist's SF Editor and though she works from home, her dream bus would probably be a petting zoo that also serves really strong vodka drinks. Tell her about yours on Twitter @daisy.
Jon Adams is an illustrator, designer, and writer living in San Francisco with his wife and their shrimp. He's made things for MTV, Wired, Netflix, McSweeney's, lots of comic book publishers, and himself. Follow him on Twitter @citycyclops.