The 14 most "WTF" things to happen on Muni since 2008
If you've been riding Muni long enough (or even just today), you've seen some pretty weird stuff. And you've probably sent pictures of that stuff to Muni Diaries, which's been chronicling the most "WTF" Muni stories for six-plus years, including these 14... which they've dubbed the most "WTF" ones since 2008.
14. Not technically on Muni but definitely "WTF", Muni Diaries found & interviewed a guy who bought a used, vintage toilet seat from the 1960s on eBay. Just... why?
13. I mean, at least it's a fake giraffe leg, and not a...
11. $20 says he sold it for $4 and called it "artisanal".
9. We're not going to include the NSFW photo of the nudist protest here, where a bunch of naked people attempted to board the F train. That's what NSFW links are for!
8. Second only to Epic Beard Man in super-scary Muni passenger lore is Guy Who Brought an Unsheathed Machete & Is Calmly Playing Candy Crush.
7. When a bunch of N Judah passengers -- faced with a car parked on the tracks -- were having none of it, and decided to move it by hand. Nobody's gonna stop them from seeing Timmy give up five earned runs in person!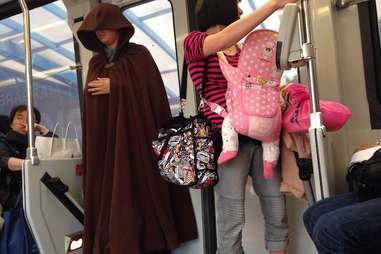 6. One does not simply walk into Mordor. One takes the M train, then transfers to the 33.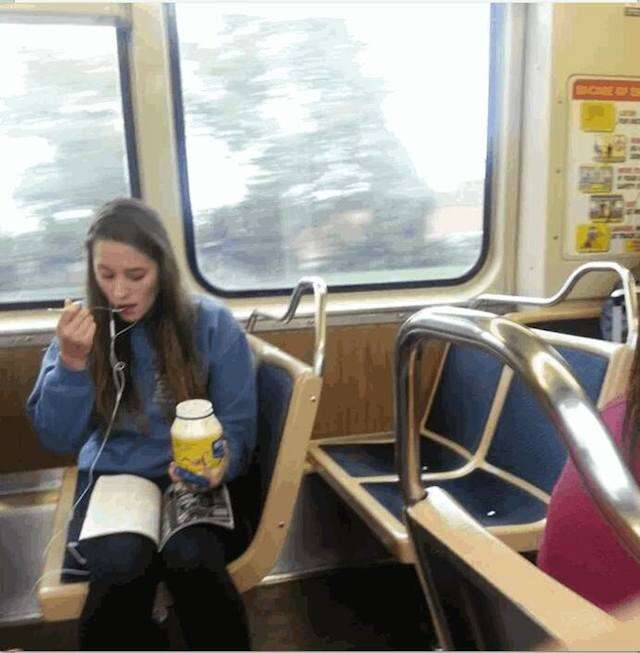 5. Eating on the Muni is disgusting, but eating mayonnaise straight out of the jar with a spoon is on a whole other, much MUCH grosser level.
4. Awww, this guy left such an encouraging note. It's so great when people go out of their way to be nice to y......... oh.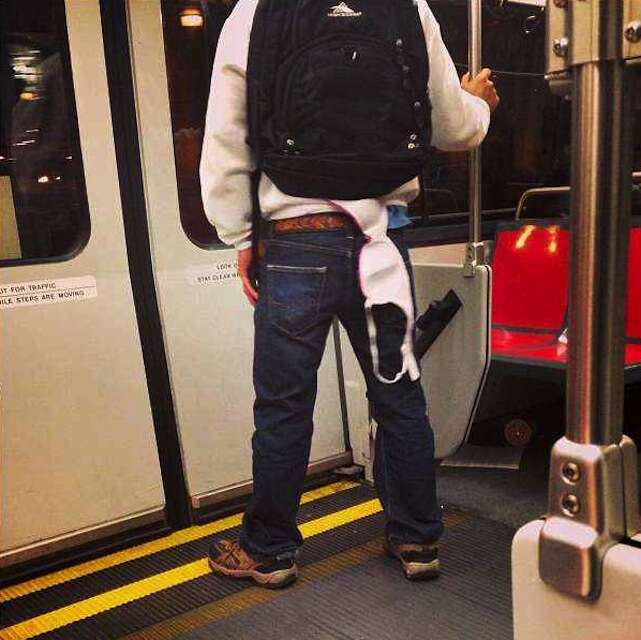 2. Nothing out of the ordinary here. Just a man with a giant bag of oregano that he appears to be selling to people on the bus.
1. And finally, this intrepid biker who found the ultimate way to get out of paying the fare... by possibly paying with his life.

Joe Starkey is the San Francisco Editor for Thrillist and plans on starting a pop-up Muni toast shop in the near future. Follow him on Twitter.
Muni Diaries has been collecting all the weird, gross, and awesome stuff that happens on San Francisco's transit lines for six-plus years. Find them here and follow them on Twitter.