Spring is here, temps are hitting the 70s, and it's sorta sunny out. In other words: it's party bus season. And because you're tired of riding around in regular old boring party buses, we've tracked down five insane party buses (and one boat!!!), and broken down everything from amenities to cost to how allowed alcohol is.

THE MEXICAN BUS
What is it? The Mexican Bus is outfitted like an overstuffed shop in the real part of The Mission (so, ya know, Mission St, as opposed to Valencia), and'll do anything from private charters to pre-selected Latin club tours.
Is alcohol allowed? Not allowed, so ya know, definitely don't sneak it in a Camelbak or anything.
What it costs: Weekday charters are $550 for the first four hours, and $100 for any fraction of an hour over. Friday and Saturday night charters are $650 for the first four hours, and $100 for any fraction of an hour over. Latin club tours are $45 per person (and that includes club covers and small gratuity).
PIRATE PARTY ON A BOAT
What is it? Sure, you could rent a boat or even a sailboat, but unless you're booking with these guys, you'll just be the weirdo in a pirate costume... as opposed to the weirdo in an awesome group of other weirdos in pirate costumes, on a boat sailed by people in pirate costumes (who'll sing sea shanties!).
Is alcohol allowed? Cash bar, landlubber!
What it costs: $2,800 for a three-hour tour (!) to Sausalito and back; additional for food and beverage/entertainment (like, say, sea shanties).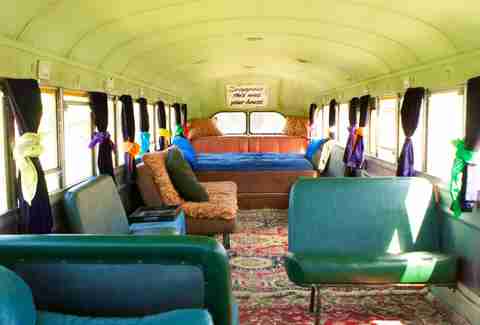 GILLIBUS
What is it? This retrofitted 1975 Gillig school bus is so cool, we're just gonna let its description sell itself: "1800-watt sound system + Retro lounge theme + Cozy, comfortable seating + Cali king bed + 10 forward gears + Friends = Rad times. We've got the grill, the coolers, the Tiki torches, everything you need."
Is alcohol allowed? Totally.
What it costs: Varies depending on your activities.
THE VIDEO GAME BUS
What is it? Though it's normally used for kids' parties, nothing's stopping you and a bunch of friends from having a mobile video game mecca roll up in front of your office/house/park bench, and letting you jam on Rock Band or Halo energy-sword the crap out of Steve (who totally deserves it).
Is alcohol allowed? We're going with not really. But since it's a park-and-play, you can probably get away with Dolores-type rules outside.
What it costs: Variable, depending on game setups.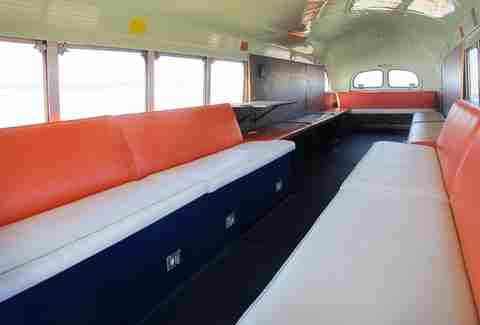 THE TEACHER BUS
What is it? "Life is a field trip" is their motto, and something you're suddenly totally on board with (so long as it's not to the Natural Science Museum), so hop on this retro bus that'll take you anywhere from wine country to Santa Cruz, and can provide DJs, outdoor sound, AN ON-BOARD DANCE FLOOR, and food for your party.
Is alcohol allowed? Well, they straight-up tell you to bring a cooler of your favorite drinks, so we're gonna go with yes.
What it costs: $900 for the minimum of four hours, plus $155 for additional hours. DJs, food, etc. can be provided for an additional fee.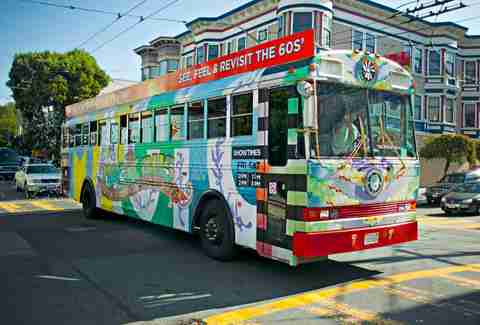 THE MAGIC BUS
What is it? No, not the school field trip where Ms. Frizzle shrunk you down to check out the endocrine system, this Magic Bus is a kinda touristy, but not-too-touristy multimedia look at 1960s SF, complete with accompanying songs, retractable projection screens for videos of old-school SF, and flowers in your hair (just go with it).
Is alcohol allowed? No one will question your Nalgene, man.
What it costs: Adult tickets are $55.
Joe Starkey is Thrillist's San Francisco Editor and is currently taking suggestions for Bay to Breakers costumes. Send them to him on Twitter.