For the next time you step in some sidewalk poop and think to yourself, "Man, I could really use nine under-the-radar road trip options that are within driving distance of SF right about now", here are exactly those -- all "under-the-radar", because the last thing you want to do is drive a few hours and then bump into everyone you've ever met as soon as you get out of the car (looking at you, Napa and Tahoe).
Pescadero, CA
Distance from SF: 46 miles; 1-hour drive
Why: When people talk about spending a day by the seaside, this is what they mean. Plus, it's a good excuse to stay in one of Costanoa's Tent Bungalows.
Three things to do while you're there:
1. The 115-foot Pigeon Point Lighthouse has been guiding ships since 1872 and is one of the tallest in the country. This one's easy to cross off your list, too, since it's falling apart and they don't let you go inside.
2. Harley Farms has goats, and llamas, and cheese, oh my! No seriously: they have more than 200 Alpine goats and make critically-acclaimed cheese. Book your tour in advance. They even have ones that are just for adults.
3. Get your drink on at Duarte's Tavern, a family-run business that's been around since 1894 and is the social hub of the one-traffic-light town. Order the insanely creamy artichoke soup and a piece of their famous olallieberry pie.
Cayucos, CA
Distance from SF: 227 miles; 3.5-hour drive
Why: It's a super mellow beach town known for its good waves and good food.
Three things to do while you're there:
1. Plan your trip for one of the two times a year the elephant seals migrate to the Piedras Blancas rookery.
2. Hearst Castle is right up the road in San Simeon. Take a tour through the 60,000sqft mansion (the indoor pool is insane) and forget about your tiny, expensive SF apartment for a day.
3. Stop by the Brown Butter Cookie Company (just follow the scent of delicious cookies) for freshly baked sea salt-topped cookies. Don't forget to buy some to take home with you (even though you'll finish them all off in the car).
Bolinas, CA
Distance from SF: 30 miles; 1-hour drive
Why: If the locals love it so much that they tear down all road signs leading to the town, it's gotta be pretty special.
Three things to do while you're there:
1. Depending on the waves, Bolinas can be a great spot for beginner surfers. 2-Mile Surf Shop will set you up with everything you need.
2. You could stay at Stinson Beach just down the road, but embrace the Bolinas vibe and get a room at The Grand Hotel, which was never supposed to even be a hotel (the owner just found a sign and put it up on his house and eventually gave in when people started asking for rooms).
3. Smiley's Schooner Saloon has been around for over 160 years, making it one of the oldest bars in California (and one of the only bars in Bolinas). They have a pool table, darts, and the town's only check-cashing facility.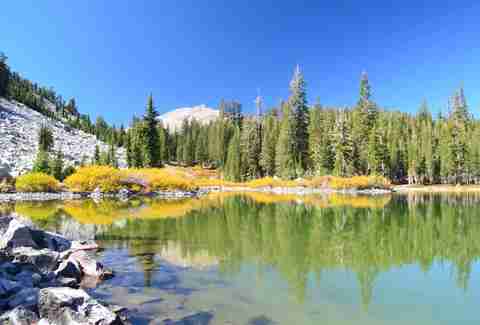 Lassen Volcanic National Park, CA
Distance from SF: 236 miles; 3.5-hour drive
Why: It's like a mini Yellowstone right in your backyard.
Three things to do while you're there:
1. Climb Mount Lassen, duh.
2. Go to Subway Cave, an underground lava tube that's pitch-dark (don't forget a flashlight).
3. Go to hell -- Bumpass Hell, that is. It's the largest hydrothermal area in the park, with boiling pools and plopping mud pots. It's also home to the Big Boiler, a roaring stem vent.
Grass Valley, CA
Distance from SF: 143 miles; 2.5-hour drive
Why: It's a little taste of what it might have been like in the wild, wild west. But without the gun fights.
Three things to do while you're there:
1. Eat at The Willo, a roadhouse 15 minutes out of town where you can cook your own steak on the grill in the dining room. Or they'll cook it for you, if you're too fancy for that (which you're not, right?).
2. Check out Empire Mine, the site of the oldest, largest, and richest gold mine in California. Pack a picnic and pour one out for the 44 mules who spent their lives deep in the mines, pulling ore cars and never seeing the light of day.
3. Stay at The Holbrooke, whose guest book was signed by Benjamin Harrison and Grover Cleveland (they were both presidents, in case you failed US history) and whose saloon downstairs is said to be the oldest continuously operating saloon west of the Mississippi (yup, they were even open during Prohibition).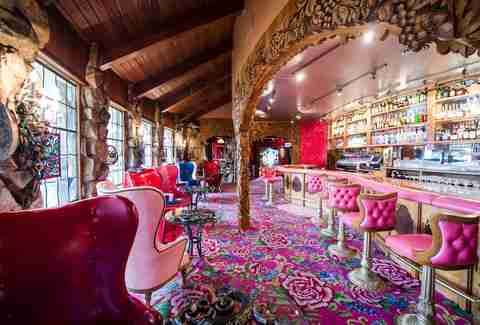 San Luis Obispo
Distance from SF: 231 miles; 3.5-hour drive
Why: It's the happiest city in America. You like happiness, don't you? Also, it has beaches, hiking, and really good food.
Three things to do while you're there:
1. You definitely want to stay at the Madonna Inn. It has 110 themed rooms (Love Nest, Golfer's Room, and Rock Bottom are just three to choose from), world-famous cakes, and a urinal that activates a waterfall when you break a beam of light with your pee.
2. San Luis Obispo is home to a dozen craft breweries, and the Hop on Beer Tour will bus you around in their "pub on wheels" to all of them.
3. Bishop's Peak is the most popular hike in SLO, and it's only 1.5 hours to the top (depending on if you do it before or after you visit all of those breweries).
Gualala, California
Distance from SF: 126 miles; 2.5-hour drive
Why: It's a chill, coastal town that whales pass by every year.
Three things to do while you're there:
1. Depending on water levels (stupid drought), the Gualala River is fun to kayak or float on.
2. Bring your dog. Stay at Sea Ranch Lodge, and they'll pamper you and your pooch.
3. Eat at Bones Roadhouse, "a BBQ restaurant with Brews & Blues" and kick-ass views of the ocean.
Williams, CA
Distance from SF: 122 miles; 2.5-hour drive
Why: Two words: Hot. Springs.
Three things to do while you're there:
1. The only reason you're going to Williams is to stay at Wilbur Hot Springs Resort and get totally blissed out, which is an expression you'll actually be using by the end of your weekend.
2. The bathing area has natural, mineral hot springs complete with three different temperatures, a dry sauna, a cold pool, and a multi-tiered redwood deck where you can lounge.
3. There's also yoga, massages, and everything else you'd expect of a retreat located in a nature preserve. It's BYO food and booze, which means, yes, you'll be cooking dinner next to the old guy you just saw butt naked an hour ago.
Leggett, CA
Distance from SF: 182 miles; 3-hour drive
Why: There's a big-ass tree you can drive through. AMERICA!
Three things to do while you're there:
1. Stay at the Big Bend Lodge, a 1940s "resort" on the Eel River with awesome cabins, a swimming hole, and a big campfire that everyone gathers around at night.
2. Pay five bucks to drive through the Drive-Thru Tree.
3. "Never Don't Stop at The Peg House", a popular stop for truckers and tourists. Grab a seriously delicious burger and listen to some live music.
Sign up here for our daily San Francisco email and be the first to get all the food/drink/fun SF has to offer.
Daisy Barringer is Thrillist's SF Editor and she enjoys singing Taylor Swift's entire discography very loudly on all road trips. Let her know where she should go next on Twitter @daisy.