San Francisco Because you were probably going to spend your weekend Googling around the Internet for "SF web cams" anyway, we saved you the trouble by finding FIVE publicly accessible ones that you can move, zoom, and voyeur the crap out of, so you can see everything from how many people are at Crissy Field to how much fog is in the Inner Sunset.
Recommended Video
This Fluffy Blanket Can Be Turned Into A... Giant Sweatshirt
Inner Sunset Cam (Inner Sunset): Wanna check out Sutro Tower? Or maybe see how soon Karl's about to come and get you? Or maybe see nothing at all because AHHHH KARL'S ALREADY GOT YOU!!!!?? This is the cam for you. Continue Reading
EarthCam San Francisco (Fisherman's Wharf): Possibly the most technologically impressive of the cams, this one's got high-resolution, can zoom quite a bit, and even has sound so you can hear the waves at the South End Rowing Club in the Wharf while you're stuck in your cubicle.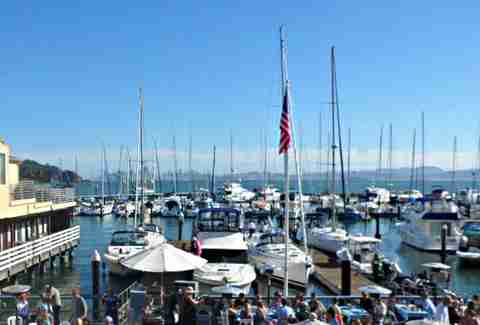 Sam's Cam (Tiburon): Check out the Bay from the other side without actually having to make the drive, via the "Sam's Cam" conveniently located on the dockside deck of Sam's Cafe. You can check out both whether there's an open table for four on the deck, and how nutso the Tiburon marina is.
Golden Gate Park Conservancy Cam (The Marina): Check out our city's most iconic landmark, or just see who's hanging out on Crissy Field thanks to this handy webcam from the GGPC that you can control and focus on a bunch of preset sights, which includes everything from Fort Baker to the Warming Hut.
Pier 39 Cam (Fisherman's Wharf): Let's face it, Pier 39 is actually pretty great... view wise, and this cam takes full advantage of that with sea lion and Alcatraz presets, while saving you from actually having to go to Pier 39 (phew!).