How to sneak into 5 of the best hotel pools in SF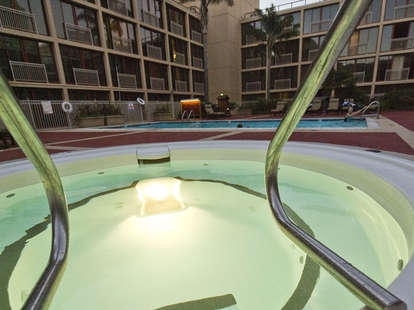 Here in SF, everyone's got mad amounts of space, which is why we all live in Sea Cliff and have pools. Oh, you don't? Well in that case (and since it's so nice out finally!), here's how to sneakily access some places that do, you reeking pauper.
Hotel Del Sol (click here for address and info)
The Marina
Need a confidence builder before going after the Fort Knox of hotel pools? HDS has you covered, with a street-accessible, unlocked/unguarded, no-lifeguard, no camera'd, seriously-how-are-there-not-more-homeless-dudes-hanging-here sliver of H20. Really your only obstacle here is where you enter -- in order to skip the manager's office, make sure to duck under the giant archway as you head South on Webster.
Handlery Union Square (click here for address and info)
Union Square
Because breaking into their majestic, water-filled hideaway is soooooo easy (head down the lobby elevator-adjacent hallway, hang a left at the in-house barber shop, through a probably-should-be-locked swinging glass door, and up the lounge staircase), up the ante by gaining access to the unguarded dry heat sauna (one floor up from the pool, in the NW corner), where you'll find comped towels and a post-steam shower room.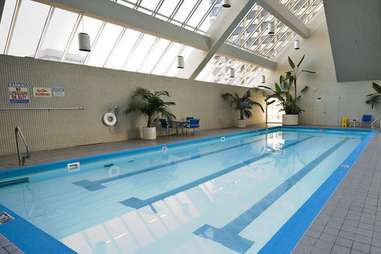 Hotel Nikko (click here for address and info)
Union Square
Finding this solarium-enclosed, heated lap pool is half the battle. It's in the fifth floor's inner sanctum behind two keycard-required doors -- the first of which you'll see right after you exit the lobby elevator, and the second just after you snag your gratis towel. There's no way around either door (unless you're a pinpoint skydiver), meaning you'll definitely need a keycard, which the easily-winked-at ladies from room service just happen to be 1) carrying, and 2) very generous with when they're shuttling out dirty towels.
Hilton Union Square (click here for address and info)
Union Square
A heated outdoor pool and jacuzzi await in this mega-chain's three towers. The pool's in the third (though you can get there from a sky-bridge from Tower One, too), and the most direct, least-attention-drawing route is through the Tower 3 garage. There're two elevators that'll take you to the 16th floor and let you skip a stroll through the security camera-heavy lobby, then there's just one keycard door that separates you from ultimate relaxation. Luckily, there're 1,908 rooms at HUS, meaning you won't have to wait long for someone with the goods.
Phoenix Hotel (click here for address and info)
Tenderloin
You can just walk right into this Andy Warhol-inspired, avant-garde-arted Tenderloin oasis via Chambers. Piece of cake, right? Oh, what's that? They don't open 'til 5pm? Come before then, and there's only one way in and out, and it's guarded by a not not-attractive girl at the reception desk who's more than willing to check the hotel computer to see if your friend "Pedro" who was supposed to meet you at the pool is actually in the guest registry. So to make things easier, here're the top five most-used hotel guest names: James, John, Robert, Michael, and William. That's right, suck it David.
Grant Marek is a senior editor at Thrillist and recommends bringing a girl with you. Couples are less suspicious/girls are the best! Follow him on Twitter.