Fact: the San Jose Sharks play in San Jose. Fact: unless you're from San Jose, you don't know any other facts about San Jose. Or at least you didn't until you read THIS -- here are 20 things you don't understand about that one place Dionne Warwick has no idea how to get to.
Recommended Video
This Sport Takes Ice Skating to Extreme Heights
1. Technically, it's San José, not San Jose
In 1979, the city (and state university) adopted a policy of spelling San José with an accent mark on all official documents and correspondence. Literally no one else adopted this policy.
 
2. We're ridiculously bigger than San Francisco
After LA and San Diego, San Jose is the third largest city in California by population, topping SF by more than 150k people-who-don't-ride-a-packed-and-sweaty-Muni-bus-every-day.
3. San Jose was the first city established in California...
... that wasn't associated with a mission or a military post in the Spanish colony of upper California. It was called El Pueblo de San José de Guadalupe. 'Natch.
 
4. San Jose was California's first state capital
IN YOUR FACE, SACRAMENTO. San Jose hosted the first and second sessions of the California Legislature, in 1850 and 1851.
 
5. Our legislative sessions were known as the "Legislature of a Thousand Drinks"
IN YOUR FACE AGAIN, SACRAMENTO. The epic nickname for those first two legislative sessions was inspired by Senator Thomas Jefferson Green, who, at the end of each session, called out to fellow lawmakers, "Let's have a drink! Let's have a thousand drinks!"
6. Beethoven's body parts are here
The Ira F. Brilliant Center for Beethoven Studies at San Jose State University totally-not-weirdly owns a lock of Beethoven's hair and the remains of his skull.
 
7. San Jose is really diverse
Among the 100 largest metros in the country, San Jose is actually the most diverse. In no other metro does the largest group (in this case white) have a share smaller than 38%. Suck it, NYC.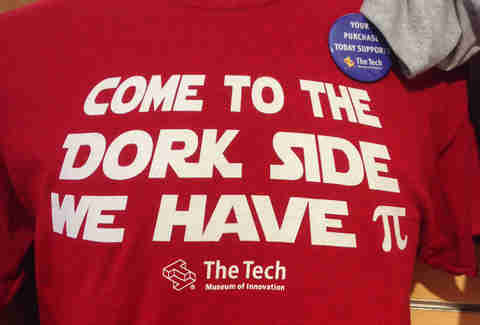 8. We're nerds, and proud of it
We're accepting of whoever you are, whatever you wear, or whatever odd little subculture you affiliate with, whether it's furries or cosplayers -- both of which you're pretty much guaranteed to see roaming the streets en masse at some point.
9. We used to be the most productive agricultural land in the state
Prior to the 1960s, the Santa Clara Valley was called "The Valley of Heart's Delight," with San Jose boasting the largest fruit production and packing infrastructure in the world. In the 1970s, the city became more valuable for growing tech companies and subdivisions, and the fruit orchards fled to the Central Valley.
 
10. Sí, se puede
Legendary civil rights activist Cesar Chavez lived here for many years and got his start organizing farm workers here.
 
11. We have the largest outdoor bar in North America
And the newly-opened Avaya Stadium (home of our MLS team, the San Jose Earthquakes) is where you can find it. GOOOAAAALLLL!
12. We saw Buster Posey, Tim Lincecum, Matt Cain, and Madison Bumgarner play pro ball first
That's because most of your baseball heroes saw their first professional baseball action with the San Jose Giants, the Giants' Class A minor league affiliate.
 
13. Everyone in San Jose loves (or hates, depending) The Beer Batter
At San Jose Giants games, one batter from the opposing team is designated "The Beer Batter." If the San Jose pitcher strikes him out, beer is half price for the next fifteen minutes. After the sixth inning, The Beer Batter turns into "The Apple Juice Batter" and beer is swapped for Martinelli's. Basically, pray for the strike out to happen early on in the game.
14. We have a ghost town
Just a few miles away from bayside San Jose neighborhood Alviso is the sinking old town of Drawbridge, California, an abandoned fishing and hunting community. The last resident left Drawbridge back in 1979, leaving 25 buildings to sink back into nature as part of the Don Edwards San Francisco Bay National Wildlife Refuge's restoration campaign.
 
15. There's a reason it's called the San Jose Mercury News
During the Gold Rush years, the New Almaden Quicksilver Mines just South of San Jose were the largest mercury mines in North America. This was important, because mercury was used to help separate gold from ore. It was also important because it's why the city paper was named the San Jose Mercury News.
 
16. Our coffee shops aren't always about coffee
Be careful when Yelping for your local caffeine fix. If you pick one of San Jose's many Vietnamese coffee shops, you may get a little more than you bargained for -- just Google "Vietnamese coffee shop San Jose" to see what we mean.
17. San Jose has the highest number of patents of any metro region in the US
Thanks to the aforementioned nerds. And the patent trolls. We've got some of those, too.
 
18. The first computer hard drive was invented here
Important.
 
19. Fruit cocktail was invented here
Less important, but secretly delicious.
 
20. The '90s band Smash Mouth is from San Jose
What? We're sorry. WE GAVE YOU FRUIT COCKTAIL.
Sign up here for our daily San Francisco email and be the first to get all the food/drink/fun SF has to offer.
Cassie Kifer is a writer and eater from San Jose. Find her at @caskifer or everintransit.com.