Nothing rings the big-shot bell as loudly as dropping four or five figures on a night's lodging, especially at these nine San Francisco hotels where (somebody way richer than) you can score some seriously ridiculous presidential suite amenities, from veranda hot tubs and private pool halls to 60-person dining rooms and 1,200sqft balconies.
Private Apartment
Clift (address and info)
Cost: $2,500 a night
Breathing room: 1,500sqft (three rooms)
Ballerest amenity: Working fireplace
Because after a night of going big at The Redwood Room, sometimes you just wanna retire to a suite of rooms atop the Clift for a fireside nightcap amid swagged-out sofas. The Clift's Private Apartment lets you do exactly that.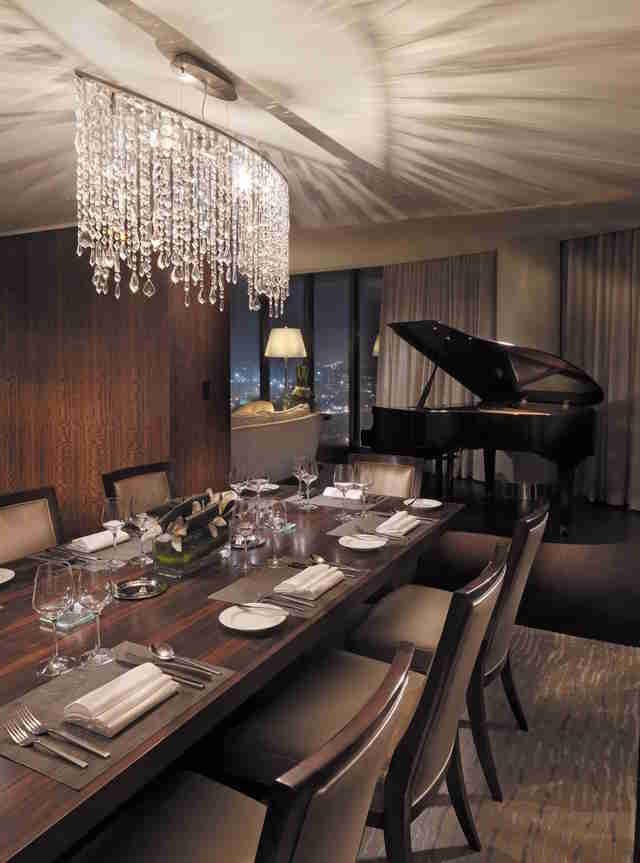 Presidential Suite
The Intercontinental (address and info)
Cost: $5,000 a night
Breathing room: 2,000sqft
Ballerest amenity: Baby grand piano
Split into two levels, each decked out with its own outdoor terrace and floor-to-ceiling views of the city, you won't have much use for the high-tech entertainment system -- but you know, it's there for you if you've had your fill of urban splendor.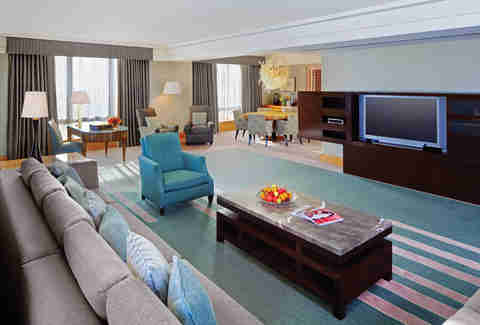 Specialty Suite
Four Seasons (address and info)
Cost: $5,000 a night
Breathing room: 2,300sqft
Ballerest amenity: Sommelier-stocked wine fridge
Tub for two. Hella big screen. Boss wine selection. Throw in striking, uninterrupted views of Yerba Buena Gardens along with that Four Seasons charm and this spot basically pays for itself.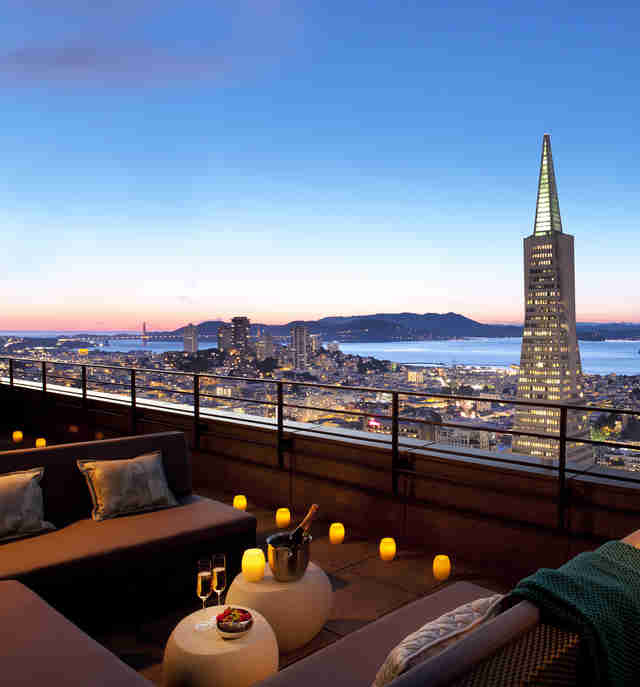 Bridge to Bridge Terrace Suite
Loews Regency SF (address and info)
Cost: $5,580 a night
Breathing room: 2,000sqft
Ballerest amenity: Car with driver
Stroll your private terrace and soak in the eponymous bridge views at your leisure, ideally with a fresh drink from the suite's full wet bar. The bathtub alone in this place is worth the just-north-of-$5K price tag.
Imperial Suite
InterContinental Mark Hopkins (address and info)
Cost: $7,750 a night
Breathing room: 3,890sqft (six rooms)
Ballerest amenity: Separate dining room
Otherwise known as the entire 18th floor, the Imperial Suite takes your traditional penthouse experience and adds a second, bigger penthouse to the mix for fun. It's got three Jacuzzi-equipped bathrooms, so being emperor of Nob Hill means never having to wait your turn.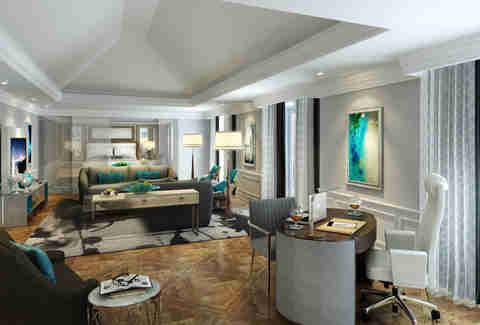 Presidential Suite
Ritz-Carlton (address and info)
Cost: $8K
Breathing room: 2,000sqft (plus a 1,200sqft balcony)
Ballerest amenity: Personal wine cellar
Gaze down upon the FiDi from your private balcony and count yourself its lord... And then count yourself lord of Alcatraz and Telegraph Hill because yep, you can see those from your balcony, too. Rounding out the well-appointed dining, bathing, and living spaces are your fully stocked wet bar and a dedicated concierge. Plush.
Penthouse
The Battery (address and info)
Cost: $10K
Breathing room: 6,000sqft
Ballerest amenity: Hot tub on the veranda
Highly exclusive clubs are wonderful and all, but what if you want to take exclusivity to the next NEXT level? Penthouse. The patio, kitted with its own fireplace and hot tub, is bigger than most people's houses, the views are dopamine drenched, and the rooms are straight-up sumptuous. As for the club itself, access is included for the duration of your stay.
Presidential Suite
St. Regis (address and info)
Cost: $10K
Breathing room: 3,250sqft
Ballerest amenity: Two living rooms
Because sometimes you need to entertain a visiting dignitary, and other times you want to watch The Rock on a gargantuan screen, but ne'er the twain should meet: this suite's for you. Full kitchen. Dope views. Private study. Huge -- like apartment huge -- bathroom with a whirlpool for two. And of course a bed so trill, you'll sleep like the ghost of a noble king.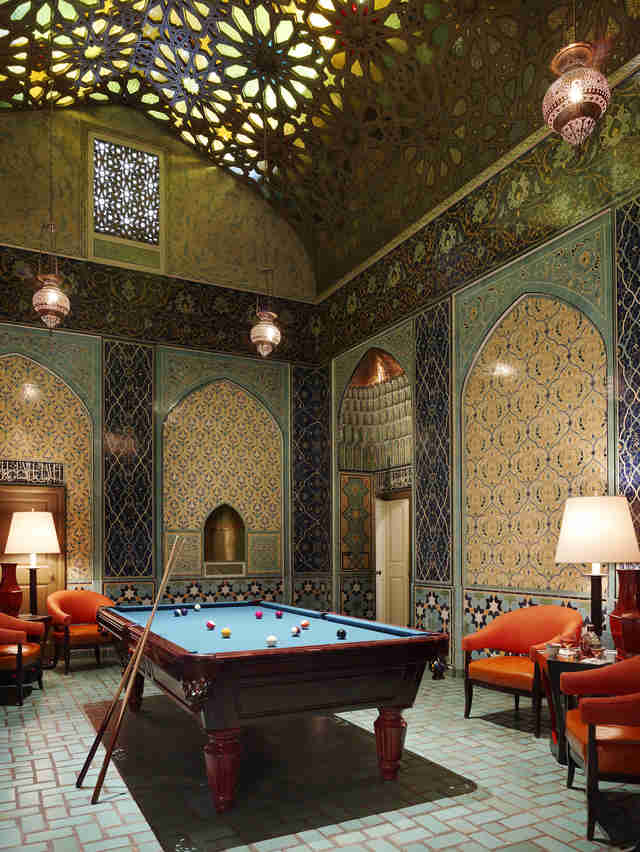 Presidential Suite
Fairmont Hotel (address and info)
Cost: $18K
Breathing rooms: 6,000sqft
Ballerest amenity: Butler. Chef. Masseuse. ON TAP.
As a prime destination for sultans, kings, presidents, and probably Oasis in their heyday, Fairmont's eighth floor tips the heavyweight scales in every way. With its gold-leaf decor, two-story library, 60-person dining room, and private pool hall, it's no hyperbole to use the word "palatial." But it's the round-the-clock staff of attendants that define the luxury.
Sign up here for our daily San Francisco email and be the first to get all the food/drink/fun SF has to offer.
Casey Childers is a one-man content mill. When he's not pumping out freelance gems like this or writing stories about anthropomorphized wolves, he's losing followers daily on Twitter at @cachilders.