The best SF Beer Week deals in 8 different neighborhoods
It's the moooost wonderful time of the yeeaaaaarrrrr! No, not Christmas... it's SF Beer Week! This, of course, means that there are a bajillion different beer-fueled events going on starting Feb. 7th; everything from beer dinners, to tap takeovers, to all-out festivals. Soooo, we went ahead and did what any good digital friend would do and created a neighborhood guide for SF Beer Week that includes both the "Best Event" and the "Cheapest", for eight different 'hoods you very likely either live in, work in, or occasionally wake up in. Get on it!
Best Event:15 Romolo's Fourth Annual Booze & Brew Brawl
Feb. 16th, 6-10pm // $20 in-advance, $25 at the door
For a 20-spot, you can get a welcome punch, plus samples of six different beer cocktails from six different bartenders, which means whoever wins the brawl, you still come out on top.
Cheapest Event:Octopalooza with Pac Brew Labs at the Aquarium of the Bay
Feb. 12th, 630-930pm // Free!... or $35
First off, we've got 10 free tickets for 10 lucky readers who tweet THIS. Second off, if you buy your tickets, you get four pints of PBL beer, access to the Aquarium of the Bay, food bites, and silent disco.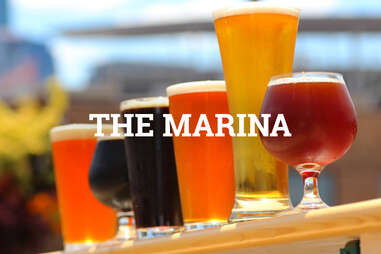 Best Event: Beer and Italian Food at Delarosa
Feb. 10th-13th // A la Carte
The entirety of beer week, they've got all-day, specialized dish pairings with beers chosen by a master cicerone.
Cheapest Event: Delarosa Beer-And-A-Shot Pairings
Feb. 8th-9th, 14th-16th
The bad news: somehow Delarosa is the only spot in the Marina doing anything for SF Beer Week (??????). The good news: the "anything" they're doing also includes badass beer-and-a-shot pairings for five of the 10 days, including a Golden Road Special New Release (sworn to secrecy until it's released!) paired with Amaro Montenegro.
Best Event:Festival of Firkins at Magnolia
Feb. 13th, 11am-TBD // Pay-As-You-Go
Starting at 11am, Magnolia is cramming as many small cask ales as they can (at least a dozen) into their taps and'll be offering them by the pint or, if you prefer (you don't prefer), in smaller tastes until they run out. At which point, you run out.
Cheapest Event: Alembic's Rotating Beer Cocktails
Feb. 8th-16th // Per-Drink
Since they're doing a different beer cocktail every day of Beer Week, this is kinda your excuse to go there... every day. Gotta drink 'em allllllll!!

Best Event: "It's a Sour World After All" at Abbot's Cellar
Feb. 7th-9th, 530-10pm // $75
The Abbot's Cellar tasting menu is going sour for Beer Week, featuring four-courses paired with imported opposite-of-sweet beers.
Cheapest Event: Nuit du Quebec at Rosamunde's Sausage Grill
Feb. 11th, 6-10pm // Free Admission
Okay, so there is a lot of stuff going on in The Mission, but this is the only one pairing beers with five kinds of poutine (you know, that French-Canadian dish featuring French fries covered in cheese, sausage, etc.?).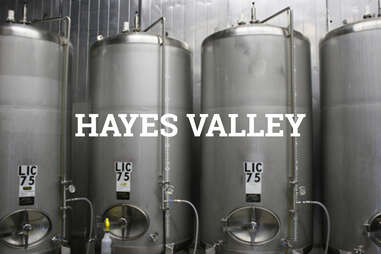 Best Event: Calicraft at Rich Table
Feb. 11th, 530-10pm // $100
C'mon, it's Rich Table. Call to see if you can score reservations.
Cheapest Event:Coronado Tap Takeover at Noir Lounge
Feb. 12th, 6-10p // Free Admission
Hit up this tap takeover, buy a pint of Coronado, and you get to keep the souvenir glass (while they last).

Best Event: Dim Sum Belgian Pairing at Mama Ji's
Feb. 11th, 1-3pm // $50
Um, we'd come here just for the dim sum, so add in a ton of beers paired perfectly with those, and we are on board.
Cheapest Event: Cali Beer Garden at Starbelly
Feb. 12th, 6-10pm // A La Carte
The outdoor patio is morphing into a beer garden for an event featuring Calicraft Brewing Co. and Iron Springs Brewery, with one-night-only bites like fried oysters with Old Bay aioli ($2), chicken liver pate, pickled beets & mustard ($2), crispy boudin noir with sunny quail egg ($2), aged cheddar beer poutine & bacon ($5), and beer-steamed West Coast mussels & frites ($6). First come, first serve; no reservations necessary.
Joe Starkey is San Francisco's Thrillist Editor and once drank three Smirnoff Ices in a row. Follow him on Twitter.