The Great San Francisco Rent Experiment
Don't hate me because I'm beautiful. Hate me because my rent in San Francisco is only $1,000 per month.
If you're reading this from somewhere else in the country, I'm sure that this doesn't sound like any kind of bargain whatsoever. You're probably sneering at me from your opulent, $50-per-month penthouse right now, chilling in a gilded bathtub full of money.
Here in the city, though, my $1,000 rent is something to truly loathe me for, especially when I also reveal that my wonderful landlords don't even raise the rent by the 3% they're legally allowed to each year under rent control. I've been here since 1997. They've told me that they hope I never move, and I need to find a new way to say "thank you" to them, because "thank you" is too trite to express my gratitude for how amazing they are and what they've done for me and my quality of life. According to Forbes, the vacancy rate in San Francisco was 3.6% in the fourth quarter of 2014.
Rental prices in the city have jumped up by 12.8% in the past year.
"What makes a market unfavorable for a renter is not just the amount of rent and its relationship to income levels, but the vacancy and availability of units," Hessam Nadji, chief strategy officer from real estate investment firm Marcus & Millichap, told the publication. "Property owners get a pricing power that is exceptional when vacancy falls below 5%. That's when rent increases accelerate."
Forbes reported that the average rent for all types of housing properties in San Francisco at the end of last year was $2,802. That's enough to place us at the top of its annual list of worst cities for renters.
But that figure seems quaint in comparison to the numbers that have been screaming at us through the headlines lately. In May, real estate site Zillow's Rent Index listed it as $4,225, a figure that just about broke the local blogs, though it was later smartly demystified by Curbed for not being statistically accurate and taking hypotheticals into consideration.
Beyond those hypotheticals though, there are the crazy horror stories, like that awful landlord in Bernal Heights who raised her tenant's rent from $2,145 to $8,900 per month back in March because her sisters were doing the same thing to her just a few doors down -- I personally write so many of these stories I could easily crown a Slumlord of the Week every seven days.
Basically, it's very, very easy to stay filled with terror if you're a renter in San Francisco.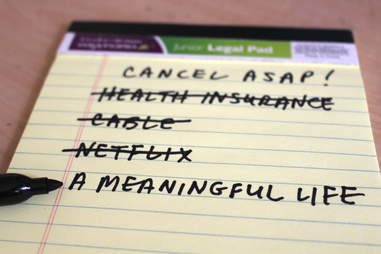 Tamara Palmer/Thrillist
What happens when someone actually delivers on that terror, though? We read plenty about those insane per-month rent increases, but far, far less about what happens to the tenant stuck trying to figure out how the hell to make it work.
So I tried to figure out what does: I sat down with all of my credit card/bank/It's-It Ice Cream Sandwich Rewards Club statements in an effort to demystify what would happen if (knock on alllll the wood) my building got sold and my rent suddenly (and honestly still pretty modestly) jumped from $1,000 to $3,000 per month. Could I cut enough to stay? 
 
The first and easiest thing to get rid of? All of the recurring extravagances, like kush, cable, Netflix, Uber, and health insurance.
Who needs 'em? All told, that saves me an additional $600 or so to throw towards rent (my insurance is ridiculously expensive/extortionate), and if I get sick, so what?
I'm incredibly fortunate to have a car with no car payment and I work from home, so I don't need it to commute to a job. If I stopped driving it altogether and made Muni my full-time chariot, there's another $100 a month in gas. I'd sell it, but I'm thinking I should keep it in case I might need to live in it soon.
So we're $700 of the way across the $2,000 gap.
One of my great expenses in life is all of the organic, artisanal, and blah-blah-blah restaurant bullshit I put into my mouth, most of which is done under the pretense of being a food writer who needs to do her research. That's easily $400 a month I could put towards rent, though. I can't say I'd be thrilled by the idea of embracing a life of pre-packaged, processed, GMO'd, and maybe even expired food to get by like the rest of America does since, well, amazing food is one of the aspects that still makes living in San Francisco worthwhile. And one of the subjects that gets me paid on the regular. Either way though: gone.
Alright: $900 a month away from being able to stay in SF. 
 
What the hell else do I cut?
My sliver of a dining room doubles as my office, but if we're gonna get industrious here, I guess I don't really need a focused, efficient space with which to maintain my livelihood. It doesn't have doors or anything but I bet I could rent it out for at least that much (I mean, last week there was a converted living room in Ingleside going for $1,100 a month) to someone on Craigslist who will very likely murder me in my sleep.
And there you have it.
So yeah, the experiment was a success, I guess. I could actually kinda realistically pay market value for my apartment if it happened, but 1) it sounds like it would be fucking terrible (especially the murder me in my sleep part), and 2) if it comes to it, I won't. I'll move to somewhere more affordable. Like NYC.
Until then though, I'll be over here hugging my landlord.
Sign up here for our daily San Francisco email and be the first to get all the food/drink/fun SF has to offer.
Tamara Palmer was born in San Francisco and appreciates that she hasn't been exiled yet. Celebrate with her @eatstreetfood.