11 reasons the Marina is a lot cooler than anyone gives it credit for
We know. You hate the Marina. You can't stand the frat boys, the girls in yoga pants, the lack of legit taquerias, the prevalence of frozen yogurt, and the fact that everywhere you look there are adorable Golden Retrievers with their heads sticking out the windows of giant SUVs. Okay, so you admit the dogs are pretty cute. And the yoga pants aren't so bad either. Wait! Maybe the Marina isn't so terrible after all? Like for instance...
1. It's actually a much smaller 'hood than people realize
Remember last year when your friend made you go to Union St and you bitched to everyone that you had to go to the Marina? You were actually in Cow Hollow. The Marina District is North of Lombard St. See? Things are looking up already!
2. It has panoramic views of the bridge
And Angel Island. And the Marin Headlands. And Fort Point. And Alcatraz. Basically, you can bring your tourist friends to Crissy Field and get all of their sightseeing accomplished in 15 minutes.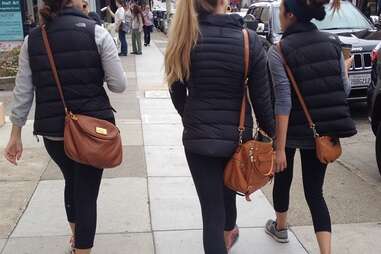 3. Everybody's in really good shape
You can mock the yoga pants uniform all you want, but when's the last time you went to back-to-back spin classes? Exactly.
4. The Wave Organ lives there
There it is again, one of those 15 SF secrets you had no idea existed. Bring an adult beverage here during high tide and listen to the 25 pipes in this acoustic sculpture gurgle and sing.
5. You can surf underneath the Golden Gate Bridge
Fort Point is an iconic surf spot known for its amazing view (and its intimidating rocks and strong currents). Still, though: the view!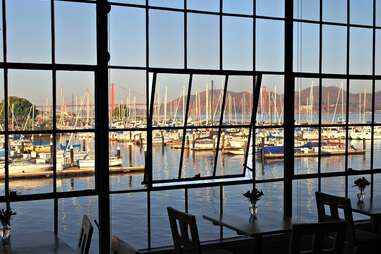 7. There's really good food
A16, Bistro Aix, Mamacita, Pluto's, Isa, Super Duper, Zushi Puzzle, The Tipsy Pig, and yeah, we'll even throw Greens on the list because, as far as vegetarian food and sweeping views go, it's legit.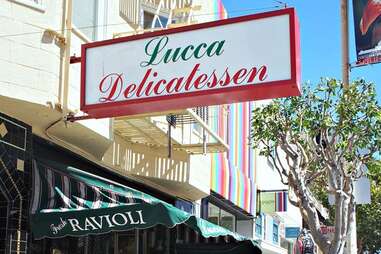 8. It's home to Lucca Delicatessen
Yes, Lucca gets its own special entry. This classic, 85-year-old Italian deli has amazing sandwiches and even better ravioli.
9. The homes of the people who live there could collapse at any minute. And they totally don't care...
The Marina used to be all marshlands and tidal pools, but when it was chosen as the site of the 1915 World's Fair, it was leveled out and filled with sand and sludge. Today, it's a bustling neighborhood built on landfill that, thanks to the Marina's high water table, quickly liquefies during an earthquake. Meaning: foundations collapse, buildings are destroyed, gas lines break, and fires start. And yet, people still choose to pay thousands of dollars a month to rent there. Sure, it may be stupid, but it's also pretty badass (we say from the comfort of a building that's firmly ensconced in bedrock).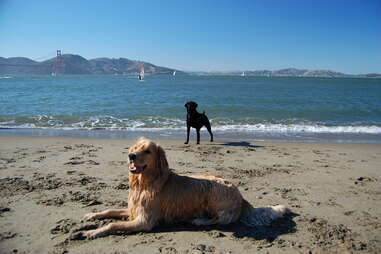 10. There's a beach where you can take your dog
Off-leash (Crissy Field East and Central year-round, and West from May 16th to June 30th). And if that's not enough: there's also a dog washing station. 'Cause people with fancy SUVs don't like to get them dirty.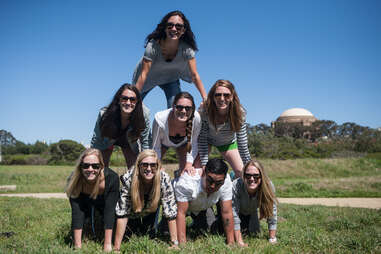 11. It's so uncool to like it, that it's almost cool to actually like it
Or at the very least tolerate it. You can handle that much, right?
Sign up here for our daily San Francisco email and be the first to get all the food/drink/fun SF has to offer.
Daisy Barringer is Thrillist's SF Editor and she's really bummed Marina Subs is in Cow Hollow and therefore couldn't make this list. Follow her on Twitter @daisy.