SF Karaoke Bar The Mint Will Take You Just As You Are
An ode to the beloved institution that has long been a safe space for the queer community.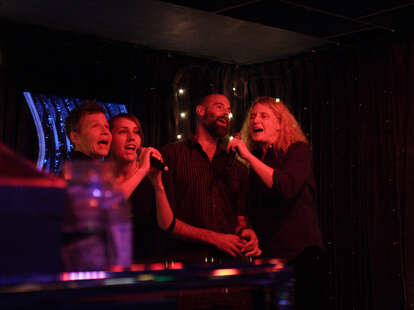 The Mint

| Sean Hoyer / flickr
The Mint

| Sean Hoyer / flickr
Welcome to Karaoke Week, Thrillist's celebration of our favorite global phenomenon, with drink recipes, singing advice, celebrity recommendations, tips for hosting karaoke at home, and much more.
The first time I went to The Mint was the afternoon of March 17, 2015 -- St. Patrick's Day, and a Tuesday. I went to lunch at Zuni with two friends, writers and creatives with similarly shaky job security and blessedly flexible schedules well-suited to lengthy, boozy weekday lunches. We had oysters and bubbles and rosé while we waited for our chicken to reach crisp-skinned, juicy perfection in Zuni's wood-fired oven, and, naturally, a bottle to celebrate the chicken's arrival. We skipped up Market Street in the early afternoon sun, wine-drunk and intoxicated with our own good fortune. As we approached The Mint, the bar's dark-lit interior and gaudily lit stage beckoned. Should we? Was it even a question? Apparently not, because suddenly there we were, onstage, shots of Jameson in hand. We had the place more or less to ourselves. Joe sang "Danny Boy" in honor of St. Patrick. I sang "Talk Dirty to Me" by Poison. Lisa kept buying shots, and refusing to sing while screaming wildly for our increasingly sloppy renditions. Hours passed. It was epic. It was legendary. It was one of my favorite, strangest San Francisco days.
As I write this, from deep in the depths of 2020, the memories feel faded and distant, and imbued with an added weight -- the knowledge that experiences like this are near impossible right now, and the fear that they'll never be possible again. Spontaneity, joy, day drinking, restaurants, close contact with beloved friends and, wilder yet, strangers… these were things we thought were a given, things we took for granted as our right as humans who were young and alive and living in a city where, should the stars align, you could, in fact, sing your heart out in the middle of a Tuesday afternoon. And karaoke, in particular, feels like a clandestine joy -- the shared microphones, the scream-singing, the particular freedom and vulnerability of performing in front of friends and strangers alike.
The Mint has a particular place in San Francisco's karaoke scene, too. It lacks the polish of the private room karaoke joints in Japantown; the kitsch of spots in the Tenderloin. It doesn't have the grit of Bow Bow in Chinatown, where Mama Candy, the legendary proprietor, will just as soon ignore you if her dice game down the bar gets too heated. It lacks the... Marina-ness of Silver Clouds. It's sizable enough, and boasting a proper stage, which makes a performance there feel meaningful. And it's small enough that performance is the point, whether you're singing or listening, alone or with a crowd. The Mint has history; it serves as an anchor, and an unofficial border, to the Castro, but feels almost nondescript, semi tucked away, despite being prominently placed on Market Street.
"The Mint is the most unsuspecting crevice of San Francisco, accidental home to the best and worst singers," says Emma Esrock, Mint regular and karaoke fan.
According to SF Gay History, The Mint was opened in 1968 by Charlotte Coleman and Peggy Forster, who subsequently bought the Twin Peaks Tavern up Market Street.
"If we consider The Mint to be within the boundaries of the Castro area," the article continues, "It holds the record for being the longest continuously operated gay bar in the neighborhood to operate with the same name." The Mint became a karaoke bar in 1993, and came under new ownership in 2017.
History, significance, and accolades aside (it's regularly voted the best karaoke bar in San Francisco), what makes The Mint special is its soul, thanks to a passionate band of regulars. As Emma puts it, "The magic of the Mint is the reception of the crowd, the playing off one another that improves any tone deaf version of the legends and makes you feel like you have a community, a home, and an audience."
When I posted calls for stories about The Mint on my various social networks, many of these regulars responded with an immediate mix of ardor and concern -- "Why are you asking?! Is The Mint closing?! Is it CLOSED?! I'm devastated if it is… "
As of now: It's not, and I'm hugely sorry for causing such panic (its very successful GoFundMe campaign, which is dedicated to supporting its staff, is a positive sign for its longevity). But it's a fair question, and a valid concern. This is a year in which places like The Mint -- that make their living by packing us all in together, breathing on each other, sharing sweat and songs -- are the most at risk of collapse. If restaurants can hardly scrape by, what will our favorite bars, known for their unpretentious beverages and community vibes, do to come out the other side of this? In San Francisco, this is compounded by the fact that many of our beloved dives, and old time bars, were already shutting down prior to the pandemic at a distressing clip.
I set out to write this story as a straightforward feature, a check-in with the owners of The Mint on how they, and their employees, are faring. But nothing, including reporting, is straightforward these days. My attempts to reach the management -- via phone, email, Facebook, LinkedIn, Instagram, GoFundMe, carrier pigeon -- failed. In another time, I would simply show up, order myself a beer, and start chatting with the bartender, the door guy, the regulars. That's not an option these days. Instead, I began collecting stories from the people who love The Mint most, who let off steam after long days of work there, or returned weekly to sing to and cheer for their chosen family of karaoke enthusiasts. And I learned more, perhaps, about The Mint than I would have via more direct reporting routes. Because bars, really, are about the people who love them; this is even more the case, perhaps, with karaoke bars.
"It's a relic from a time when the city was truly about freedom to express yourself shamelessly. I can't imagine San Francisco without it."
"I always joked that The Mint was where the old Castro gays would go to take turns singing ballads from Les Miserables, but it was so much more than that," says regular Daniel Sherman. "I celebrated countless birthdays on that stage after a full day of bottomless mimosas, belting my face off to Celine Dion or Whitney Houston to a cramped room that hadn't been updated since before the last earthquake. When I quit my job to go travel, I even had my going away party there."
He sums it up succinctly: "It's a relic from a time when the city was truly about freedom to express yourself shamelessly. I can't imagine San Francisco without it."
This idea of shamelessness, self-expression, and frankly, safety, is core to The Mint's ethos, and a priority of those who love it. Sandi King, a professional musician and formerly a core part of "The Minty Monday" crew, had never sung karaoke before her first visit to The Mint in 2006, not wanting to show off, or put a damper on anyone else's good time. But as she watched the patchwork of performers, her worries began to fade.
"As we sat there watching and cheering and slowly feeling comfortable to just be weird (which is my true self!) I saw this wide range of abilities and demeanors that all were welcomed and applauded. I was just there to have fun, like everyone else, and all the worry was in my own head," she says. "The Mint is the kind of place you go when you don't belong. No matter who you are, if you sing or you don't, you can just be you and that's OK. That's celebrated. And if you do get up to sing a silly tune (or a serious one) you will be applauded for it. After all, you had the courage to let loose, put a microphone in front of your face, and let out something from inside of yourself in front of a room full of strangers and/or friends."
This "come as you are" spirit of acceptance isn't just core to the bar's regulars, it's policy, too. Stuart Schuffman, aka Broke-Ass Stuart, remembers how The Mint's KJ (karaoke jockey, naturally) had no time for bad behavior; specifically, a performer who felt the need to curse out patrons sitting at the back of the bar who dared speak during his song.
"The KJ cut him off and ejected him... the guy was cursing the whole room out while being ushered out the door," Stuart recalls. "Afterwards, the KJ got up and addressed the audience like, 'I'm so sorry that happened. That's really uncool. We at the Mint have zero tolerance for that kind of thing. Please be respectful and don't be a jerk, etc., etc.'"
As Stuart got up to perform "Tiny Dancer," he found he couldn't resist testing the KJ's limits.
"I looked at the audience and said, 'Fuck you all! You're so rude. I'm up here performing and you're in the back talking… ' The crowd cracked up, including the KJ and I was not kicked out thankfully. And I KILLED it singing 'Tiny Dancer.'"
The stories go on - of competitive karaoke leagues and first dates that, while underwhelming, led to a deep and abiding love for all that San Francisco was and could be. To many, The Mint is more than a bar or a venue, it's a safe space, and a symbol of San Francisco at its strangest and best.
These stories inspire a kind of sadness, a longing for far simpler times when deciding on a song to sing felt like a pressing, immediate concern. But they also inspire hope - hope that a community this passionate, this engaged, this here for the specific kind of third place, will be there on the other side of this pandemic. We'll all crowd around the double-sided bar, reveling in our closeness, eagerly waiting our turn to take the stage. We'll clasp the mic, squint into the lights, and sing even louder than before, knowing that such pleasures must be held close, and celebrated with every ounce of our being.
Follow The Mint on Facebook and Instagram for updates, and donate to their GoFundMe here.
Sign up here for our daily San Francisco email and be the first to get all the food/drink/fun SF has to offer.