8 epic Presidio secrets, from wine bunkers to Yoda statues
A former military post turned national park in 1994, the Presidio is home to everything from a Disney museum and a bowling alley to a historic inn and a trampoline park. Oh, and, uh, hiking and nature and stuff. And while all of that is already pretty well known, the Presidio is 50% bigger than Golden Gate Park, which means a ton of other stuff isn't.
Here are eight Presidio secrets that'll change everything:
1. It's home to SF's only overnight campsite
You know how you love the idea of camping, but not the idea of actually getting in the car and driving somewhere nature-y? Rob Hill Campground was made for you. There are four group campsites that can accommodate 30 people each. Each site has a campfire circle, a free-standing BBQ grill, and picnic tables. And there's also a larger communal campfire circle with seating for 100 people. Get those marshmallows and ghost stories ready. Camping is available April 1st-November 30th.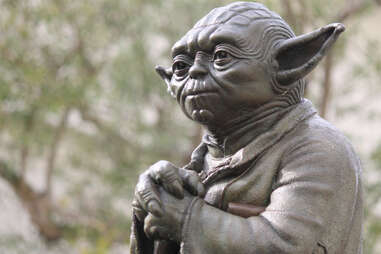 2. There's a life-size Yoda statue
First, it's important to remember that Yoda is small, so the life-size statue is, well, Yoda-size. Still: it's Yoda, one of the most renowned and powerful Jedi Masters in history, so... it's kind of a big deal that SF has its very own statue of him.
Yoda is located at the Southeast corner of the Letterman Digital Arts Center and can be a little hard to find, so if you visit when the campus is closed, you may have to, that's right: use the force. Or just look for Building B. But the former sounds like so much more fun.
(Pro tip: if you go during the day, you can also go inside the lobby where there's a life-size statue of Darth Vader that just so happens to be 6'6". Not that Yoda finds him at all intimidating.)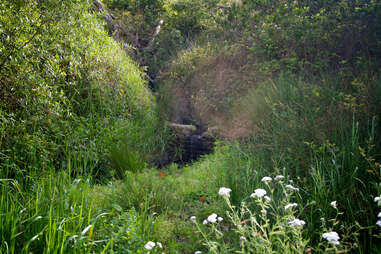 3. There's a creek that runs from El Polin Spring to the Bay
A lot of it was submerged in military debris until recently, but now that the Tennessee Hollow Watershed has been revitalized, you can hike on brand-new trails where you just might spot a raptor.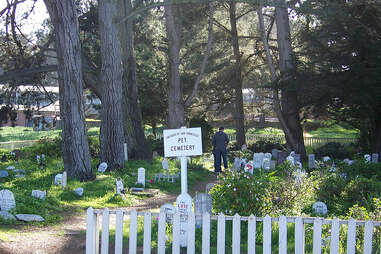 4. There's a haunted pet cemetery
Okay, so who knows if it's really haunted, but legend has it that the Presidio's pet cemetery used to be the final resting place for cavalry horses and military guard dogs in the 19th century. However, at some point in the 1950s, it became an unofficial place for military families to bury not just their dogs and cats, but also their parakeets, canaries, macaws, rabbits, hamsters, rats, lizards, goldfish, and mice.
In 1994, when the Presidio was being converted to a national park, Rep. John J. Duncan, Jr. (R) of Tennessee called it the country's "smallest and most expensive national park" as a way to draw attention to the federal deficit. To drive his point home, he sent photos of the pet cemetery to his supporters asking, "Is This Your Vision of a National Park?". All we have to say to John is: yup, it sure is.
5. There's a huge spire made out of tree trunks
In a grove near the Arguello Gate lives a spire made of 38 large cypress trunks, all fastened together. The spire, constructed in 2008 by Andy Goldsworthy, is 90ft tall (or approximately 41.5 Yodas) and will eventually be somewhat obscured by the trees currently growing at its base.
6. There's a wine bunker
You can store your wine in your produce drawer, or you can store it in a BUNKER. Presidio Wine Bunker is SF's only underground wine storage facility. The natural vaults have a naturally controlled environment that's perfect for storing your wine collection, whether you have a few dozen bottles or a few thousand cases.
7. Lots of greats golfed here
You probably knew about the 18-hole golf course that was built in 1895, but did you know that Babe Ruth, Bob Hope, Bing Crosby, Charles Schulz, and Joe DiMaggio all played there? And you can, too, thanks to the fact that the course, which was once restricted to military officers and private club members, opened to the public in 1995. Oh, and the fully stocked bar at The Presidio Cafe has 61 different whiskeys. Loser buys.
8. There are goats
Adorable, adorable goats. And, yeah, they're cute, but they're definitely there to work, since they can access areas that are difficult for the grounds crews to reach. They arrived in 2013 to help clean the brush around the golf course, but they were so speedy (they finished the job ahead of time!), the Presidio Trust decided to make them a fixture. If only our co-workers were this cute and good at what they do...
Sign up here for our daily San Francisco email and be the first to get all the food/drink/fun SF has to offer.
Daisy Barringer is Thrillist's SF Editor and if any of her coworkers are reading this, she's toooootally joking. Mostly. Tweet her your favorite SF secrets @daisy.