15 Secrets of California's Coastline
The California coast, like Gretchen Weiners' hair, is full of secrets. These are the best of them, from an ocean blowhole you can jump inside of (?!?) to a sunken ship that only appears once every 20 years.
1. A waterfall that spills onto a beach
Julia Pfeiffer Burns State Park, Big Sur
There's nothing quite like a waterfall. Especially when that waterfall is located in one of California's coolest towns and cascades DIRECTLY ONTO A BEACH. McWay Falls in Big Sur is actually quite close to the road, but you'd never know it was there unless you were looking for it. Fun (or maybe not-so-fun) fact: the 80ft falls used to pour down the steep granite cliff and directly into the ocean, but a landslide in 1983 created a beach and so now it falls onto sand. If you want one that goes directly into the Pacific, check out Alamere Falls.
2. A reappearing shipwreck
Ocean Beach, San Francisco
The King Philip clipper ship crashed and broke apart on SF's Ocean Beach in 1878. What's left is usually completely covered in sand and water, although parts of it become visible during extremely low tides. If it becomes discernible, hurry to see it because it can be years before it reappears. (After a 1985 appearance, it didn't re-emerge until 2007.) The last time it was seen was 2011. Sometimes the waiting really is the hardest part.

3. A blowhole you can jump into
Pearl Street Beach, Laguna Beach
During low tide, there's an underwater cave arch that bubbles up and down with the tide and feels like riding an elevator, if elevators went up and down IN THE WATER. If the rocks are "open," (lifeguard's discretion) experienced swimmers can jump into the blowhole and get pushed through the cave and "out to sea."

4. Pygmy mammoth fossils on an isolated island
Santa Rosa Island, Channel Islands National Park
First, you'll take a three-hour boat ride from Ventura. Then, you'll find a place at Water Canyon Campground to pitch your tent on the 84sqmi island. After that, you'll hike Lobo Canyon where you'll see fossils of 5ft-high pygmy mammoth that used to call this place home. Does the phrase "pygmy mammoth" seem like a total oxymoron? Sure. Are you going to care when you see proof that teen tiny mammoths once roamed the Earth? Not. At. All.

5. One of the world's longest sea caves
Santa Cruz Island's Painted Cave, Channel Islands National Park
At nearly 100ft wide and 1,225ft deep, Painted Cave is one of the largest sea caves in the entire world. Even better? You can kayak into it. It's pitch black inside (you know, because it's a cave), so turn your headlamp on to find out how it got its name. (Hint: it involves lichen and algae on the walls.) And be sure to wave to the seabirds, seals, and sea lions that will greet you as you arrive.

6. Hot springs near SF that only appear during low tide
Steep Ravine Campground, Stinson Beach
You'll have to be okay with the possibility of crowds, hiking a trail that's covered with poison oak and lots of slippery rocks, and a major chance of spotting some old man balls (go in expecting lots of nudity). But if you can survive all of that, and you go at the right time (extreme low tide), Steep Ravine's hot springs are a great place to soak and relax while waves from the ocean crash on the rocks around you.

7. Caves sculpted by the wind
Gaviota State Park, Goleta
The trail to these caves is short, but steep, and you'll want to watch out for rattlesnakes. But these sandstone caves that were sculpted by the strong coastal winds are worth checking out (and climbing in and on), and there are killer views of the ocean. Also, uh... it's super windy, which people on the Internet like to bitch about even though they literally went to see caves MADE FROM WIND.

8. A shipwreck you can hike to in Southern California
Lunada Bay, Palos Verdes
In 1961, a Greek freighter called The Dominator was dominated by the Pacific Ocean and became trapped on the rocks near Rocky Point. After two days, it was determined there was no way to rescue her and so she was abandoned. Over 50 years later, she's still visible at low tide, though is quickly eroding and likely won't be around in another 50. So if you're reading this in the year 2065, go ahead and skip this one.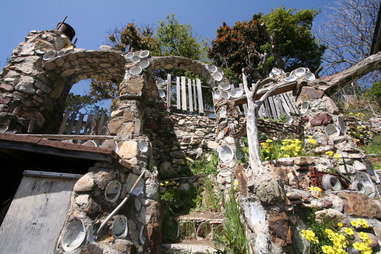 9. A house made of trash
Nitt Witt Ridge, Cambria
Art Beal, otherwise known as Captain Nitt Witt, created this hillside house that feels like it could only exist in California starting in 1928. He carved the terraces using just a pick and a shovel and used everything from old beer cans to old car parts to create what he called his "castle on a hill." Not so sure about a castle, but for sure it's the place Oscar the Grouch dreams of when he thinks of retirement. It's also a California Historic Landmark and can be toured by appointment.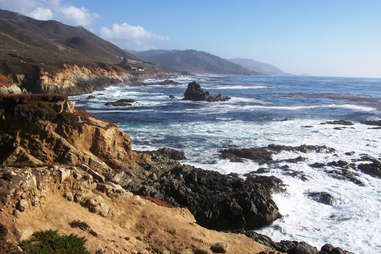 10. A secret beach with a sea cave
Garrapata State Park Beach, Carmel-By-The-Sea
This beach is hard to find, but once you do, you'll likely have the stretch of sand almost completely to yourself. At the south end of the beach, you'll find coves and caves, and at the north end, a small waterfall (in winter and spring only). And in between? Naked people. (Even though technically it's prohibited.)
11. A secluded beach with black sand
Black Sands Beach, Shelter Cove
There are only three beaches with black sands in California and this beach, which is part of the 80-mile-long Lost Coast, is the most isolated of them all. Once you find the glittering trail of black sand, look for bear tracks (really), otters, and the occasional surfer (this is California, after all). This is actually the most accessible beach along the Lost Coast, but considering how lightly traveled this area is, that ain't sayin' much.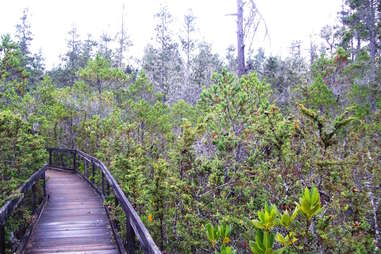 12. A forest of dwarf trees
Jug Handle State Natural Reserve, Mendocino County
The Hans Jenny Pygmy Forest Reserve forest is made of a staircase of five wave-cut terraces, each one 100,000 years older than the one 100ft below it. But that's not even the coolest part. The coolest part is that thanks to the inhospitable soil on the top terrace, most of the trees are stunted. Sad for the trees, yes, but cool for you when you realize you're standing next to a 100-year-old tree that only comes to your chin.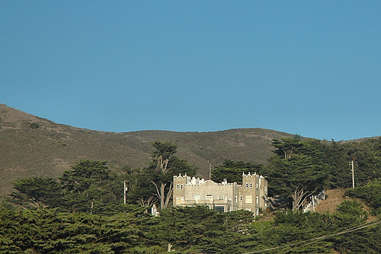 13. A castle on the bluffs of Pacifica
Pacifica
This castle was built by a dude who wanted an "earthquake-proof" home, and since it was erected in 1908, it has served as an abortion clinic, a brothel, a Coast Guard outpost during WWII, and a "party palace." It's only open for tours once a month, but Sam's Castle, as it's now called, is worth a stop to see the turrets, towers, and hopefully a few ghosts.

14. Bioluminescent ocean waters
Tomales Bay, West Marin County
There's no guarantee you'll see the dinoflagellates (single-celled creatures that are older than dinosaurs) that create a glow in Tomales Bay a few months of the year, but if you time your trip right and the moon doesn't come out, there's a good chance you'll catch the water lighting up to a brilliant, fluorescent blue-green. (Good news if you can't make the trek to Tomales Bay: versions of this happen all up and down the California coast. You've just gotta be in the right place at the right time.)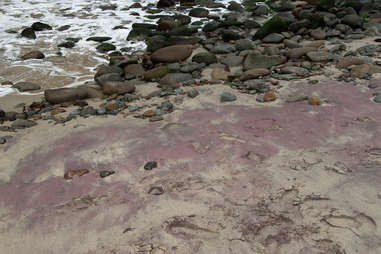 15. A purple sand beach
Pfeiffer Beach, Big Sur
California has beaches with black, white, gray, green, red, and, in the case of Pfeiffer Beach, purple sand. The amethyst-colored sand on this hard-to-find beach is thanks to large deposits of quartz and manganese in the hills being washed down from the creek. Oh, and there's also a pretty cool Keyhole Arch that performs a mystical light show during sunset a few weeks every year. Of course... this is California after all.
Sign up here for our daily San Francisco email and be the first to get all the food/drink/fun SF has to offer.
Daisy Barringer is an SF-based writer who loves hot springs, but hates seeing strangers nekkid. Sympathize with her plight on Twitter @daisy.