San Francisco is one of the most beautiful, diverse cities in the world. So if you live here, you probably have a lot of friends and family who want to come visit... a lot. And said friends will want to sleep on your couch, solicit you to be their tour guide, bring them to your favorite bars, and have you take them to the best restaurants in SF. And of course, you'll happily oblige.
It's up to you to design an itinerary chock full of only the most excellent things to do, all of which will show them why you love this city so much -- which they may be shocked to learn, has nothing to do with Fisherman's Wharf (although you'll be going there anyway). To help out, we've gathered the best, locals-approved things to do around San Francisco that don't involve shopping or going anywhere close to Union Square.
$ to $$
Embarcadero
The Ferry Building is a stunning piece of architecture, but what's really amazing about it is all of the delicious artisan food. Get oysters at Hog Island Oyster Company, chocolate from Dandelion, cheese from Cowgirl Creamery, a burger from Gott's Roadside, "tacros" from Vive La Tarte, cocktails at Slanted Door, and beer from Fort Point Beer Company. And then go home and take a well-deserved nap.
Free
Between Sutro District and Lincoln Park
The Lands End Trail "hike" -- it's very mellow, so it's more of a walk -- is the perfect SF activity for three reasons: 1. It's an easy way to show how beautiful this place is thanks to views of the Golden Gate Bridge, Marin Headlands, and coastal terrain; 2. There are tons of only-in-SF hidden treasures, like the rock labyrinth, Mile Rock Lighthouse, and Octagon House; and 3. It's an urban hike, which means you get to show off how natural SF really is and get in a workout.
$$
Nob Hill
Show your visitor what SF is really all about by making them wait in a line for food. Of course, the wait for this tiny lunch counter is absolutely worth it and they'll agree once they taste the smoked salmon, twice cracked crab, double seafood cocktail, and, of course, oysters.
Free
The Presidio
If you're not going to walk across the Golden Gate Bridge (or even if you are), head to Crissy Field and walk along the promenade by the water until you get to this fort built for the Civil War that overlooks the Golden Gate. It's a great place to take pics of the bridge, watch surfers narrowly miss jagged rocks and get a little history lesson while you're at it. Don't forget to high-five or high-10 Hoppers Hands when you get there.
$
Chinatown
Everyone needs to explore San Francisco's Chinatown, and no one should miss the Golden Gate Fortune Cookie Factory where you can take a free tour and see men and women preparing fortune cookies in a teeny tiny open kitchen, eat fresh fortune cookies, and buy some X-rated ones to take home. (FYI: While the tour is free, taking a photo will cost you 50 cents.)
$$
Embarcadero
Museums can be kind of boring, but not when the museum is an interactive museum, and especially not when it's only open to adults and you can drink cocktails. "After Dark" at the Exploratorium is, for sure, the most fun way to experience the over 650 exhibits. Just get there early because it's first-come, first-served to crawl, slide, and bump your way through the pitch black Tactile Dome.
$
Pier 39
The problem with tourists is that they want to do touristy things. UGH. And what's more touristy than Fisherman's Wharf? The good news is that Fisherman's Wharf isn't as brutal as you remember, especially because there are really cute sea lions hanging out on K-Dock, and you can grab some clam chowder in a sourdough bread bowl while you're there. And who knows? Maybe the World Famous Bushman will jump out and scare your friends and give them a story to take home.
$
Mission
This one is also pretty obvious, but it should still be said: every single person who comes to San Francisco needs to experience the joy that is a ginormous and filling Mission burrito. A burrito to rule them all. And that's that.
Free
Golden Gate
This is another one of those touristy things to do that's totally worth it because, well, it's the freaking Golden Gate Bridge -- the most photographed bridge in the world. Plus, the only way to truly understand the size of it is to stand atop it. Once you're on the other side, walk down to Sausalito and go to Bar Bocce for pizza and bocce with water views, before taking the ferry back to SF.
$
Pier 45 at Fisherman's Wharf
Since you're going to Fisherman's Wharf to see the sea lions and eat clam chowder in a bread bowl, you might as well also stop by this antique, coin-operated arcade. There are love testers, player pianos, dioramas, old school photo booths, and, our favorite: peep show booths. Be sure to wrestle with the Arm Wrestler, get your fortune told by a grandmother, and stay far away from Laughing Sal if you get creeped out easily.
Free
Russian Hill
Is Lombard Street technically the crookedest street in San Francisco? No, it is not. But the actual crookedest street in Potrero Hill isn't paved with red brick and lined with perfectly manicured greenery and colorful hydrangeas. Which means THIS is the crookedest street your out-of-town guest wants to see. Sure it's touristy, and sure sometimes there's a wait to drive down it, but hit it up on your way to Fisherman's Wharf... if only because their delight will delight you.
$
Golden Gate Park
If you get the sense that your friend or family member needs to unwind (or you need to after having a house guest for a week), take them to the oh-so serene Japanese Tea Garden where you can meander on the winding paths past koi ponds, a Zen garden, native Japanese plants, and pagodas. And be sure to make them climb the famous Drum Bridge so you can take a picture.
$
Potrero Hill
This guided tour through three floors of the brewery is a must for anyone who loves -- or even just likes -- beer. After the tour, there's a tasting session, and then after that, you should go to Anchor Public Taps where you can drink even more beer and get some grub from whichever food truck has parked there for the day. FYI: You can't just show up for the tour; you need a reservation... so book that right here.
$$
SoMa
The best thing about AT&T Park is that even people who don't love baseball love going there. That's because it's the most beautiful ballpark in the country (those views!) and has the best food of any ballpark in the country. What other ballpark has Dungeness crab sandwiches made on buttery grilled sourdough, fresh ahi tuna poke bowls, Ghirardelli hot fudge sundaes, Impossible burgers, and, of course, the famous garlic fries? All of that, AND you get to watch a baseball game.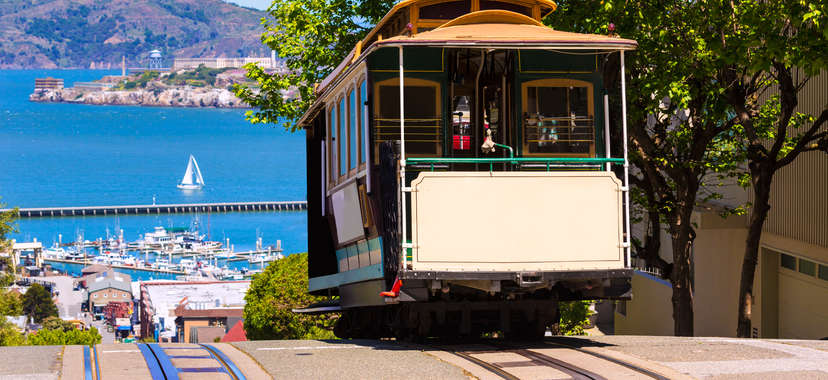 $
Powell/Hyde
Fact: Cable cars are very touristy. Fact No. 2: They're also very fun to ride. Hop on the only moving national landmark along the Powell/Hyde line so your guest can experience the joy that is the wind in their hair and amazing Bay views as they glide down the hill in a vehicle that is part of the world's last manually operated cable car system. Take it all the way to the waterfront and then...
 
$
Fisherman's Wharf
Buena Vista is known for being the first place to serve Irish coffee in the US, and it's damn delicious. Plus, after playing tourist guide for so many days, you're definitely going to need a boozy beverage... but also a pick-me-up. Irish coffee gives you both at once. Hoorah!
$$
Nob Hill
Is this tropical tiki bar cheesy and overpriced? Absolutely. But will your guest love being surprised by a thunder and lightning storm while sipping on a mai tai and listening to the band in the middle of the lagoon perform? We think so.
$$
Tenderloin
You could choose between dinner or a relaxing soak... or you could go to Onsen and get both. Start with a dip in the 104-degree communal tub and then take a sauna, a steam, and a cold plunge. Once you're all loosened up, head to the dining room and enjoy sashimi, skewers, dumplings, and sake.
$$
Ten minutes from shore
Of all of the touristy things to do in San Francisco, visiting this island that's home to the famous abandoned prison is absolutely the one that everyone (tourists and locals alike) should actually do. And the 35-minute audio headset tour that tells you stories from former inmates and guards is a must (trust us). Plus, you can get wine and beer on the ferry ride back! FYI: Alcatraz tickets sell out weeks in advance, so if you want to do this one, plan ahead.
$$
Japantown
What better way for your guest to meet all of your friends than with a raucous karaoke session in a private room? Playground has private karaoke rooms that can hold anywhere from six to 50 guests, and a full bar to give you the liquid courage you need to attempt to sing "We Didn't Start the Fire."
$$
Financial District
If your visitor is on the fancier side, impress them with afternoon tea in the gorgeous Garden Court at the historic Palace Hotel. Nibble on scones, tea sandwiches, and pastries whilst sitting in the opulent glass-domed atrium, and ask for your tea with a side of Champagne. After, enjoy cocktails at the bar of The Pied Piper where you can see Maxfield Parrish's painting of the same name.
Free
Hellman Hollow, Lindley Meadow, Marx Meadow in Golden Gate Park
While people outside of San Francisco look forward to Fleet Week every October, the locals are eagerly awaiting Hardly Strictly Bluegrass, a festival with a name that explains itself. The lineup is different every year, but there are always huge draws that bring big, friendly crowds. (And you can bring wine and beer in non-glass containers.)
Free
In the sky (preferably on the north side of the city)
Fleet Week in SF is about so much more than watching Navy pilots flying six F/A-18 Hornets in crazy formations, but there's no doubt that's the highlight of the weekend (and also the thing San Franciscans bitch about the most). Besides the air show, the week-long celebration honoring the men and women of the United States Armed Forces has ship tours, a ship parade, and, okay fine, everyone's just into it for the cool planes.
Sign up here for our daily San Francisco email and be the first to get all the food/drink/fun SF has to offer.