Actually Cool Things You Can (Still) Do in San Francisco This Winter
Fun still exists. We promise.
While people all over the country hunker down to avoid winter's frigid temps, those of us in SF are usually able to spend this time of year frolicking outside enjoying, for the most part, relatively mild weather and sunny skies. We're going to need that good weather more than ever right now, since almost everything fun to do for (at least) the next couple of months will either take place outdoors or in our homes. Despite the fact that pretty much nothing looks the same—bars are still closed, dining rules are constantly changing, the 49ers can't practice or play in Santa Clara, and… well, you get it 'cause you're living it—we still want to inspire you to have fun and take advantage of some of the amazing things this town has to offer, both in-person and virtually.
You don't need us to tell you, but just a reminder that the restrictions are ever-changing, so please keep that in mind and check before you do anything or go anywhere.
Free
Your home or anywhere with internet
Okay, so the best part of NightLife is that you get to cruise around the Academy of Sciences and check out all of the exhibits with a cocktail in hand, then hit the dance floor, visit another galaxy in the Planetarium, and interact with some smart scientists. The museum will either be closed or at 25% capacity this winter, which means it's not possible to do all of those things, but you can attend Virtual NightLife events, an "eclectic mix of science, music, and art" streamed live. BYO cocktails every other Thursday. Miss those smart scientists also? NightShool, an online deeper dive into a "single science-related theme" happens on the Thursdays when NightLife isn't happening.

$
Local theaters
If SF IndieFest gets its way, you'll be able to watch all of the independent features, shorts, docs, and animation films in the festival at actual movie theaters this February (4 - 18). Obviously, nothing is certain at this point, but we can keep our fingers crossed.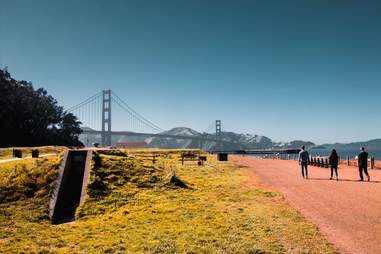 Eirik Uhlen / Unsplash
$
Golden Gate Park, the Presidio, Alamo Square, McLaren Park, etc.
How lucky are we that San Francisco has 220 city parks (one every half-mile), more than any other city in the US? If you weren't taking advantage of them before COVID, you probably are now since they're full of hiking trails, green spaces, gardens, and, maybe our favorite: lots of places to unfurl a blanket, and let the relaxation and indulgence (usually in the form of food and adult beverages—legal in most SF parks) begin. Check current restrictions since, from at least December 6 to January 4, SF is asking people not to gather outdoors and eat (yup, even in a park).
Free
Golden Gate Park
At the end of April, London Breed closed a large portion of John F. Kennedy Drive in Golden Gate Park to vehicles. Frankly, we think this should be how it is all of the time, regardless of a pandemic, but for now it does make social distancing much easier. Our favorite walk is from the park entrance all the to the beach with stops at the Redwood Grove, Prayer Cross, and Bison paddock along the way. It's about seven miles round-trip, but mostly flat, so you won't huff and puff too much.
$ to $$
Embarcadero
The historic Ferry Building is a stunning piece of architecture (completed in 1898 as the largest construction project in SF at the time), but what's really amazing about it is all of the delicious artisan food, lots of which is still available. There's no outdoor dining through January 4 (at a minimum), but you can still pick up oysters to shuck at home from
Hog Island Oyster Company
or a delicious burger and milkshake from
Gott's Roadside
, as well as bread from Acme Bread Company, cheese from Cowgirl Creamery, chocolate from Dandelion, and beer, wine, and liquor from Ferry Plaza Wine Merchant. You know, all of the staples.
Free
Peacock Meadow, Golden Gate Park
This winter, Peacock Meadow (just east of the Conservatory of Flowers) is being transformed into an illuminated art installation. "Entwined," by San Francisco artist Charles Gadeken, honors Golden Gate Park's 150th birthday with LED light sculptures that will wind up trees, cluster into bushes, and fill the space with radiating light.
Courtesy of Fort Point National Historic Site
Free
The Presidio
If you're not going to walk across the Golden Gate Bridge (or even if you are), head to Crissy Field and walk or bike along the waterfront promenade until you get to this fort built for the Civil War that overlooks the Golden Gate. It's a great place to take pics of the bridge, watch surfers narrowly miss jagged rocks and, though you can't go inside right now, take in a little piece of history while you're at it. Don't forget to high-five or high-10 Hoppers Hands when you get there (just make sure you use hand sanitizer before and after). You're not technically supposed to picnic with others through at least January 4, but we won't tell if you bring a blanket and enjoy a sandwich and a beer on the beach or one of the lawns.

$ to $$
BerkelyRep.org
Berkeley Rep is hoping to return to live theater at some point in 2021, but for now they're focused on "innovative storytelling that speaks not only to our time, but also the things we collectively crave" that we can enjoy from home. Through December, you can experience a "spectacle" inspired by Hans Christian Andersen's The Steadfast Tin Soldier. Following that (dates TBD), will be an aural adventure that takes you around Berkeley and a digital experience of a play based on Virginia Woolf's The Waves.
$
Fisherman's Wharf
Stave off SF's winter chill with a famous and delicious Irish coffee from Buena Vista, the first place to serve Irish coffee in the US. Usually you have to enjoy it inside the always-crowded restaurant, but since you're not allowed to right now, they're offering a to-go version of the boozy pick-me-up. Sure, you'll have to enjoy it in a paper cup instead of the signature curved glass, but fact that you can easily make it a double (it's add-your-own-whiskey), enjoy it outside with water views, and that you're even able to get a Buena Vista Irish coffee at all right now will soften the blow of sipping through a plastic lid.
Free
Cable TV, streaming
Losing Klay Thompson for the season was exactly what we didn't need this year, but there's still a good chance the Golden State Warriors will have a good season. Either way, sports are a much-needed distraction right now and since the 49ers were ravaged by injuries leading to a disappointing season, it will be fun to have something to root for again.
Courtesy of Merchant Roots
$$$
Merchant Roots, The Fillmore
Merchant Roots creates some of the most amazing tasting menus you'll find in SF, all of which rotate quarterly, but their newest creation—their fine dining take on a mad tea party—is their best one yet. There are just two tables in the tiny outdoor parklet, and they've been dressed up in cozy individual (heated) open-air shelters with lanterns and upside down tea kettles, ticking clocks, and more. The food is phenomenal—think fancy tea party-meets-traditional English classics, but the experience is about so much more than the food. We don't want to ruin any of the many antics and surprises, but just know that there will be delightful moments throughout. To say this was the best dining experience we've had in years—COVID or otherwise—would not be an exaggeration. (Obviously, Merchant Roots is not doing indoor or outdoor dining through January 4, but hopefully they'll be able to resume serving this whimsical culinary adventure soon after. In the meantime, you can still get their cookies, which we'd argue are the best in SF, delivered locally and nationwide.)

Free
Bayview to Outer Richmond
Put on your most comfortable shoes and head out on the Crosstown Trail, a 17-mile urban hike that takes you through tons of SF neighborhoods, including McLaren Park, Glen Canyon, Golden Gate Park, and Seacliff. The trail is a mix of paved roads/paths and trails, is about 2,600 feet of elevation, and offers great views, cool tiled staircases, a chance to see SF in a whole new way, and satisfaction for having actually done it. Keep in mind that the sun goes down earlier in the winter, so you'll want to get an early start if you want to do the whole thing in one day.
Free for SF residents
Golden Gate Park
For the month of december and possibly beyond, most of SF's enclosed outdoor spaces (playgrounds, the zoo, the Japanese Tea Garden and other outdoor museums, etc.) are closed, but one small gift is that the Botanical Garden, a 55-acre "urban oasis" with more than 9,000 plants from around the world, is exempt from the stay-at-home order. There are some things that shine year-round, like the conifers and palms, but the winter is a good time to see a lot of the camellias and magnolias bloom, as well as a cool colorful plant called banksia seminuda (Australian garden), as well as other winter plants that you'll have to google since we aren't certified botanists.
Free to $$
ACT-SF.org
The American Conservatory Theatre knows that the show must go on, so for the start of 2021, it's productions are all available to enjoy at home. December features a "radio" version of A Christmas Carol that might have made us cry, followed by a series of play readings, virtual talks, and more.
Photo by Squaw Valley Alpine Meadows
$$
About 200 miles northeast of SF
Okay, so this one isn't in SF, but what is more SF than driving in crazy Tahoe traffic to enjoy a weekend in the snowy mountains? Skiing definitely looks a lot different this year—masks are required, you can't sit next to strangers on the chair lifts, and, for now anyway, you can't warm up with a hot toddy at the bar. Still, it's something fun you can do outside, so we'll take it. Hotels are opening and closing in accordance with state guidelines, but Airbnbs are still in full effect, if you're not lucky enough to know someone with a second home. All of the resorts have different policies about lift tickets, so you'll want to check ahead of time. Only potential bummer: It's a La Niña year, so we'll all need to pray for snow.
$
Various bars around SF/TBD
There's not an official plan for SF Beer Week yet since so much about bars and restaurants is still up in the air, but the website promises that "something big is brewing" and asks you to save the date (February 21 - February 21). Seems like even if we are still not allowed to eat or drink outdoors at that time, there will still be some special things you can pick up and enjoy at home. Here's hoping, anyway.
Sign up here for our daily San Francisco email and be the first to get all the food/drink/fun SF has to offer.
Daisy Barringer is an SF-based freelance writer who is using this time to explore the city on foot. Follow her on Instagram @daisysf to see secret staircases, spring blooms, gorgeous views, and all over the other magical things in SF that make this place the best place to live.