Presented By
Keep the Summer Vibes Alive with These Fun Things to Do in San Francisco
There are outdoor movies, neighborhood festivals, and more things to do in SF right now.
Presented By
While the rest of the West bakes, we're here to report that San Francisco, our cool gray city of love, remains… mild (thanks, Karl). Fog or not, we'll always love summer in the city when it's truly the season for parks, hiking trails, beaches, and more, not to mention the city's great restaurants, neighborhood dives, and renowned museums. Plus, there are a bunch of seasonal-specific things to do, including music festivals, art exhibits, amazing stage productions, and more. Keep reading for all of the fun things to do in San Francisco this late summer, and for more ideas on how to live your best life, check out our date ideas and weekend guide.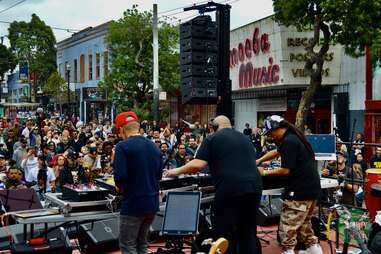 Neighborhood Festivals in SF
Ongoing
Various Locations, Prices vary
Something we love about San Francisco is its distinctive neighborhoods. And a great way to fully explore and experience them is through dedicated street festivals. Thankfully, three of the very best are coming up in September and early October. First, there's the Haight-Ashbury Street Fair on September 17 (free; 11 am to 5:30 pm), where you'll find food, art, live music, and a decided nod to the neighborhood's Summer of Love past. Then, there's the incomparable Folsom Street Fair on September 24 (free; 11 am to 6 pm), a wild (but safe and inclusive) celebration of leather, kink, and alternative sexuality going strong in its 40th year. Cap it off at the Castro Street Fair on October 1 (free), which was founded by Harvey Milk in 1974 and remains a joyful celebration of the neighborhood's diversity, with art, live performances, and dance parties.
Ongoing
Various Locations, Prices vary
We may have reached the peak music festival moment in San Francisco for the year, with a slate of live music in parks (and piers) across the city in the form of premium festivals, free performances, and everything in between. There is, of course, Outside Lands (August 8-11, $199 and up), now in its 15th year in Golden Gate Park, boasting headliners including Kendrick Lamar and the Foo Fighters, plus probably the best food-drink-marijuana lineup of any music festival around. There are Sundays at Stern Grove (through August 20, free, reservations required), where you can see legends like Buddy Guy, Patti Smith, and The Flaming Lips under a canopy of eucalyptus. There's Due South (August 26, September 26, and October 7, free, reservations required), yet another free concert series featuring stellar bands like Cherry Glazer and Y La Bamba, held in McLaren Park's Jerry Garcia Amphitheater. There's the Portola Music Festival (September 30-October 1, $229.95 and up), coming in hot in its second year at Pier 80 with artists like Skrillex, Polo & Pan, Hot Chip, Chromeo, and more. And that's all leading up to Hardly Strictly Bluegrass (September 29-October 1, free), San Francisco's grande dame of a free music festival, where you can see Jason Isbell & the 400 Unit and Valerie June, with a whole lot more artist announcements to come in the next few weeks.
Burning Man
August 27–September 4
Various locations, Prices vary
Forget the hype, forget your annoyance at everyone and their mom (literally!) starting every story with, "This one time at Burning Man…" for the better part of the year: Burning Man is, in fact, a blast. And whether you're deeply embedded in a space cat theme camp or nervously prepping your costume box for your first time on the playa, we wish you a wild and wonderful (and well-hydrated) burn. If you're not desert-bound this year… welcome to one of the best weeks to be in San Francisco, when Dolores Park is slightly less slammed and the line for morning pastries at Arsicault is mercifully shortened. What to do with this magical reprieve? Maybe snag a reservation at newly Michelin-starred Nari. Bike out to Palm City Wines and get a hoagie and a glass of wine with a shorter wait. Hell, go out to brunch… anywhere. The city is your oyster (should you go to Swan Oyster Depot? You should!). Enjoy it.
Arts & Entertainment in SF
Starts September 8
North Beach, $49 and up
San Francisco could use a little love right now, and it gets more than a little during "Dear San Francisco: A High-Flying Love Story," an immersive performance/homage to this wild town told via how-do-they-do-that acrobatics, including hoop diving, Chinese pole, juggling, spoken word, video projections, shadow play, and original music (tickets from $49). And though those things might sound like they're for kids, this show is definitely more adult-friendly, especially if you order a bottle of wine and some fancy grown-up snacks and desserts to enjoy while you watch. Even if you've already seen the show, the performers—and the feats they perform—change, making this a show you can definitely see more than once.
Ongoing through September
Golden Gate Theater and the Orpheum Theater, Prices vary
If you love musicals, you'll be very excited about what's happening on stage in SF this summer and fall. BroadwaySF hosts Tina, the musical biography of our dearly departed queen, Tina Turner (August 1-27); Aladdin, a stage spectacular adaptation of the beloved Disney classic (August 2-13); and the return of Hadestown, the Tony-award-winning masterpiece reinterpreting Greek mythology (September 12-17).
Art exhibits in SF
Ongoing
Various locations, Prices vary
San Francisco's is a world-class art city and this spring's offerings are well worth planning around. The de Young is an excellent place to start: catch the tail end of the magnificent Ansel Adams in Our Time, which showcases the work of the local luminary alongside artists that both inspired and were inspired by him (through August 6), and spend some time at Kehinde Wiley: An Archeology of Silence focuses on the systemic violence against Black men with large-scale portraits of young Black men in the style of Western iconography (through October 15). Get the royal treatment at the Legion of Honor, at The Tudors: Art and Majesty in Renaissance England. And be sure to stop by SFMOMA for the return of Ragnar Kjartansson's captivating video exhibition, The Visitors (through January 2, 2024).
Outdoor Movies in SF
Ongoing
Various locations, Prices vary
Is there anything more quintessential, summer-in-the-city than an outdoor movie screening? Even in San Francisco, where said outdoor movie screening probably requires a down jacket, a few blankets, and some hot toddies in a thermos? Gather your layers and get your fill at this year's season of Sundown Cinema, where you can sing along to Mamma Mia in Dolores Park on August 18, get fired up at Black Panther: Wakanda Forever at India Basin Shoreline Park on September 8, and bend and snap with the best of them at Legally Blonde at the Ferry Building on September 29. And we're not kidding about the BYO-toddies.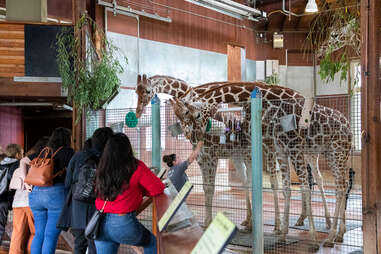 More Fun Things to Do in SF
Fridays through August 25
Parkside, Prices vary
Things we love: Giraffes. A Friday evening happy hour. And the incredible chance to combine the two at the SF Zoo & Gardens Sunset Fridays from 5 to 7 pm ($12, free for members), in which you can have drinks and hang out with giraffes (at least some weeks; other weeks, you can hang out with flamingos which is also great). There's also live music courtesy of SFJAZZ, activities for kids, and ambassador animals which, honestly, we think should be a part of all happy hour activities.
Ongoing
Golden Gate Park, free
This 55-acre urban oasis with more than 9,000 plants from around the world is always a great place to go for a mini escape (free for SF residents). Pack a picnic to enjoy on the grounds or wander through the gardens and visit flora from Australia, Chile, South Africa, and more, all in one afternoon. Even better, September 8-12 you can plan your visit around the return of the Flower Piano, a magical series of al fresco concerts amidst the flora.
Ongoing
Golden Gate Park, Free
Thanks to the voters of San Francisco, John F. Kennedy Drive in Golden Gate Park is now permanently car-free. Take advantage of the fact that you can walk, run, bike, skip, pogo stick, and more in the middle of the street all summer. Don't forget to check out Paint the Promenade, an ongoing installation from Paint the Void, a non-profit that supports local artists and beautifies the community. The installation includes the beloved Doggie Diner heads along JFK Drive between Conservatory Drive West and 6th Avenues, 100 (comfy!) chairs set up for relaxing, two pianos that anyone can play, and more.
Ongoing
Bayview to Outer Richmond, Free
Put on your most comfortable sneakers and head out on the Crosstown Trail, a 17-mile urban hike that takes you through tons of SF neighborhoods, including McLaren Park, Glen Canyon, Golden Gate Park, and Seacliff. The trail is a mix of paved roads/paths and trails, is about 2,600 feet of elevation, and offers great views, cool tiled staircases, a chance to see SF in a whole new way, and satisfaction for having actually done it.
Lauren Sloss is a San Francisco-based travel, food, and music writer who has done stints in Philadelphia, New York, London, Istanbul, and aboard a 32-foot sailboat. Follow her on Instagram and Twitter.