16 Actually Cool Things to Do in SF During Quarantine
All social-distancing approved.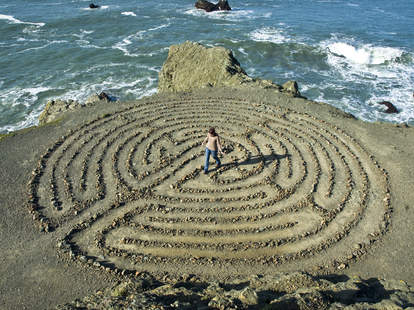 In San Francisco, there's a never-ending amount of fun things to taste, see, explore, and discover. Or … there usually is, anyway. Obviously, times are a little different right now. Due to COVID-19 and the city's phenomenal efforts to stop its spread, SF has been pretty shut down since mid-March. The restaurants (and some bars) have pivoted to takeout. The museums are closed. Sports are a distant memory that we can only hope return in time for football season.
But that doesn't mean there's not still fun to be had. We've rounded up a list of actually cool stuff to do right now, including urban hikes, DIY picnics, slightly less DIY picnics, and a few of things that might be once-in-a-lifetime opportunities. And yes, all of them are allowed based on SF's health directives. Just be sure to wear a face covering when indoors or on public transportation and to stay six feet apart from people, but we don't have to tell you that. After over two months of helping to flatten the curve, you're basically a pro.
Free
Your home or anywhere with internet
Okay, so the best part of NightLife is that you get to cruise around the Academy of Sciences and check out all of the exhibits with a cocktail in hand, then hit the dance floor, visit another galaxy in the Planetarium, and interact with some smart scientists. While we're sheltering-in-place, the museum is closed, which means it's not possible to do all of those things, but you can attend Virtual NightLife events every other Thursday, an "eclectic mix of science, music, and art" streamed live. BYO cocktails. Miss those smart scientists also? NightShool, an online deeper dive into a "single science-related theme" happens on the Thursdays when NightLife isn't happening.
Free
Anywhere with an internet connection
SF Pride is the largest gathering of the LGBT community and allies in the country and is always one of the most colorful, action-packed, and non-stop weekends in June. Unfortunately, this year you won't be able to physically attend the parade, rally, or all-night dance parties for obvious reasons, but there are going to be lots of online and virtual events during the last weekend of June, which will be revealed on the website soon.
$$
Golden Gate Park, the Presidio, Alamo Square, McLaren Park, etc.
For now, trips to wine country are on hold, but that doesn't mean you can't enjoy a lovely afternoon of wine and cheese al fresco on a picnic blanket. You can put together your basket, or if you want to make things easier (and help support small-scale producers and independent restaurants), you can order a wine, cheese, and charcuterie survival kit/box from Board at Home, which delivers curated boxes with Schug wine to your home the same day you order it. No need to put on a mask and go inside a store; just head to your favorite local park, unfurl your blanket (six feet away from other people, of course), and let the relaxation and indulgence begin.
Courtesy of fnnch
Free to $
All over SF
Beloved local artist fnnch has been painting coronavirus versions of his famous honey bears all over boarded up windows across the city since businesses were forced to temporarily close, but now everyone can get in the bear hunt game. Order a "Honey Bear Hunt Kit," which includes a Mask Bear printed on paper for you to put up in your window so people can walk around and spot bears. Don't have the $18 to spend or a window where people would be able to see it? That's okay. Anyone can play for free.
Free
Twin Peaks
In "normal" times, most people drive up to the Twin Peaks, the second highest point in SF (922'), but the one with the best views by far. If they want to get the really good 360 degree views, they have to hike a short trail to the north or south peak overlooks, but basically the heavy lifting is done for them. Unfortunately, there's not a great way for pedestrians to ascend that doesn't feel a little dangerous since it involves walking next to traffic. However, the winding road up to this scenic overlook is currently closed to all cars, which makes it the perfect time to do this urban hike, get your heart rate up, and take in this city in all of its glory.
Free
Golden Gate Park
It took a while, but finally at the end of April, London Breed closed a large portion of John F. Kennedy Drive in Golden Gate Park to vehicles. Frankly, we think this should be how it is all of the time, regardless of if we are supposed to stay six feet apart from each other, but for now it does make socially distancing much easier. Live closer to McLaren Park? Shelly Drive is closed there.
Courtesy of Gott's Roadside
$ to $$
Embarcadero
The historic Ferry Building is a stunning piece of architecture (completed in 1898 and the largest construction project in SF at the time), but what's really amazing about it is all of the delicious artisan food. A lot of the best spots are temporarily closed, so you won't be able to get oysters with a view from Hog Island Oyster Company or modern Vietnamese fare at Slanted Door, but the Ferry Building marketplace is still open during normal business hours, which means you can get locally-made European-style cheese from Cowgirl Creamery, a delicious burger and milkshake at Gott's Roadside, and unusual ice cream flavors, like Secret Breakfast (bourbon and Cornflakes) at Humphry Slocombe. The beloved farmers market that's operated by CUESA is still popping up on Thursday, Tuesday, and Saturday, so while you're there, you can shop for high-quality products from small, sustainable growers and producers who need your support now more than ever. 
Free
Between Sutro District and Lincoln Park
The Lands End Trail "hike" -- it's very mellow, so it's more of a walk -- is the perfect SF activity for three reasons: 1) It's an easy way to appreciate how beautiful this place is thanks to views of the Golden Gate Bridge, Marin Headlands, and coastal terrain; 2) There are tons of only-in-SF hidden treasures, like the rock labyrinth, Mile Rock Lighthouse, and abandoned Octagon House; and 3) It's an urban hike, which means you get to bask in SF's natural beauty and get in a "workout" at the same time. While you're there, check out Sutro Baths, the ruins of an enormous ocean-filled swimming facility destroyed by a fire in 1966 and the USS San Francisco Memorial.  
$$
Nob Hill
You may still have to wait in line and, for now, you definitely won't be able to sit at Swan's tiny lunch counter, which unfortunately means a smaller dose of the amazing hospitality (often paired with a side of playful sarcasm) the seafood spot and fish market is known for, but you can still feast on smoked salmon, twice cracked crab, double seafood cocktail, and, of course, oysters. You'll just have to do it at home.
Courtesy of Fort Point National Historic Site
Free
The Presidio
If you're not going to walk across the Golden Gate Bridge (or even if you are), head to Crissy Field and walk along the promenade by the water until you get to this fort built for the Civil War that overlooks the Golden Gate. It's a great place to take pics of the bridge, watch surfers narrowly miss jagged rocks and, though you can't go inside right now, take in a little piece of history while you're at it. Don't forget to high-five or high-10 Hoppers Hands when you get there (just make sure you use hand sanitizer before and after). You'll probably have earned it even more than usual since most of the parking lots in the area are closed, which means it's much easier to arrive on foot.
$
Mission
This one is also pretty obvious, but it should still be said: Now more than ever, we all need the joy that is a ginormous and filling Mission burrito. A burrito to rule them all. Unfortunately, a few of our favorites, including La Taqueria, are closed, but don't fret as El Farolito are Taqueria Cancun (okay, a little more Bernal than Mission, but beggars/choosers and whatnot) are still open for takeout.
Free
Mission
While the cynical side of us may have some issues (13 to be exact) with Dolores Park, there's no denying that this park is beloved for a reason. Abundant sunshine (yes, in San Francisco), fantastic people watching, gorgeous city views, towering palm trees, off-leash areas for dogs to play -- and though alcohol technically isn't allowed, all of those things add up to make it the perfect place to enjoy that aforementioned burrito and a cold beer or three from Woods Cervecería (some rules, like no alcohol in the park) are just meant to be -- and are almost always -- overlooked.
Free
Golden Gate
This is one of those touristy things to do that's totally worth it because, well, it's the Golden Gate Bridge -- the most photographed bridge in the world and one that was both the longest and tallest suspension bridge in the world when it opened in 1937. What better time to see it than when there's about a third of the usual traffic? Once you're on the other side, walk down to Sausalito and get some takeout pizza from Bar Bocce to enjoy by the water before taking the ferry back to SF. One thing to note: If you want to take the ferry back, you'll have to do this excursion during the week as right now Golden Gate Ferry doesn't have weekend service. Of course, you can always walk. After all, what else do you have to do?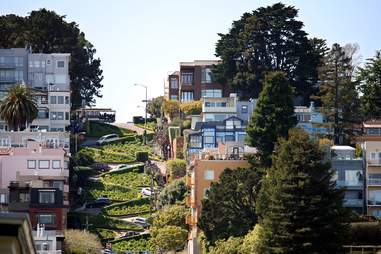 Lombard street

| Flickr/Marit & Toomas Hinnosaar
Free
Russian Hill
Is Lombard Street technically the crookedest street in San Francisco? No, it is not. But the actual crookedest street in Potrero Hill isn't paved with red brick and lined with perfectly manicured greenery and colorful hydrangeas. Which means THIS is the crookedest street you want to Instagram. Best of all, since everything is pretty much shut down in SF, for the first time ever, you can actually walk up and down it without a parade of cars ruining the view.
$
Fisherman's Wharf
Buena Vista is known for being the first place to serve Irish coffee in the US, and it's damn delicious, albeit slightly less so since right now the cafe is only serving a to-go version of the boozy pick-me-up, which means you'll have to enjoy it in a paper cup instead of the signature curved glass. Still, the fact that there won't be a line or crowds, that you can easily make it a double (it's add-your-own-whiskey), enjoy it outside with water views, and that you're even able to get a Buena Vista Irish coffee at all right now will soften the blow of sipping through a plastic lid.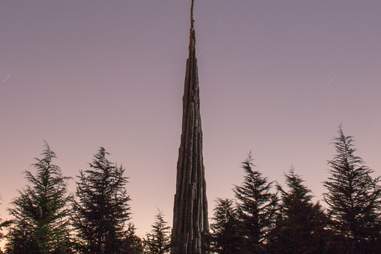 Spire

| Skull Kat / Unsplash
Free
Presidio
Artist Andy Goldsworthy is known for creating sculptures that use natural materials and capture the essence of the place where they were made. The Presidio has four of his installations, the most of any place in North America, and though you can't see them all right now (two of them are inside buildings near the Main Post that are temporarily closed), you can see Spire, made with 37 Monterey cypress trunks that tower 100 feet into the sky and Wood Line, a literal winding wood line made with eucalyptus branches that will one day return to the earth, which are only a short one mile walk apart from each other.
Sign up here for our daily San Francisco email and be the first to get all the food/drink/fun SF has to offer.
Daisy Barringer is an SF-based freelance writer who is using this time to explore the city on foot. Follow her on Instagram @daisysf to see secret staircases, spring blooms, gorgeous views, and all over the other magical things in SF that make this place the best place to live.