San Francisco Freebie of the Week
We've scored a pair of tickets to Southside Spirit House's NYE party so that one lucky reader (you???) and a date/friend/friend-they-wished-was-a-date can enjoy a one-hour select open bar, choco-covered strawberries, a Champagne toast at midnight, PARTY FAVORS, HATS, AND NOISE MAKERS, and a DJ doing classics/Motown/mash-ups. Just tweet THIS and you could win! Or hedge your bets and get some tickets here.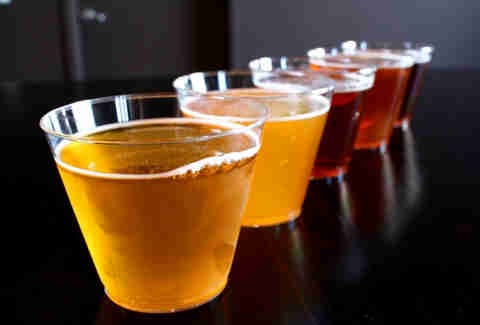 Thursday, December 19th: OHMYGODYOUGUYS! Beer Week's early bird tickets are on sale for the opening ceremonies where you get, literally, unlimited samples of great beers. DO IT Continue Reading
Friday, December 20th: Even though it's still a little ways away from opening its Lower Haight locale, Three Twins has finally given you a reason to go to Fisherman's Wharf by opening up a new scoop shop there. Seriously, you're gonna want to check it out.


Friday, December 20th: Hit up Rickshaw Stop tonight for their official holiday party with a "Ho-ho-ho edition" of Hip-Hop Ping Pong, which, judging by the "booty shaking contest", they're taking to mean more Miley, less Santa.
Friday, December 20th: Everyone's favorite, oldest brewery has melded its brewing and distilling branches to create the super delicious, super rare White Christmas spirit, which's actually made from distilling the Anchor Christmas Ale from 2012 -- literally making it a spirit of Christmas Past. Check here for just-now-available bottles.
Saturday, December 21st: It's guaranteed to be the longest night of the year, but it's also going to be the Best Night of Your Life -- provided you spend it taking in all the best Thrillist-approved madness around town, from happy hours, to craft cocktails, to late-night face-stuffing. Build your itinerary now, grab some friends, and make it happen.