Win free pizza… for a year!!
San Francisco Freebie of the Week
In celebration of its year anniversary and the opening of its new Danville spot, Forge is giving away a free pizza a week, for a year. Anyone who visits their new Dan-V location, spends $10, and registers, will be entered to win the 52 gratis pies. They'll be selecting 100 names next Thursday, January 30th, so get to visiting!
Thursday, January 23rd: Get to third base with The Bold Italic and Google Shopping... by going to their "3rd Base: A Dogpatch Microhood" party... in, um, Dogpatch, where they'll have local brews pouring, discounts from shops, and the chance to win an open tab after-party at Third Rail, which might actually get you to third base! All you have to do is RSVP. Continue Reading
Thursday, January 23rd: SF Sketchfest starts tonight, so if you like comedy or comedians, now could be your chance to see actual famous ones perform for pretty decently cheap prices. Zach Galifianakis and Jack Black are among the participants. Grab tickets now.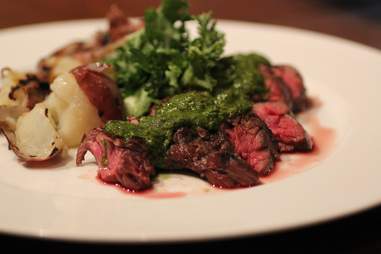 Friday, January 24th: To celebrate the groundbreaking of its very own restaurant, Sous Beurre Kitchen is hosting a one-night-only pop-up at the Naked Kitchen to preview its brick-and-mortar menu. Expect stuff like seared pork tenderloin with braised pig tails, wild mushrooms, and cauliflower-apple purée. Plus, it's BYOB, so grab your tickets (and bottles of Skinnygirl Margarita!) and head over.
Friday, January 24th: Get a reservation at one of the many restaurants participating in Oakland's Restaurant Week... because some of them are actually fantastic, and all of them are cheaper than usual! Check the list of participants here.
Saturday, January 25th: First, the Trick Dog dudes put their drink menu on color swatches, then record albums, and now? Try an astrological horoscope, with a drink for every sign. They just posted the menu online on Tuesday. Check it out here, or don't, and just get the "Cancer" with TWO types of Scotch, salted pineapple, peanut, and sage. It's incredible.