Your guide to this weekend's pop-ups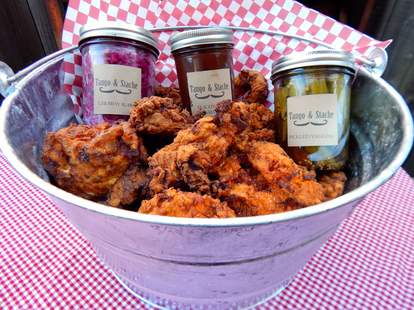 San Francisco This city has a lot of pop-ups, which you invariably stumble upon when you're out doing the volunteer charity work that you definitely do all the time. Here to help you stumble with a little more precision this weekend: our guide to the best upcoming pop-ups.
Workshop Happy Hour With Cheesesteaks: This Friday starting at 5pm, Workshop in Western Addition is hosting a happy hour with beers from Comrades Brewing, McVicker Pickles (which, along with pickles, will also have bacon jam), and a Rowe burger Philly team-up for unbelievable Philly cheesesteaks. 
Continue Reading
Tango & Stache
Tango & Stache at Melange: This Thrillist favorite will be doing their regular gig at The Mission's pop-up hot-spot from lunch 'til evening on Friday, and though the menu changes every week, previous dishes have included the likes of Appleton Estate Jamaican rum pork tacos and melted green garlic, roasted mushroom & potato tacos. There's a reason it's a Thrillist favorite.



Balls-Deep Arancini: A pop-up that you may not want to bring your Mom to (or at least not tell her the name of) has taken up residency at El Rio on Saturday nights (starting at 9pm), where they're serving up deep-fried balls of risotto that come in flavors like avocado & jalapeño or tomato & roasted garlic. You know you want to get... well, you get the idea.
1058 Hoagie
1058 Hoagie Jewish Deli Pop-Up: Not to be left out of the Jewish Deli craze, the owner of 1058 Hoagie has started his own in-store takeover on Thursdays from (usually) about 4:30-7pm, where they'll be serving traditional fare like corned beef, pastrami, and matzo ball soup.
Sneaky's BBQ
Sneaky's BBQ: Hit up Vinyl on Divis on Tuesday for their trivia night, and come away with some of the best BBQ available in the city, because Sneaky's will be dishing out their Carolina-style pulled pork and smoked, dry-rubbed Kurobuta pork belly from 6-9:30pm.