You know when you're listening to Steve Perry sing about how happy he is to be back in San Francisco in the Journey classic, "Lights"? That's because he knew SF isn't just the best city in America, it's also the most unique city in America, filled with things you just can't do anywhere else. Here are 14 of those things -- make the most of every moment you live in this city, and go out and do all of them.
1. Visit a summer blockbuster-worthy prison
Other prisons have starred in movies but not movies starring Sean Connery and Nic Cage that grossed $134,000,000. Also you probably don't want to visit Attica because there are actually still prisoners there.
2. Walk across an entire major US city in 2.5hrs
7X7 bitches!

3. Walk softly and carry a giant bat of cockiness
The Giants have won three of the last five. No matter what happens this year, no other city's fans have as much right as we do to act like late '90s Yankees fans. Not that we would because we're not jerks, but still, we have a right to.
4. Be a Smurf who doesn't have to worry about Gargamel
Bay to Breakers is the only foot race in the country where you can smurf smurfly until you can't smurf anymore.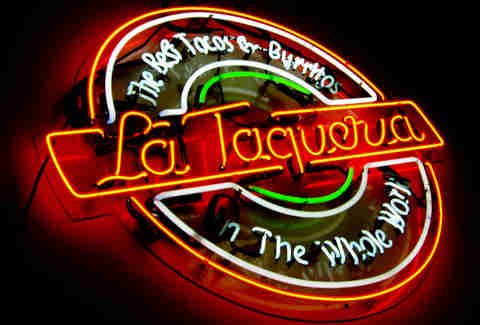 Nate Silver, bitches!

6. Celebrate pride
Your city might have more "spirit," which is nice! But your city doesn't shut down to celebrate spirit the way ours shuts down to celebrate pride. Or maybe it does, but the costumes definitely aren't as awesome.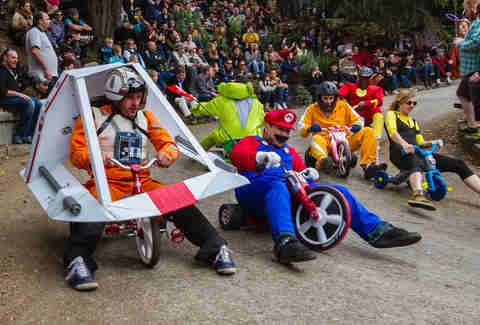 7. Ride a big wheel down the crookedest street in the world
On Easter. Wearing an X-Wing pilot or Mario costume.
8. Drink the perfect Irish Coffee
Compared to Buena Vista Cafe's, other Irish coffees might as well be Scottish or Welsh coffees.

9. Slurp clam chowder bread bowls
10. Do a bar crawl on America's only mobile historical landmark
In other cities, "cable car" is what you grunt when someone tries to distract you from watching Fast 6 on HBO.
11. Go to a giant music fest in the middle of a legitimately bad ass city park
We have Outside Lands. New York has... that time Simon and Garfunkel played in Central Park and then everybody got mugged.

12. (Oh and we also have Stern Grove)
Not just a whole lot of opportunities nationwide to see great musical acts in a hidden eucalyptus grove.
13. Eat $3.50 toast
The Trouble with every other city in America is that their toasted bread is just too inexpensive.

14. Watch Blue Angels do crazy stuff over your head...
...while you drink on your friend's friend's rooftop, or one of these secret rooftop bars. Fleet Week is a sweet week.