24 Things You Don't Understand About Alameda (Unless You're From There)
Things you know about Alameda: 1) it's an island city that measures six miles long by a mile wide... wait, you didn't even know that?? Wow. Okay, well then you're DEFINITELY not gonna know any of these 24 things. Especially not the one about how you can stand in SF and Alameda AT THE SAME TIME.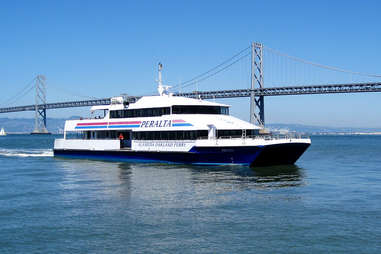 1. The commute to SF is 22 minutes long. And there's booze.
If you take one of two ferries leaving Alameda, you can be at the Ferry Building, a Giants game, or Angel Island in about 20 minutes, and you can spend that 20 minutes eating and drinking 'cause they sell cookies, snacks, and booze on board. Bonus: the last Friday of the month, the commuter ferry throws a party with live music during commuting hours. Boo. Yah.

2. We're an island. Literally.
We started out as a peninsula, but some government mucky mucks in 1902 decided to show off their trench-digging skills and made Alameda an island. The only way in and out of the city is via the Tube (aka tunnel to Oakland) or one of four drawbridges that are always raised when you're trying to leave the island in a hurry.

3. But we aren't just one island...
We also have tiny Ballena Bay and military Coast Guard Island as part of our little duchy. Coast Guard Island weirdly can't be reached from Alameda, only via Oakland, but it's still ours.

4. Bay Farm Island, though? Not an island.
Once a second island, this part of Alameda is a peninsula now, after the channel was filled in by zealous developers; BFI backs up to the runway for Oakland International Airport. When it was still an island, Jack London used to steal oysters here (see London's tale, John Barleycorn for proof).
5. You can stand in San Francisco while simultaneously standing in Alameda
A corner of a dump site West of the former runways at Alameda Point (the former navy base) extends far enough into the San Francisco Bay that it is technically a part of the city and county of San Francisco. It's basically like the Four Corners, except... not really like that at all.

6. Drive 25mph or suffer the consequences
No joke. The signs warn you upon entering the Island City that the cops have nothing else to do but watch you drive. Really, they'll write you up for going five miles per hour over since, again, they have nothing else to do but watch you drive.

7. It's a silver screen beauty
Alameda has shown up in numerous films, from Yours, Mine & Ours (with Henry Fonda and Lucille Ball, 1968), to Star Trek IV: The Voyage Home ("Nuclear wessels," says Chekov in the 1986 film), to scenes from The Matrix films, The Net, What Dreams May Come, Milk, and a bunch more.
8. We're serious about going to infinity and beyond
Wind River Systems, headquartered here, put the brains into two Mars rovers, Spirit and Opportunity, putting us two giant leaps ahead of the rest of the Bay Area.

9. Phyllis Diller got her start here
Comedienne Phyllis Diller was a housewife here in the 1950s. She entertained the PTA ladies at her children's school and many of them encouraged her to go into entertainment. She prepared a nightclub act and was booked at SF's The Purple Onion. Locals remember her as a sweetheart, and the local museum has an exhibit featuring one of Diller's hideous 1960s dresses and a collection of her albums.

10. It's the home of one of the worst teams in the NFL
The Oakland Raiders' headquarters and training facility are both on Bay Farm, which means we know that they're terrible at football but ALSO good at community service -- you'll pretty regularly see them around town doing good deeds or showing up at schools for community service.
11. We have our own Painted Ladies
We'll see SF's Painted Ladies, and raise them our String of Pearls: a row of elegant Victorians on Grand St built in the late 1800s. In fact, if you lust for Victorian architecture, come to the island for an orgy of spindles, shingles, sunbursts, towers, and turrets, especially in the five-block Leonardville area.

12. Love him madly... Jim Morrison that is
Jim Morrison spent 1958 here as an Alameda Hornet, while his dad was based at the Alameda Naval Air Station. Myths and rumors about his time here abound, but the best is that Morrison dedicated a park bench to his stupid high school pals. Not true, by the way.

13. But about that bench...
Isabelle Clark, an old-time resident of the neighborhood, had a giant, curved concrete bench built at the South end of Jackson Park. The dedication, "To all my dumb friends," was intended for the furry, four-legged kind who cannot speak, not the two-legged kind who smoked a doobie or three with Jimbo.

14. Alameda was once home to the worst neighbor ever
Charles Froling got mad 100 years ago when the city commandeered a portion of his land for a new street, so using what space he had left, Froling built a house 20ft high, 54ft long, and 10ft wide. The house, known locally as the Spite House, is still there, as bitter and charming as ever.
15. Peanut butter was invented here
Okay, okay, not like the OG peanut butter, but the modern, non-separating kind? Yessir. You wouldn't be eating that throwback PBJ with the crusts cut off if it weren't for an Alameda goober named Joseph Louis Rosefield. He basically added vegetable shortening to crushed peanuts to make it creamier and prevent separation. Rosefield licensed the Peter Pan brand in 1923, and Skippy in 1933.

16. And so were popsicles
Supposedly a guy left his spoon in a drink on the porch overnight and the drink froze, and thus, Popsicles were invented. Trouble with the story is, the weather rarely freezes in SF or Alameda. But this much we do know: Frank "Pop" Epperson first sold his Epperson Ice Pop -- "Pop's Sicle" -- in 1923 at Alameda's Neptune Beach amusement park. Suck on that, other people who claim to have invented the popsicle.

17. It's the end of the line
Everyone knows about the race to join both sides of the US with a single railroad. Locals know that the end of the line, the terminus of the Transcontinental Railroad, is here, at the corner of Lincoln and Webster.

18. It's Ver-SALES, not Ver-SIGH
Native Alamedans have a quaint way of mispronouncing "foreign" names. How you pronounce Versailles St is a marker for who's an Alamedan and who's a noob. Buena Vista Ave -- Boona/Byoona Vista to Old Alamedans -- is another such indicator.

19. It has the best view of the SF skyline
Pretty much anywhere on the South or West of Alameda will give you an awesome, unobstructed panorama of San Francisco and the Bay Bridge. From Crown Beach or while browsing at the Alameda Point Antiques Faire, you'll have an unrivaled, million-dollar view.

20. It's home to the awesomest company cafeteria ever
When the people of Perforce Software chose to build their HQ in Alameda, they didn't want to knock down a quaint Victorian cottage on the property. So they made it their company snack bar instead. Bonus: the Little House Café is open to the public.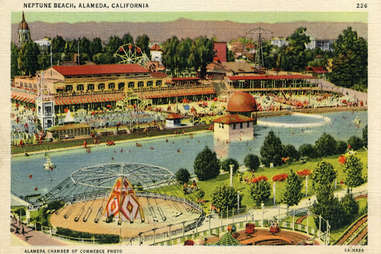 21. It's the Coney Island of the West
That's where swimmer Johnny Weissmuller (the original movie Tarzan) and bodybuilder Jack LaLanne got their starts. From its opening in 1917, Neptune Beach drew hundreds of thousands of visitors until the Great Depression killed it off. Chunks of the former play land were used as a sea wall in Alameda's waters, and beach chalet cottages still exist in the West End neighborhood.

22. It's home to the green fairy and her friends
St. George Spirits (located on Alameda's Spirits Alley) was the first American company to release an absinthe after the US ban was lifted in 2007. More than seven years later, there are many other American-made absinthes on the market, but St. George's is still one of the most highly regarded (Editor's note: especially by us).
23. A haunted ship docks in our port
The aircraft carrier USS Hornet exists now as a museum, offering some swell swing dances several times a year on the flight deck. But in her day, the USS Hornet was the launchpad for a daring World War II attack on Japan, and later, was on hand to pick up astronauts and the capsule from the Apollo 11 moonwalk mission. Naturally, the ship is home to ghosts, which you can see firsthand since you can sleep overnight there.

24. Last and, yes, least:
The Least Tern is an endangered species that took over the abandoned runways when Naval Air Station, Alameda, closed in 1997. The little bird packs such a political punch that it garnered hundreds of acres of prime real estate with bay views as a preserve. It beat out a golf course and a pile of condos.
Sign up here for our daily San Francisco email and be the first to get all the food/drink/fun SF has to offer.
Julia Park Tracey is a journalist, blogger, and author. She is an inveterate list maker. Visit her at www.juliaparktracey.com.