The 15 Types of Fans You'll See at Every SF Giants Game
With another MLB season underway, Giants fans are getting ready, checking rosters, buying gear, and trying to get a refund on Pablo Sandoval jerseys. Every fanbase has its rituals and each year brings a new set of chants and costumes to the stands. You won't see beach balls here, no one does the wave, and we certainly don't chop the air with foam tomahawks. Here're the 15 people you will see in the stands at any Giants game.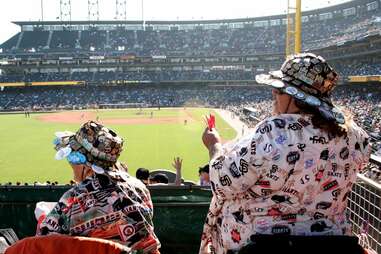 1. The lifer
They've been a season ticket holders since Candlestick, and they always come prepared: hat covered in pins, scorecard, glove, seeds, binoculars, and a mini radio with old-school headphones. These are the fans who can quote Will Clark's 1989 batting average but can't remember their social security number. They remember the first splash hit and the days when Kruk and Kuip were on the field instead of in the broadcast booth.
2. The foul ball maniac
The only thing scarier than a sharply hit ball coming at you is this guy coming at you to try to catch it. He'll push, shove, lunge over seats, and "accidentally" interfere with the game, all so he can maybe take a ball home. And yes, he brings his glove to the game. And no, he isn't going to give the ball to a kid. Not even his kid.
3. The McCovey Cove contingent
You definitely won't find fans like this in any other city. These die-hards come in kayaks, party boats, surf boards, sailboats, paddle-boats, and yes, even hovercrafts, awaiting the next Splash Hit.

4. The social media maven
This fan has barely looked at the field since first pitch because they are not there to watch the game; they just want to make sure everyone knows they are at the game. If they're alone, they're texting. If they're in a group, they're still texting. And Instagramming. And posting to Facebook. And Tweeting. And also possibly Snapchatting/FaceTiming/Yik Yaking. By the ninth inning they've filled their phone's storage capacity with photos of food, friends, themselves, and Ángel Pagán.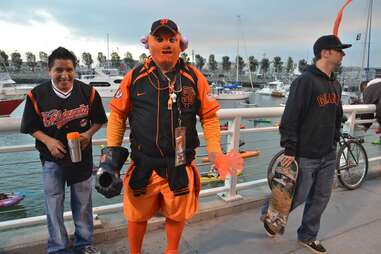 5. The gear fanatic
For these fans, a hat just isn't enough. Nope, they need to come to the game covered in Giants jerseys, hoodies, hats, socks, and keychains -- they even sleep in Giants PJs. They're first in line on bobblehead day, and they actually buy those mini bats, foam fingers, and other overpriced souvenirs. In short, they make the Giants a lot of money. The organization is just as big a fan of these guys as they are of the Giants.
6. Personalized jersey people
There's the guy wearing a custom jersey with his own last name, the couple with matching jerseys, the hybrid jersey guy (half A's/half Giants, which is seriously never EVER okay), and the guy who wears a custom jersey with some kind of phrase or joke, when the real joke is that he dropped over $100 for his mediocre inside joke.

7. The fan who wears the jersey of a team that's not playing
Of course, personalized jerseys are nothing compared to the guy who reps teams that aren't on the field. The worst offender is the dude in the Dodgers jersey, but also the transplant fan with Padres gear. And then there's the guy who wears, say, a Dallas Cowboys jersey to a Giants game. Why?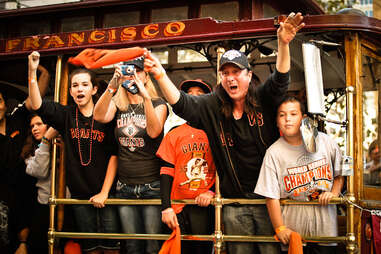 8. Steve Perry
The Giants aren't the only team to blast Journey songs for a little moral support, but SF is the only place where Steve Perry himself is regularly in the stands, clapping and singing along to his own songs. Don't stop believin' Steve!

9. The guy in a suit
This guy shows up late and spends the game glued to his iPhone 6 Plus checking emails, "touching base," and "reaching out" about VC funding or some business deal he's just so pumped about. Lucky for everyone else, he's almost always tucked away in a luxury suite.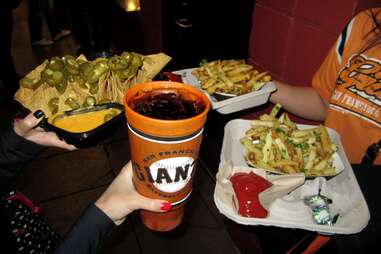 10. The family that spends truckloads of money on food
Garlic fries and an Anchor Steam might be a Giants game tradition, but it's gonna cost you. As will the Home Run Dog, Crazy Crab'z crab sandwich, Irish nachos, Mijita chicken tamales, and Ghirardelli sundaes. Yeah, these people know you can bring in your own food. But they also know that would be a wasted opportunity to chow down on some of the best stadium fare in the country.
11. The heckler
Anyone can heckle from the safety of the upper deck, but the fact that literally no one he's heckling can hear him doesn't shut him up. No, this guy heckles the other team, he heckles his own team if they're not playing well, and he absolutely loses his mind screaming at the umpire. It's always impressive when a guy hundreds of feet away can see better than the umpire six inches away. Everyone should just be happy the Red Sox don't play the Giants this year. He'd like spend the entire nine innings screaming at Pablo Sandoval. Although, to be fair, he wouldn't be the only one.
12. The fist-pumping Granny
If you haven't seen her, you haven't been to enough games. Her name is Rosalie Alioto and she's been a Giants fan for more than 50 years. Keep on pumpin', Rosalie!

13. The person who tries too hard to get on TV
You know the type. They dance to every walk-up song, flail about every time a cameraman swings by, ham it up for the Kiss Cam, and definitely made a sign to wave around. Most of us go to watch the game; these fans go to be watched.
14. Mike Krukow
Yes, every Giants announcer is a fan of the team, but no one beats Krukow when it comes to celebrating the orange and black, no matter how worrisome the situation might be. The Giants could be 29 games back with more players on the disabled list than on the field and Krukow would still find a silver lining. Kruk is the No. 1 Giants cheerleader and we love him for it.
15. Seagulls
Anyone who's ever been to AT&T Park knows about the seagull phenomenon. They show up in swarms toward the end of every game to snack on leftovers. They also block cameras, poop on fans, and sometimes interfere with the game. There are theories the gulls are attracted to the stadium's lights, the organ music, or maybe they notice people leaving. No one really knows how the seagulls know when to show up, but one thing's certain: they're watching the game as closely as we are. And their leader is super funny on Twitter.
Sign up here for our daily San Francisco email and be the first to get all the food/drink/fun SF has to offer.
Zachary Clark is a San Francisco native and a lifelong Giants fan. He's also stuck with a Pablo Sandoval jersey.