Finding a place to live in SF can be extremely difficult, and not just because you have to start selling plasma weekly in order to pay rent. Some things in the ads can be a little misleading, so we've decided to translate 21 common SF phrases you'll find when hunting, so that you have a more realistic idea of what you're getting into. Good luck!
"Tasteful fixtures"
IKEA furniture.
"Rent controlled"
The apartment was built before updated earthquake regulations, which means what you're saving in rent, you're kiiiiinda gambling on the whole place collapsing on you when the next Big One hits. But the savings!
"Sophisticated"
Even more expensive than the usual SF spots.
"Bright, sun-soaked, and/or sun-drenched"
OH MY GOD, IT'S 4AM AND THE SUN IS IN MY EYES. HOW IS THIS EVEN POSSIBLE IN A CITY COVERED IN FOG?
"Plenty of closets"
And they're all in the hallway.
"Charming"
Tiny and old.
"Very quiet"
You'll live in the Outer Sunset or the Richmond, and none of your friends will ever come to see you.

"Partial views"
Of what, the fire escape?
"Only a seven-block walk to [neighborhood]!!"
And all seven are uphill!!
"Emerging neighborhood"
Do not leave your house past dark. Also, you will never convince a girl to come home with you. Hell, you might not even convince a cab driver to take you home.
"One bedroom with loft"
You'll be sharing it with at least two other people in order to make this situation actually affordable. Hope you're okay with hearing each others' sexy-times.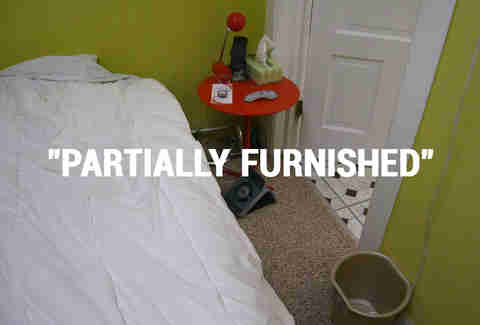 "Partially furnished"
With a plastic hamper and partially broken IKEA furniture.
"Ocean view"
But only when the fog burns off. So... never.
"Cat-friendly"
OH MY GOD I LOVE CATS! HAVE YOU SEEN THE FOUR I HAVE? I HOPE YOU GET ALONG WITH MR. SNUGGLES!
"Bridge view"
Yes, technically you'll have a view of the bridge, but mostly the underneath part of it that stretches over SOMA. Could also be labeled as "Depressing view."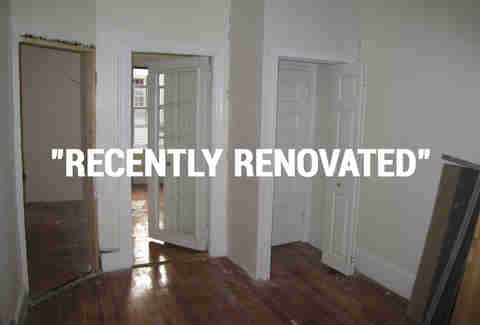 "Recently renovated"
The landlord's brother-in-law came in-between tenants to install some faulty wiring and put in a do-it-yourself hardwood floor that has already started warping. 
"Breathtaking views"
... of someone else's backyard. How do they have a backyard?!
"Heart of the city!"
They either mean the Tenderloin, or Union Square. Either way, no dice. Dicey, but no dice.
"Lots of parking nearby"
HAHAHAHAHAHAHA.
"Master bedroom"
You have to pay at least $300 more than anyone else you live with.
"Two 40+ female roommates seek a third"
Cat friendly.
And finally, as a bonus: whatever the hell this is, STAY AWAY...
Joe Starkey is Thrillist's San Francisco Editor. He really hopes that the Big One doesn't hit (those savings!!). Follow him on Twitter.