What Kind of House $500K Buys You in 14 California Cities
San Francisco's real estate is out of control, but, like, how out of control exactly? Well, we hit up our BFFs at Zillow to find out what a hard-fought $500K would fetch you in 14 cities throughout the Golden State. The results are, well, you be the judge.
What it buys you
: 1 bedroom, 1 bath, ????sqft
Let's just tear off the Band-Aid. Search real estate for around $500K in SF and you'll get, like, five places. Throw a dart. Ours landed on this lovely spot. A one bedroom. One bath. Apartment. In. The. Sunset. Hahaha, welcome to SF, sucker. Square footage is so negligible they neglected to include it. Good news is you get a parking space. Bad news is you're gonna need it for the car you're gonna need.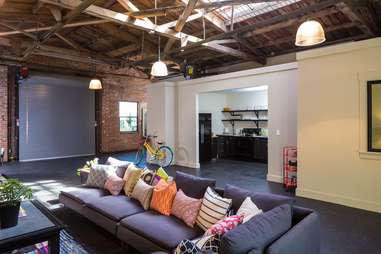 What it buys you:
Studio, 1.5 baths, 2,102sqft
Throw a comparable amount of cheese at Oakland, and you'll lose a bedroom but gain an incredible 2,000sqft of "this belongs in a movie" studio space with not one, but 1.5 (!!!) bathrooms, plenty of living room space for parking your vintage motorcycle, plus a private courtyard and all the "Holy shit, you live here?" you can handle.
What it buys you:
1 bedroom, 1 bath, 801sqft
For an upgrade on one-bedroom living, LA has you covered. 800sqft (!) of laminate hardwood (!!) in the heart of West Hollywood (!!!). It's still an apartment, but with a pool on site and nothing to do but chat up your publicist/yoga instructor all afternoon after a refreshing jog at Runyon Canyon.
What it buys you:
2 bedrooms, 3 baths, 2,147sqft
Remember that white picket fence and 2.5-kid lifestyle the Boomers were all about? It's yours in Sactown, though just to be on the safe side you might want to stick with 1.5 kids since this place has only two bedrooms and the above-garage apartment will require a little elbow grease. Perks include a nice patch of yard and a Nest thermostat the sellers seem pretty proud of.
What it buys you:
3 bedrooms, 2 baths, 1,134sqft
"But I want a separate laundry room and saltwater pool and some of that California weather I hear so much about," you say. San Diego says, "Chill. I got you." Three bedrooms. Couple of baths. At more than 1,100sqft it's not winning the cover of
Big-Ass Pad Monthly
, but one buys a patch of land to have a patch of land, and this be that.
What it buys you:
4 bedrooms, 4 baths, 2,578sqft
Look. We can joke all day about Fresno (
or ask a local to defend it
!), but this place is effing huge. More than 2,500sqft. Four bedrooms and just as many baths. What's that, you need a place to park two cars and a boat? Three-car garage. You made your nut, kingpin. Time to let your money take it easy and focus on the finer things -- like how big an HDTV can get.
What it buys you
: 4 bedrooms, 2 baths, 1,650sqft
Look, if you like military bases, strawberries, or meth, you really can't do better than the coastal city of Oxnard. And at just $465K, this 1,650sqft, four-bedroom, driftwood-floored oasis is just the place to park your RV, smoke a Parliament, and think long about how far you've come. Base proximity makes drinking buddies a lock.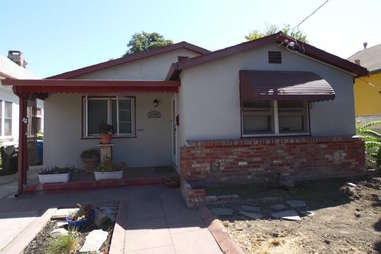 What it buys you
: 2 bedrooms, 1 bath, 1,200sqft
The two bedrooms in central Man Jose come with quirks, but don't let that stymie your adventurous spirit. With a "garden-like" backyard (similar to, but not anything like) and a producing avocado tree, you'll be rolling up your sleeves to the tune of Californian frontiersmanship. Plenty of concrete front and back for drying out your Crocs is just an added bonus.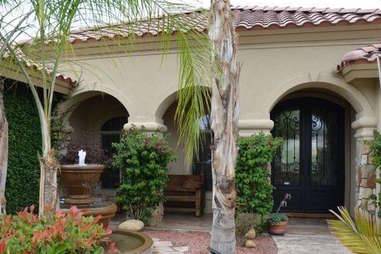 What it buys you
: 5 bedrooms, 3 baths, 3,115sqft
Not for nothing, but cleverness is pointless here. More than 3,000sqft of living space. Five bedrooms. Mediterranean-style lakeside golf course estate complete with swimming pool and befountained courtyard. Even if Bakersfield is the worst place on Earth, you could do a lot worse. Also: we don't actually know if Bakersfield is the worst place on Earth.
What it buys you
: 1 bedroom, 1 bath, 1sqft (that last one has to be a typo, right?)
Okay. Time to cleanse the palate with another condo. This Long Beach spot isn't on the beach, but it's got plenty of lagoon access for boating and the rest of your Long Beach lifestyle. High tone. Well lit. Just a little bit gorgeous. Bachelor it up, my dude.
What it buys you
: 3 bedrooms, 2 baths, 1,480sqft
If you're into vintage construction, palm trees, and reasonable proximity to Mickey Mouse, Anaheim is your pony in the $500K race. Outdoor bar. Hot tub. Three bedrooms and 1.5K in square, open-floorplan footage (with pink accents, naturally). Not sure what you'll do for a living, but who needs a job with all these shady spots in which to hide?
What it buys you:
3 bedrooms, 2 baths, 1,420sqft
Live your
Dwell
magazine dreams in the desert vistas of Palm Springs when SF room sharing loses its luster. $500K snags you nearly 1,500sqft of mid-century construction with mountain views and walled backyard privacy. One of its three bedrooms is even configured as a private in-law suite for a little P2P casual rental action.
What it buys you
: 3 bedrooms, 2 baths, 1,677sqft
Laid back is the defining characteristic of your craftsman home in Santa Rosa. With its big lot for storing parts for some future Burning Man art car, its environmentally sound yard, and its rounded feng shui-friendly archways over hardwood, you'll never be more at peace. Three beds are a bonus for any of your friends in town to process weed.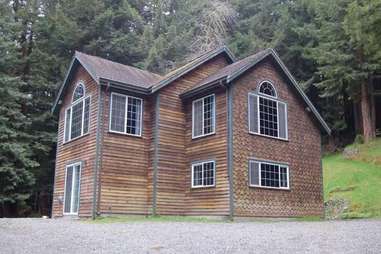 What it buys you
: 4 bedrooms, 2.5 baths, 2,650sqft
It's pretty hard to spend $500K in Eureka. What can we say? Buy a Tesla with what you save on this opulent $400K cabin on an acre of land. All wood everything with wood-burning stoves to match. You can even keep your one-bedroom in the Sunset and ping-pong the two on Airbnb until you decide to settle down someplace where the sun shines.
Sign up here for our daily San Francisco email and be the first to get all the food/drink/fun SF has to offer.
Casey is a one-man content mill. When he's not pumping out freelance gems like this or writing stories about anthropomorphised wolves, he's losing followers daily on Twitter at @cachilders.