20 Things You Don't Know About Burning Man if You've Never Been
At this point, hopefully most people know that Burning Man is not just a bunch of naked hippies doing "mind-expanding" things in the desert. Well, okay, it is that, but also so much more. And as an SFer, chances are you know someone who is going, has been, or will try and convince you to go.
And even if you do, in fact, get the gist (you're pretty sure it involves sequins and pallets of Tecate?), here are 20 legitimately badass things about Burning Man that you wouldn't know unless you were there.
1. There's a fully operational airport at Burning Man (Black Rock City Municipal Airport, duh)
AND it's pretty easy to book a charter flight or flight-share in and out (meeting a pilot at the local bar isn't a bad way either).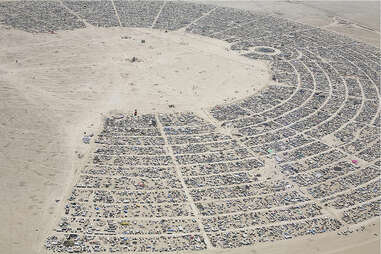 2. During Burning Man week, Black Rock City becomes the third largest city in Nevada
It even appears on Google Maps.
3. There's a tiny, voodoo-esque pickle martini bar hidden in Center Camp
If you've never had a pickle martini, you haven't really lived. SF bartenders -- take note!

4. Everything is free at Burning Man, except ice and coffee at Center Camp
Ice sales are donated to local counties -- some of the poorest in the country, with last year's donations coming to $585,000 (that's a lot of ice).
5. There are guided, audible art tours available for more than 300 installations throughout Burning Man
Pretty much all of which exist thanks to insane art grants. The Black Rock City art program has provided more than $1 million, Black Rock Arts Foundation has coughed up more than $2.5 million (the two groups joined together this summer), and The Civic Arts program has placed more than 38 projects in cities around the country.
6. There is a fully operational post office (Black Rock International Post Office, duh again!)
... That allows residents to send and receive mail from anywhere in the world, including from other people at Burning Man.

7. For the past five years, every Wednesday, there's a 50km ultra-marathon around the perimeter of the city
Oddly enough, these people are the ones who seem crazy and insane to a city that thrives on wearing tutus, dancing naked, and walking through dust storms voluntarily.
8. There's a full reproduction of the New Orleans French Quarter every damn year
They serve beignets and chicory coffee, as well as somehow offer a functioning farmer's market with fresh produce (there's also a guy with a bike-powered juicer because, obviously).
9. Hundreds of people will get married at the Temple
... in open ceremonies for the public!

10. There's a movie theater located in a brick building out in Deep Playa
They show classic B&W films several times a night, and serve concession candy and popcorn. It's a miraculous thing to actually find, and you will almost always want a Skittle.

11. There's a roller disco rink for those who want to lace up and get their groove on
Like you do in the desert.
12. Black Rock collects an actual census every year with an average response rate of one in five residents
To get an idea of who's coming, where they're coming from, and what type of people they are (18% of participants came from foreign countries last year, with Canada leading at 7.2%).

13. The "Leave No Trace Behind" creed is taken super seriously
So much so, that a large group of volunteers spend a full month combing the dust in a grid broken down in 1sqft blocks to pick up every piece. There's even a post-event map released with red, yellow, and green ratings given to each spot, with past years' ratings highly considered when allowing a theme camp to set up.
14. Chances are, there's someone serving bacon somewhere 24 hours a day
YASSSSSSS.

15. In 2013, Burning Man brought an extra $55 million in economic boost to the Northern Nevada area
Burners spend money before and after in the Reno area.

16. An entire camp is filled with skydivers who will gloriously rain down from the sky throughout the week
Non-experienced jumpers can go up in the planes just for fun [Acrophobic Editor's Note: *screams internally*].
17. Last year, one theme camp set up "Dance Dance Immolation"
A game with a giant DDR screen and flame-retardant suits, where mistakes were punished with fire guns. Dead serious.

18. Every year, Daft Punk totally plays at the trash fence
19. On Friday night, the Sukkat Shalom camp throws a massive Shabbat interdenominational service
And a community dinner that draws hundreds of people to experience what is one of the holiest nights on the playa.
20. The Sakenoma (located this year at 3:30 and B) offers hot and cold sake tastings 24/7
You know, if you're looking for something a little classier than beer and whiskey (warning: this may also be a shameless plug for my camp and my family whom I will greatly miss this year).
Sign up here for our daily San Francisco email and be the first to get all the food/drink/fun SF has to offer.
Becca Pariser has been to Burning Man six times, and while she is no expert, she knows enough to make sure she always has a headlamp before entering a Porta Potty, and that no, Daft Punk isn't really playing at the trash fence. Follow her on Twitter at @beccapariser.