The 10 Best Places to Cabin Near San Francisco
<strong>Steep Ravine Cabins and Campground |</strong> <a href="http://smu.gs/1Do6fEK" target="_blank">Smugmug</a>
Sometimes the thought of locking yourself in a cabin alone in the woods sounds kinda nice. And sometimes the thought of locking yourself in a cabin with your significant other and a couple bottles of wine sounds kinda nice. And still, other totally different times, the thought of locking yourself in a cabin with five of your friends and a 30-rack sounds kinda really freaking nice.
 
Whatever the reason, you'll want to make sure you do it in one of these spots: the 10 best places to cabin near SF.
Mt. Tamalpais
Amenities: Wood stoves, picnic tables, sleeping platforms, food lockers, outdoor BBQs, drinking water, nearby toilets, no pets allowed
How to book: On the first day of the month at 8am, slots open for the following six months -- visit this site to book, and prepare to be flexible.
Built in the 1940s, the eight cabins on this drop-dead gorgeous swath of Mt. Tam are pretty darn bare bones -- no showers, in-cabin toilets, or bed cushioning to speak of -- but their $75-per-night price tag might just make them the Bay Area's least-expensive way to wake up indoors with an insanely amazing ocean view. Bonus: if you forget something, you're only 20 minutes outside the city.
Cloverdale Healdsburg KOA Camping Resort
Cloverdale
Amenities: Fire and BBQ pits, swimming pool and hot tub, coffee hut, nature trail, mini-golf, billiards, Ping-Pong, basketball court, paddle boats, Wi-Fi
How to book: Call 800.368.4558 or reserve online
In case you've always wanted to re-create your family camping trips, except without 1) a tent, or 2) your family, this is your spot. Try to get past the Ks in the one- or two-bedroom "Kamping Kabins" -- which sleep up to four or six -- and focus instead on the 100-year-old oaks, close proximity to Lake Sonoma and the Russian River, and 50 nearby wineries in the Alexander and Russian River Valleys. Bring your own linens and cooking utensils, and at night, perch on your porch swing, gaze up at the stars, and let the bullfrogs serenade you.
Riverlane Resort
Guerneville
Amenities: Private decks, picnic tables and BBQs, wood-burning fireplaces or wood stoves, pool and hot tub, Wi-Fi
How to book: Check availability, then call 800.201.2324 or email info@riverlaneresort.com
Hidden behind a 140-year-old house that's set beside the Russian River and rimmed by a meadow and redwoods, the 12 cabins here allow you to go semi-rustic in a cute Sonoma wine country town. Rates range from $100-$160; kitchens, bathrooms, and bedrooms are fully equipped (read: you don't have to schlep a lot of stuff); pets and smoking aren't allowed; and unlike your apartment, many of these cabins have river views.
Inverness
Amenities: Full kitchen, Wi-Fi, outdoor soaking tub, sun deck, gas fireplace
How to book: Call 415.669.7444 or email info@isgcottage.com
Just an hour north of San Francisco, this beautiful place (no, but seriously) may have you contemplating a daily commute. Surrounded by six acres of pine forest, two acres of lush flower gardens, and set near the windswept and kick-ass Point Reyes National Seashore, this romantic mini-home (two-night minimum for $225 per night Mon-Thurs, $250 Fri-Sun) provides a sexy way to get back to nature and enjoy indoor plumbing. Stock the kitchen with goodies from nearby Tomales Bay Foods (hey there, Cowgirl Creamery), and delight in waking up as slowly and quietly as fog melting into sunshine.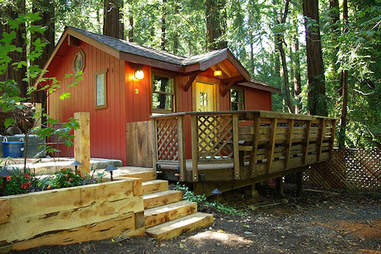 Riverside Campground & Cabins
Big Sur
Amenities: Shared or private decks, outdoor fireplaces, kitchenettes, picnic tables, fire pits
How to book: Call 831.667.2414, email reservations@riversidecampground.com, or reserve online
If you like being surrounded by redwoods near the Pacific Ocean -- and really, who doesn't? -- have we got a spot for you. The 12 cabins at this Big Sur hideaway are set amidst 16 acres of old-growth forest, just 10 minutes from hiking trails where you'll finally get the stress kinks out of your everything. Some units have shared or half-baths, while others allow pets, and nightly rates vary from $120-$220. You'll have all the peace and quiet you can handle, and the only way you could feel more like you're in the woods is if you were actually a tree... which you sadly won't be even when you leave. (Get it?!)
<a href="https://www.flickr.com/photos/andril_cottages/10601228984/" target="_blank">Flickr/andrilman</a>
Pacific Grove
Amenities: Fireplaces, private patios, full kitchens, outdoor BBQs, flat-screen TVs, Blu-ray players, Ping-Pong table, Wi-Fi
How to book: Call 831.375.0994 or email here
Set amongst two acres of pine forest across from Asilomar State Park and not far from Downtown Monterey, here you can sightsee, hike, or simply sit on your duff and gaze into the glow of your wood-burning fireplace. Or, you could take that duff outside and put it in the hot tub -- heck, the woods are your oyster. Bring your friends and your furry friends (the cottages are pet-friendly for $18 per night), play a little Ping-Pong, and spread out in spacious digs that range from one to five bedrooms (starting at $245 per night with a two-night minimum). Oh, and don't forget the complimentary snack bar... because free food.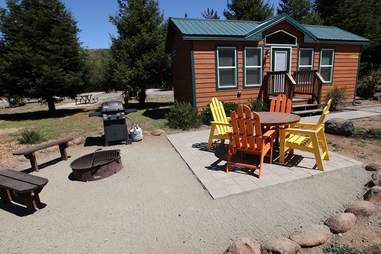 KOA
Watsonville
Amenities: Air conditioning, fire rings, private patios, outdoor BBQs, partial kitchens, cable TV, pool, hot tub, sauna
How to book: Call 800.562.7701 or reserve online
An ideal base camp for those weekends when you just want to get your coastal wander on, this camp/cabin-ground is close to Monterey, Pebble Beach, Carmel (and the Carmel Valley wineries), and the boardwalk in Santa Cruz. Go for broke with a round of mini-golf, catch an outdoor movie when the weather's nice, roast marshmallows around a real old-fashioned campfire, and don't miss the $5 pancake breakfast every Sunday. In addition to deluxe knotty-pine cabins with bathrooms (starting at $220 per night) and one- or two-bedroom numbers without bathrooms (starting at $125-$137 per night), you can kick your stay up a notch on the hipness scale by renting one of five Airstream trailers with full baths, partial kitchens, and patios ($140 per night). Pets are allowed in some cabins and chilling is allowed everywhere.
South Lake Tahoe
Amenities: Full kitchens, rock fireplaces, hot tubs, private patios, Wi-Fi
How to book: You can book directly with Vacasa online or by calling 530.802.2343.
These aren't your grandparents' mountain cabins, they're just designed that way. Look past the cheesy mountain décor (chainsaw bears or faux-Native American artifacts, anyone?) in these seven cabins to the convenient/woodsy location. Set a block from Heavenly Resort and walking distance from Lake Tahoe itself -- as well as a mile from area casinos, this cozy spot is a good bet in summer or winter. For $10 a night, you're welcome to bring along your pooch (there are several paw-some hikes nearby), and know that some cabins can accommodate as many as six people. Rates start at $90 per night, so why are you still home?
Little River
Amenities: Kitchenettes, TVs and DVD players, BBQs, decks, fireplaces, hot tub
How to book: Online or call 800.955.6478
Just south of Mendocino, these sweet cabins are set along one of the most stunning swaths of Hwy 1 -- and we're talking Ansel Adams photo-stunning. Bring along a river kayak, stroll through the meadows, hit the Anderson Valley wineries, breathe in some redwoods, or go hunt for sea glass on the beach in Fort Bragg. When you get back to one of their 11 Paul Bunyan apartments, each decorated in a '50s yard sale theme (whatever, just go with it), you'll find a View-Master full of old travel photos. If you get bored, pull out some vintage board games or report to the lawn to play badminton or croquet. Dogs are welcome for $20 per night, and nightly rates for humans range from $109-$299. Try to be around for one of the weekend happy hours, and if you're here for a good time, give a hat tip to the Magic Fingers mattress in the Nurture cabin. (We know, right?!)
Philo
Amenities: Full baths, gas fireplaces, ceiling fans, queen beds, porches
How to book: Contact Karen at 707.895.2333 or by email
Set on a working apple farm in Mendocino County and the heart of the Anderson Valley, these three cabins offer woods, country, and a lot of fresh produce. Most of the staff will be too busy actually farming to take much care of you, so this is a great place to stay if you're into being left to your own devices in a bright, comfy little house. Visit with the resident draft horses and cow, wander through the veggie and flower gardens, or take part in a hands-on Stay & Cook community dinner. There are no phones or TVs here, but a farmhouse breakfast with fresh milk, biscuits, and more is served each morning. If you love apples, try to visit in late summer and fall to catch (and even help with) the harvest.
Sign up here for our daily San Francisco email and be the first to get all the food/drink/fun SF has to offer.
Melanie Wynne is the Travel Editor of The Points Guy, and while she loves winging off to exotic places, she'll never kick a California road trip out of bed. Find her on Instagram at @wynne_win and on Twitter at @wynnewin.