Why Sacramento Is the New Oakland
Enough of this "Oakland is the new Brooklyn" bullshit. First of all, Oakland is effing Oakland. Second of all, what you're trying to say is that Oakland is a cooler, slightly cheaper alternative to San Francisco for cutting-edge bohemians like yourself. That's kind of true, but you know what's even cooler, cheaper, and WAY more cutting edge than Oakland? Sacramento. Yeah, that's right -- Sacramento. The coolest, way-more-than-just-an-In-N-Out-pit-stop-on-your-way-to-Tahoe-iest city in Northern California (though, that last part is really important, too).
Don't believe us? Here are 12 reasons why Sactown is more Oakland than Oakland.
1. So. Much. Good. Food.
Yeah, yeah, we know -- your must-eat San Francisco list is super stressful, especially now that Oakland's going all nuts with delicious new eating options (and maybe even better old-school, long-standing taco trucks). But Sactown's got it going ON, with epically delicious spots like Grange (in a rad, trendy hotel), Kru, Mother (vegetarian food that even you ravenous carnivores will dig), Block Butcher Bar (this too, carnivores), Ella's, and The Kitchen. And there are about 100 In-N-Outs versus our ONE. Whoooooo's hungry?!?!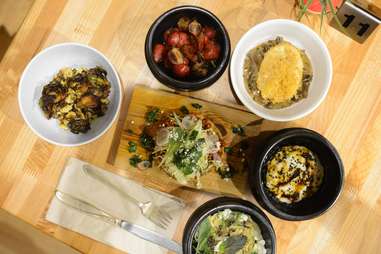 2. ... and there's even more good food coming
The only thing better than a big-ass list of super-worthwhile restaurants is the news that even more great restaurants are opening this year. Sacramento's got a ton of exciting stuff lined up, including two new spots from Billy Ngo of Kru; OBO' Italian featuring chef Kelly McCown (he used to cook at Ella's and, most recently, was kicking ass at Goose & Gander in St. Helena); and Empress Tavern, a "carvery"-style restaurant from the Mother team (meat!! MEAT!!!!), to name a few (read about more than a few more here). Oh, and Kimpton Hotels is opening up a badass hotel-condo combo in fall of 2016, which almost guarantees a killer bar and restaurant happening there at some point, too.
4. More importantly: booze
Coffee's all fine and well, but really delicious cocktails are probably more important. Sacramento's got it covered with the awesomely named Shady Lady Saloon, a badass spot with Gold Rush style and thoroughly modern libations that just made our Best Bars in California list. How many Oakland bars made that list? Try zero.
5. EVEN MORE booze
We heart cocktails, but sometimes, a man needs a beer [Sean Connery voice]. Enter Downtown's Ruhstaller Brewery, a super awesome brewery and taproom that also has a farm where it grows all its own hops just 15 miles away! And you, you lucky son-of-a-gun, can visit both. And drink all of the beer. Alllllllllll. The. Beer.
6. Candy!!!!
You know who doesn't love candy? Bad people. Which is fine, because they're not even allowed inside Andy's Candy Apothecary, a Willy Wonka-like haven of delicious, sugary goodness right Downtown. Andy himself stocks the shelves with the best candy ever, including a lot of tasty, locally-made goods.
7. There's a rad movie theater with a crazy jungle-like cafe next door!
Just you wait until you experience Tower Cafe for the first time. In addition to having a huge, super-random (but surprisingly delicious!), internationally inspired food menu, Tower Cafe has a massive outdoor garden-like seating area where, surrounded by exotic fauna and Buddha statues, you can drink good local beer and eat steak. What's not to like?! Its 25th anniversary was on April 22nd (Earth Day!) which is even cooler. Right next door you'll find the Tower Theater, a movie theater that feels like something out of your childhood, when you'd sneak into the quarter matinee before starting on your paper route with little Jimmy next door (at the very least it's a great place for a dinner-movie combination and tends to have good flicks showing).
8. Caviar is made there
Because you're a classy mofo, you appreciate the finer things in life. Like caviar! But because you're a classy Bay Area-inundated mofo, you like your caviar to be local, and sustainable, and delicious, all in one. Wouldn't you know that Sacramento's got that covered thanks to the fine people at Passmore Ranch, a freshwater, sustainable fish farm just outside of town that serves some of the restaurants in the Bay (like, uh, Benu and Meadowood), and also sells some of the best caviar in the world. Sacramento caviar... so hot right now.
9. You're that much closer to Tahoe
You know it well -- the "when do I leave to get up to Tahoe without sitting in five billion years of awful awful traffic" strategy that never works and always fails and UGH traffic. When you live in Sacramento, you are that much closer AND have the advantage of not having to figure out how to get through Sacramento because duh, you're already there!! See ya in like, 10 hours, SF suckers.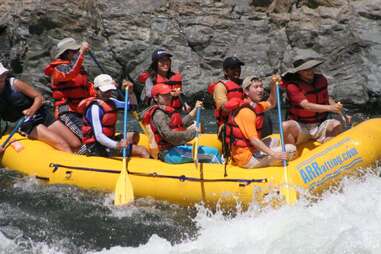 11. The rent, you guys. The rent.
We have a hard time even talking about San Francisco rent anymore. We start sweating, breaking out in hives... yeah. Especially when we think about rent in Sacramento. I mean, look at this -- $1,650 for a four-bedroom HOUSE!? That'll get you, what... a patch of ground under the freeway in San Francisco?
12. You can call it Sactown
Because what's better for someone with the sense of humor of a 12-year-old than living in SACTOWN?!?! Nothing. Definitely nothing.
Sign up here for our daily San Francisco email and be the first to get all the food/drink/fun SF has to offer.
Lauren Sloss is a San Francisco-based writer who can only dream of one day being cool enough to be worthy of Sactown. Tell her how to earn Cowtown cred @laurensloss.