You Can Spend the Night in the Bay Area's Only Airbnb Tree House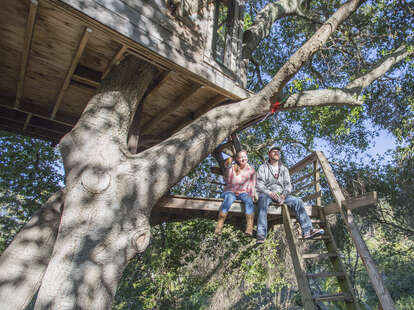 A tree house, a free house,
A secret you and me house,
A high up in the leafy branches
Cozy as can be house.

A street house, a neat house,
Be sure and wipe your feet house
Is not my kind of house at all-
Let's go live in a tree house.
-- Shel Silverstein

Every little kid wants a tree house, but probably you never got one because either you didn't have a backyard with suitable trees OR you actually had the perfect tree in your backyard, but your parents didn't love you enough to build it for you, even though you totally drew up the plans and made the "No Girlz Allowed" sign and everything.
Either way, you can now finally live out your childhood dreams (and maybe start the parental forgiveness process) by booking a night in the Bay Area's ONLY Airbnb tree house.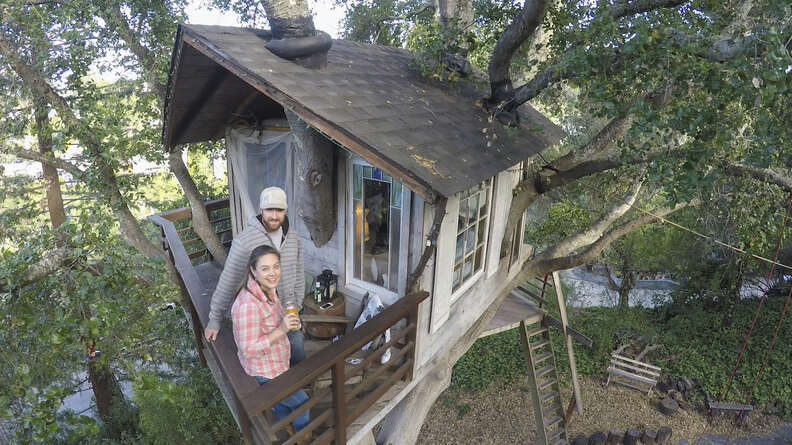 Yup, in the little town of Burlingame there's a dad who loved his kids so much that in the 1990s, he built them one of the sweetest tree houses you'll ever see. But now his kids are all grown up, so he and his wife decided to share the tree house love with, well, all of us. Or, all of us who have a couple hundred bucks to spend on a night in a tree house, anyway. (Rates range from $275-$295 per night.)
The tree house is located on Doug and Linda's wooded hillside property (about a 20-minute drive from SF) and though you can see their house from the tree, it still feels pretty private -- especially when you're sitting on the front tree house deck watching the planes descend into SFO. Yup, that's right. It's a tree house... with BAY VIEWS.
Located 30ft in the air, the tree house probably isn't a good place to stay if you're scared of heights, don't like a space that creaks when the wind blows, or can't handle climbing up and down a wooden ladder, which is slightly more challenging than one might think after a few drinks, but which you'll have to do: the private bathroom and kitchenette are located on the lower level of the owners' home, which requires a very short walk along a lighted path.
It is however, an excellent place to stay if you're into a house that's in a TREE and has a wraparound deck for chilling...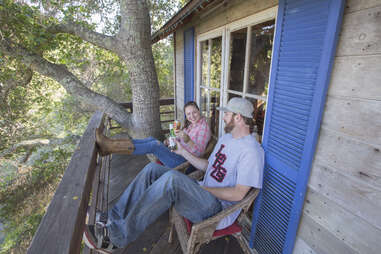 ... comfy chairs for beer-drinking...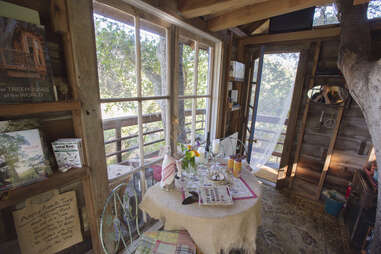 ... a table for game-playing...
... a bookshelf for tree house book-perusing...
... a daybed for lounging...
... a swing for swinging...
... and a loft with a queen bed and down comforter for "sleeping." (No, seriously. If you don't have sex in the tree house, you're doing it completely wrong.)
Oh, and as if a tree house with numerous places to drink beer and just as many places to bonk wasn't enough, AFTER you've drank the beer and had the sex (and before you drink more beer and have more sex???!!!), you can order pizza from Pizza My Heart and have it delivered... TO THE TREE HOUSE.
Like, the pizza delivery guy will climb the ladder and place the box in your grubby little tree house hands. All you have to do is make sure you're wearing clothes! And tip well. 'Cause you just asked the pizza guy to climb a wooden tree house ladder while balancing a large Fort Point (tomato and pesto sauce with tomatoes, chicken, ricotta, sausage, artichoke, basil, and herbs).


So fine... You'll be too full to have more sex. But not too full to throw down in a late-night Scrabble tournament. Or get the best night of sleep you've had in a long time.
That's the magic of a tree house. A tree house... and copious amounts of beer.
Sign up here for our daily San Francisco email and be the first to get all the food/drink/fun SF has to offer.
Daisy Barringer is an SF-based writer who could definitely live in a tree house just as long as it had plenty of closet space and an elevator for her Saint Bernard. Follow her on Twitter @daisy.