The rest of America thinks Seattle is depressingly overcast/rain-soaked for 365 days a year. Well guess what rest of America. Our objectively outstanding summers blow yours out of the water (which, according to No. 7 below, is everywhere here, BTW). Here are 17 reasons why...

1. We appreciate it more than anyone else
Remember that whole overcast thing? On average, it IS cloudy here 226 days a year, which means that 62% of the time there's NO SUN, and explains why there are so many pale people at Green Lake on the first warm day of the year.
2. We really do have the best summers in the county...
... according to science. A recent study decided that we basically have the best beach weather (for a few months anyway) -- mild temperatures, cool nights, and humidity so low it's barely noticeable -- and ranked us number one in the nation, along with... ugh... Portland.

3. It doesn't rain
No seriously, Seattle is drier than Phoenix in July.
4. Our music festival is the best...
... or at least the most convenient one in the country: screw camping in the desert/woods, Bumbershoot brings a slew of the sweetest bands to downtown Seattle.

5. And speaking of festivals...
We've got all these other sweet ones, including a (largely nude) celebration of the solstice, and the best. Block. Party. Ever.
6. There are outdoor movies everywhere
Thanks to Fremont's outdoor cinema, Seattle Center, and the local parks department (?) for a few months, it's almost like we forget there's such a thing as indoor movies. But not until summer really starts on July 5th or so.

7. There is water everywhere
Between Lake Washington, Green Lake, Lake Union, Portage Bay, Elliot Bay, Salmon Bar, The Ship Canal, The Montlake Cut... and... um, all the other ones we're forgetting, you can't keep Seattle's waterways straight. But luckily you can get wet in them.
8. The city is awash in artisanal ice cream
Given the lines outside Molly Moon's, it's pretty clear that even with Lick Pure Cream, Bluebird, Full Tilt, etc., doing their thing, Seattle's still not tired of this delicious dessert. And that's not to mention all our other frozen treats.

9. Free bikes!
Don't have your own fixie to thrash around Seattle's innumerable trails? Don't worry, thanks to our Pronto Cycle Share system you can just grab one off the street.
10. Two word: food trucks
Unlike other cities, the mobile eats thing is still going strong here, and unlike other cities (we're looking at you Portland), our mobile eats are actually mobile, so you'll never know where you'll find 'em. Except outside breweries. They are always outside breweries.

Who cares what a certain lifestyle site that rhymes with "illest" says when there's so many sweet suds to drink outside all summer long?
12. You can't swing a hoe without hitting a farmers market
Is it Saturday or Sunday? Then there's a farmers market in your neighborhood (unless you're in Queen Anne 'cause then it's like, Thursday?), and of course the best one in the country is open every day Downtown.

13. You can watch the Mariners for $12
Sitting in the bleachers at Safeco is the perfect, and least-expensive way to watch the Mariners. Or, given the way they've been playing lately, the sunset over Puget Sound.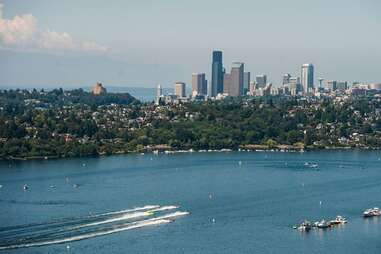 14. They race hydroplanes here
Seafair's also famous for things like the Blue Angels, but you can see them all over the place. However, there are only four Unlimited Hydroplane races a year... and one of 'em is in Kennewick, where you definitely don't want to go in the summer. Or anytime really.

15. There's no better place to be outside
Whether you're boating one of the aforementioned waterways, hiking on one of our countless trails, or just taking a sweet road/ferry trip, no one does the great outdoors like the great Northwest.
16. We end summer with one of the most underrated state fairs
Every year more than 1.3 million people "do the Puyallup," where they hit the rodeo, hop on thrill rides, and most importantly, eat scones. Lot's of them: the famous Fisher Scones have been around for over 100 years, and sold their 100 millionth scone in 2011.

17. Best of all, Seattle's summer lasts longer than anywhere else
We're not joking: because we have the longest days of anyplace in the lower 48, we have more daytime hours than anyplace else. And thanks to our "Indian" summers, they last until like, October. And then it turns gray until May, so enjoy it while you can.
Sign up here for our daily Seattle email and be the first to get all the food/drink/fun in town.