As Mark Twain once famously said, "a man who lives fully is prepared to die, AND go on all the actually great Seattle dates on this super-awesome list from Thrillist, at any time." Speaking of which...

Eat (strange) Italian food
Bizzarro Italian Cafe (address and info)
Wallingford
Decked out with things that you might come across in a Delorean trip gone awry, this whimsical Wallingford spot will help you get over your first date jitters (perhaps by sharing a carafe of wine) and let you end the evening with some next-level tiramisu and an espresso before heading outside to enjoy a twinkly night time view of the city from Gas Works, or a trip to the just-around-the-corner Archie McPhee for some guaranteed fun.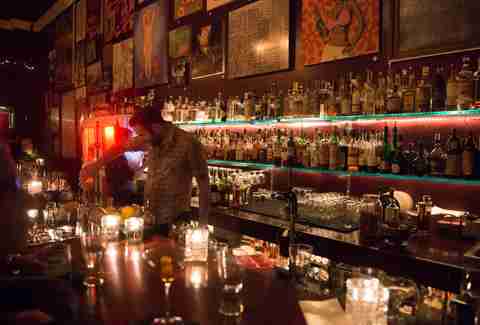 Drink on the down low
The Hideout (address and info)
First Hill
This nondescript and barely lit bar tucked away in First Hill is the perfect place to go if there's someone you're hiding from (you know what we mean?). Seattle is a small place, and stepping into The Hideout will help you disappear... um, into a salacious little art gallery where you can also get cocktails.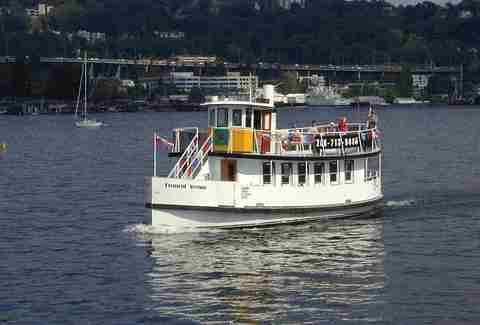 Take a boat ride
Seattle Ferry Services (address and info)
South Lake Union
It's almost summertime, which can mean only one thing: the Seattle Ferry Service's Friday Brown Bag Cruise! Starting June 1st, you can hop aboard a boat for a 60-minute tour of the city for $15, which lets you see the city from a completely different perspective and impress your date with your sandwich making skills.
Show off your pinball prowess
Pinball Museum (address and info)
International District
Fill your pockets with all the loose change you can find (or not 'cause an all-day pass is just $18) and head over to the Pinball Museum, where the walls are lined with sweet vintage/limited edition flapper-based games. When you're done, there's no shortage of great bars and food to check out: we'll just leave this guide to the ID here.
Drink in secret
Brass Tacks (address and info)
Georgetown
There's no shortage of secret Seattle bars, but this South Seattle spot has secret rooms, including one behind the sliding bookcase at the very back of the bar, where you can make yourself at home on the funky repurposed car seats, have a sweet cocktail, and then check out the shuffleboard table for a one-on-one time. *Wink*.
Go on a beer crawl
Ballard
In the last few years, more craft breweries have opened in Ballard than in... say... Atlanta, and it's pretty clear that so many sweet suds producers in one single 'hood can only mean one thing: improved quality of life in the area? An increasingly creative beverage scene? Nope, it means you can hit 'em all in one day!
See a cult classic
Central Cinema (address and info)
Central District
Yeah, yeah you've lived however many decades and you've still not managed to see "that one movie." Maybe it's Wet Hot American Summer, or maybe it's Killer Klowns From Outer Space -- have you been living under a rock or something? Order you and your date some cocktails and plate to share from your server and kick back.

See a "Seattle" rock show
The Sunset (address and info)
Ballard
The recently overhauled venue has long been a part of the Seattle music scene, but it has transformed into the primo spot to catch a show on any night of the week. Complete with booth seating, stiff drinks, live local acts every night of the week, and a photo booth; you can't go wrong here.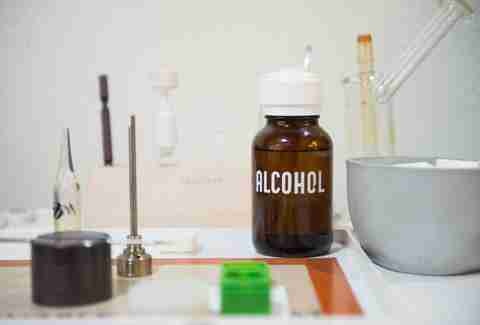 Get a good buzz
Trichome (address and info)
International District
Seattle's sweetest spot for everything marijuana related (accessories, clothing... um, art shows) hosts daily events like "rolling" classes or its monthly Cannabis and Coffee event, which is like a refined version of what you've been doing every morning anyway.

(Get someone else to) make her laugh
Jet City Improv (address and info)
University District
Look for the bright yellow building and you'll know you're in the right place. From Claim of Thrones to Twisted Flicks, you definitely won't have to worry about breaking the ice here -- you can leave that to the experts. Tickets are $15 for adults and you can pick up beer, wine or popcorn for two in the lobby
Go for a different kind of coffee
Slate Coffee (address and info)
Ballard
This small and naturally lit cafe just up the hill from Ballard's main drag serves deconstructed lattes in the kind of glass you might not be used to drinking coffee out of, but that should totally impress your date.

Rally with the girls
Rat City Roller Girls (address and info)
Queen Anne
Watch the Rat City Roller Girls get down and dirty over roller derby at the Key Arena. Practically a Seattle right of passage, this "sport" can be a little hard to explain, so we recommend just going and watching heavily tattooed women throw themselves into each other until you get it.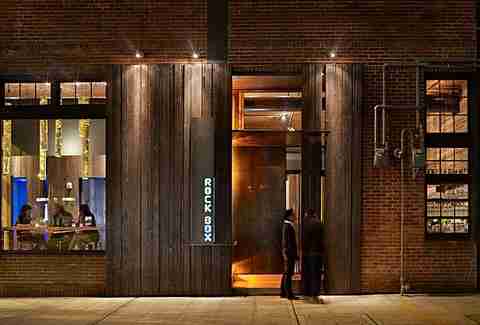 Sing at karaoke
Rock Box (address and info)
Capitol Hill
Give Bruce Springsteen a run for his money, or send your date running for the hills, at one of the best spots for karaoke in town. Down some liquid courage together and hit your very own private stage where you'll never have to hear people screaming at you to sing Lynyrd Skynyrd songs.
Sign up here for our daily Seattle email and be the first to get all the food/drink/fun in town.