First dates are stressful enough. Whether or not you picked a good place should be the last thing on your mind. Lucky for you, we've amassed a list of exceptional date ideas that'll at least make your date think you're creative and somewhat romantic. And no, none of them end with "and chill."
Eat (strange) Italian food
Decked out with things that you might come across in a Delorean trip gone awry, Bizzarro Italian Cafe is a whimsical Wallingford spot that'll help you get over your first date jitters (perhaps by sharing a carafe of wine) and let you end the evening with some next-level tiramisu and an espresso before heading outside to enjoy a twinkly night time view of the city from Gas Works, or a trip to the just-around-the-corner Archie McPhee for some guaranteed fun.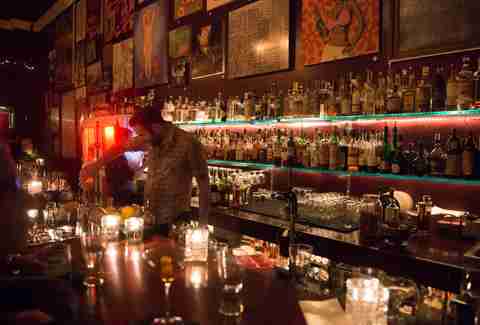 Drink on the down low
The Hideout is a nondescript and barely lit bar tucked away in First Hill. It's the perfect place to go if there's someone you're hiding from (you know what we mean?). Seattle is a small place, and stepping into The Hideout will help you disappear... um, into a salacious little art gallery where you can also get cocktails!
Drink in secret
There's no shortage of secret Seattle bars, but Brass Tacks is a South Seattle spot with secret rooms, including one behind the sliding bookcase at the very back of the bar, where you can make yourself at home on the funky repurposed car seats, have a delicious cocktail, and then check out the shuffleboard table for a one-on-one time.
See a "Seattle" rock show
The Sunset is a recently overhauled venue that's long been a part of the Seattle music scene, but has been transformed into the optimum spot to catch a show on any night of the week. Complete with booth seating, stiff drinks, live local acts every night of the week, and a photo booth; you really can't go wrong here.
(Get someone else to) make her laugh
Look for the bright yellow building and you'll know you're in the right place: Jet City Improv. From Claim of Thrones to Twisted Flicks, you definitely won't have to worry about breaking the ice here -- you can leave that to the experts. Tickets are $15 for adults and you can pick up beer, wine or popcorn for two in the lobby
Go for a different kind of coffee
Check out Slate Coffee, a small and naturally lit cafe just up the hill from Ballard's main drag. They serve deconstructed lattes in the kind of glass you might not be used to drinking coffee out of, but that should totally impress your date.

Rally with the girls
Watch the Rat City Roller Girls get down and dirty over roller derby at the Shoreline. Practically a Seattle right of passage, this sport can be a little hard to accurately explain, so we recommend just going and watching tattooed women and other badasses throw themselves into each other until you get it.
Roll it out
Stepping foot (or skating foot) into Southgate Roller Rink is a total blast from the past in the very best way. If the vending machines with the campy stickers and old-school arcade games don't shoot you right back to middle school, then the on-point skate jams should do the trick. Clumsy on your feet? The roller rink has a fully stocked bar in the back to soften the blow of your many inevitable falls -- because let's be real, you're probably gonna need it.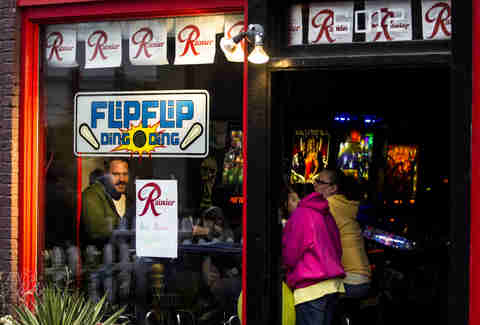 Play games to actually win them over
Besides being pretty much the most underrated neighborhood in Seattle, Georgetown is home to the coolest barcade around, Flip Flip Ding Ding. From X-Files to Teenage Mutant Ninja Turtles, you'll be sure to find something that tickles both your fancies at this divey hang.
When you're done, hop over to any of the neighboring biker bars like Smarty Pants or 9lb Hammer for more drinks and/or dinner.
Get the most iconic PNW photo
You'll find this super-scenic and accessible trail about 40 minutes east of Seattle. The trail is roughly 2 miles to the vantage from the start, with a fairly gentle incline. The widely photographed vista at the top is stunning... and the best part? Outside of the price of gas, this is a totally free date! However, if you're married to the idea of a more stereotypical date, then definitely stop by the Twin Peaks famous Twede's Cafe in neighboring North Bend for a damn fine cup of coffee and slice of cherry pie after.
Catch the latest Hollywood blockbuster in style
Does your checking account looking sad? Drop by Sundance Cinema on a Monday night and flash your Orca card for $6 movies. Sundance's bar is fully stocked and the seats are super plush -- there really isn't a better place to watch a movie. We recommend getting there early and having a drink on their luxe leather couches upstairs before the screening.
Play putt-putt, drink beer
For local brews, mini-golf, and an all around chill date, Flatstick Pub is just the ticket. Happy hour runs from 3pm to 6pm on the weekdays, with a special Yappy Hour -- shoutout to the dogs out there -- from 6-7pm (you get a buck off your beer for having Fido in tow). Flatstick Pub features several mini-golf courses and will set you back $7 a person to tee off.
Sing to (or with) each other
Even if you're a little gunshy when it comes to karaoke, Orient Express is the perfect spot to bust out that Cranberries song you've had up your sleeve all these years. You rent out your own room here and a server comes to you for meal and drink options. If Chinese food and karaoke so bad it's actually amazing doesn't sound good to you, we don't know what will... maybe try the museum? Fun fact: Orient is comprised of seven old train cars -- one of which was formerly Franklin D. Roosevelt's very own.
Sign up here for our daily Seattle email and be the first to get all the food/drink/fun in town.