A block party, a seafood fest & tons of $2 eats
Seattle Event of the Week
Saturday, July 12th - Sunday, July 13th: For the 40th year, Ballard is serving up all kinds of delicious sea creatures at its titular SeafoodFest, where there'll be a sh'ton of food venders, a salmon BBQ, and not just a beer garden... but a beerfest.
Thursday, July 10th: It's finally light outside past, like 4:30pm, so SAM at the Olympic Sculpture Park in Belltown is hosting the first of many Thursday night events, including food trucks, music, and frisbee tossing.
Continue Reading
Saturday, July 12th: Leave it to the French to class up a block party like Madison Valley's Bastille Bash, featuring food from, duh, classy restaurants like Luc, Voila! Bistrot, and Crush, plus live music and a wine garden.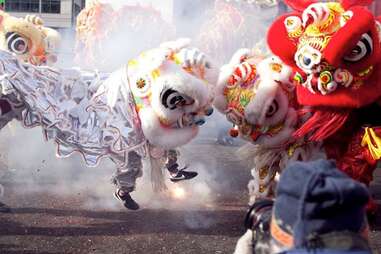 Saturday, July 12th - Sunday, July 13th: If you like watching live plays and/or lying in a giant park, then head to Capitol Hill's Volunteer Park for a weekend of free theater, during which you can check out that traitor Brutus in Seattle Shakespeare Company's performance on one stage, and Jet City Improv on another.