Sure, there are a lot of things out-of-towners don't understand about Seattle, but even locals still have things to learn too, like why Pete Carroll didn't just hand it off to Marshawn at the end of Sunday's game, or how to drive, or about The Town's food, beer, wine, and weed industries. And who better to help you learn about the latter (except maybe Thrillist, obviously), than one of these seven sweet Seattle tours?
Savor Seattle offers a bevy of tours ranging from a walk through Pike Place Market to the popular Hip on the Hill, which explores the nooks and crannies of everyone's favorite neighborhood: Capitol Hill. The food and cultural tour at Pike Place Market (if this didn't do it for you) runs two hours and includes 16 different bites and sips throughout the market.
RD offers both private and group tours that include stops at three breweries, Road Dog gear, and tons of beer samples. Tours take place daily at 10:30am, 2:30pm, and 6pm (6:30pm on Friday and Saturday) and last around three hours, so you might want to grab a cab when it's time to hit the road, dog.
The three hour Speakeasy Distillery Tour costs $89, provides you with 12 spirit tastings opportunities, and includes a couple craft cocktails, artisan snacks, plus take-home merch and more from a rotating selection of sweet local hooch-slingers, all from the comfort of a Mercedes Benz... Sprinter Van, but still.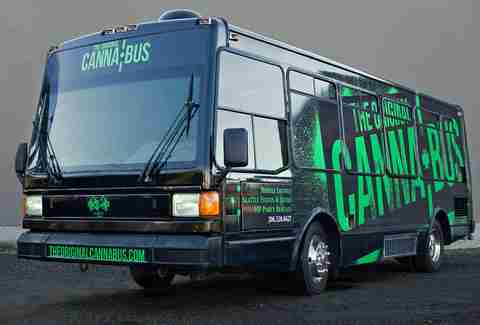 Here's how it works: the cannabus takes you to a recreational pot shop where you can buy whatever your heart desires, then hop back on the bus and take in a 1.5-2 hour cruise through Seattle while under the influence.
Seattle Bites tours are limited to 16 guests, so you'll never feel like you're part of a gaggle clogging up the sidewalk. Tickets are $41.99 a person and include a 2.5 hour tour of Pike Place Market with tasty bites like tacos, tamales, sausages, Lummi Island smoked salmon flatbread, and more.
The signature Kush Tour is a 3.5 hour long exploration of Seattle's burgeoning marijuana businesses. A true "how it's made" experience, you can watch glass pipes being blown in person, see tour companies growing pot on a commercial scale, and enjoy VIP access to shops like Uncle Ike's and Cannabis City. Tickets are $150 a pop.
Explore the best of Woodinville without having to... ugh, drive to the Eastside thanks to a shuttle that picks you up from a central Seattle location and whisks you away to the land of vines. Tours run from 10:30am-5:30pm and costs $89 per person; you can expect to check out one to two bigger wineries, as well as three to four smaller ones, with an average of three to five tastings per stop. If our math adds up correctly, that means you're going to be buzzing with wine knowledge by the end.
Sign up here for our daily Seattle email and be the first to get all the food/drink/fun in town.