One of the biggest problems with Seattle is that even a trip to a romantic restaurant might not be enough to earn you a... uh, trip around the bases,  which is why we've collected the nine best bars and restaurants (and laser shows?) where you can get some PDA on the DL. You're welcome...
University District
This Robert Redford owned chain of cinemas comes complete with a bar and a small menu, as well as popcorn galore and Full Tilt Ice Cream, plus big leather couches upstairs and reclining theater seats that make it the perfect place to do what you always did as a teenager. No not shop for anti-blemish products... make out at movie theaters.
Capitol Hill
Sun Liquor on Summit has a single/unisex bathroom and really dark corners where you can hide out, unseen by the world -- it's almost like you're not even on Capitol Hill! Fuel your high octane kissing with Sun's impeccable craft cocktail menu, which rotates quite frequently.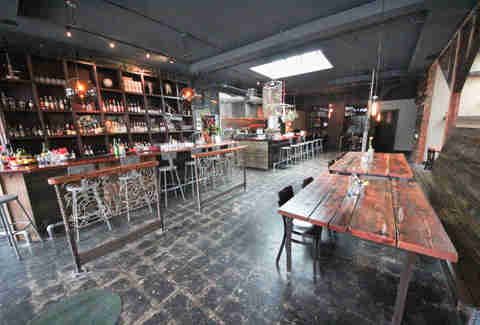 The secret back room at Brass Tacks
Georgetown
Just push aside the revolving bookcase in the very back of the bar and voila! You have been transported to an intimate and super-romantic kissing lair that's completely separate from the rest of the bar and is adorned with classy naked lady paintings, in case you need a reminder of why you're there.
The photo booth in the back bar of the Crocodile
Belltown
This one's pretty self explanatory. Go in for the gold at the corner photo booth (it even accepts debit cards!), then go straight to the back of the bar and turn left, where you'll find high, leather furnished booths almost as private as the photo one.
First Hill
You can get away with almost anything at The Hideout (within reason) because it's literally almost pitch black in there. Lit by a handful of candles on the bar, The Hideout is a great and discreet place to spend a couple hours doing the aforesaid "almost anything."
Lower Queen Anne
Throw it back like it's junior year of high school with a laser show and when you get bored about T-minus five minutes in, you can commence full on make out mode. Tickets usually run around $6 and you can find upcoming shows on the website.
Belltown
Not everyone realizes there's an entire downstairs area in this super-dark, romantic Belltown alley speakeasy. Chat up the bartender who will be more than happy to make you a custom cocktail and head right down the stairs to one of the city's premiere places for... um, privacy.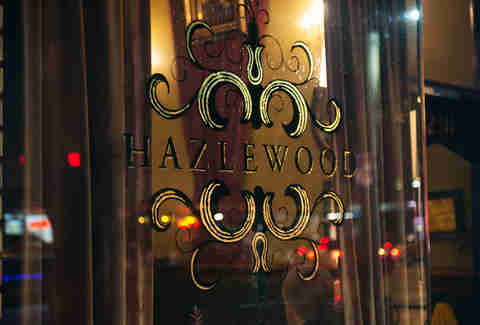 Ballard
This cozy and sophisticated Ballard craft cocktail bar has a comfortable, lofty-feeling upstairs area resplendent a super-comfortable leather couch for canoodling. Keep your eyes peeled for the secret peephole, and you can always spice things up with the Tapatio Moustache, which is a Pacifico with a shot of tequila in it and habanero spice and lime.
 
Downtown
If the burlesque that happens here on the weekends doesn't get you in the mood, what will? This super-sexy hidden gem nestled right in the heart of all the Pike Place Market craziness is the perfect spot to grab a drink before wandering into Post Alley for a little post show... um, you know.
Sign up here for our daily Seattle email and be the first to get all the food/drink/fun in town.