Election Season 2016 was stressful. So stressful, in fact, that we forgot exactly how lucky we are to live in Seattle. Sure, the rain can be insane, but we also can be in a foreign country (hey Canada!), at the beach, or on a mountain in just four hours. Pack up the car this weekend and indulge a little with one of these 10 fantastic road trips. You deserve the vacation anyway.
Whidbey Island, WA
Distance from Seattle: 35 miles, 1.30-hour drive
Why it made our list: One of the five longest islands in the Lower 48, Whidbey seems as if it were shaped to maximize the number of rental houses with hot tubs perched overlooking the beach that could be squeezed onto one landmass. Said homes are interrupted occasionally by charming local towns (check out Langley!) full of quaint diners, adorable ice cream shops, and restaurants serving the island's most famous mollusk, Penn Cove mussels.
Pro tip: The same view that made Fort Casey -- an out-of-service military base on the island -- well-located for spotting enemies, now makes a great one for spotting beautiful scenery and the occasional whale. The grass fields are perfect for picnics, and the abandoned bunkers make for killer games of hide-and-seek.
Friday Harbor, WA
Distance from Seattle: 103 miles, 3.15-hour drive
Why it made our list: Everybody needs an occasional break from city life, and this seaside hamlet provides the perfect small-town antidote to missed busses and angry homeless dudes. Spend a day saying hello to strangers, walking along the beach, wondering who buys all those souvenirs and antiques in the windows on the main drag, and then end your night rocking out with the locals to live music or making some of your own with karaoke at the Rumor Mill.
Pro tip: The ferry to Friday Harbor will drop you right in town, so save some cash, leave your car parked on the mainland, and count the walk to your hotel as your workout for the day.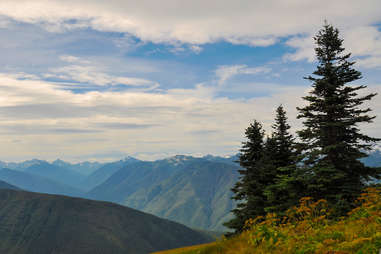 Olympic National Park, WA
Distance from Seattle: 110 miles, 2.25-hour drive
Why it made our list: With beaches, mountains, lakes, hot springs, and rainforests, the one million acres of rugged, mostly roadless land in the park offer something for everyone: skiers, swimmers, shellfish-diggers, hiker, campers, and even just the "take off all our clothes and sip whiskey in a natural hot springs" type of outdoorsman.
Pro tip: If you're looking to save a little bit of money, keep an eye out for annual "free park days" scattered throughout the year so you can skip the entrance fee.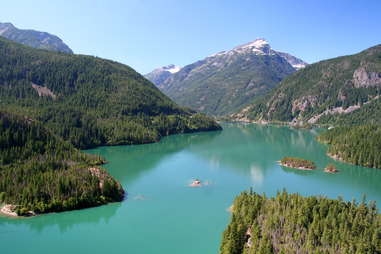 Diablo Lake, WA
Distance from Seattle: 124 miles, 2.25-hour drive
Why it made our list: It's hard to believe a lake could really be that green, until you pull off the North Cascades Highway just to stare at it, slack-jawed. If you need to snap yourself back to the real world, though, just dip a toe in -- the absurdly turquoise color comes from the frigid glacial melt that feeds the lake. For the best views, take the easy 1.5-mile hike up to the Diablo Lake Vista, then either come back down for a beer at the campsite, or keep going for scenic mountain views, giant waterfalls, and an avalanche track.
Pro tip: Reserve one of the busy campsites nearby online if you can, but there are quite a few sites in the area and many usually have walk-ins available if planning ahead isn't your strong suit.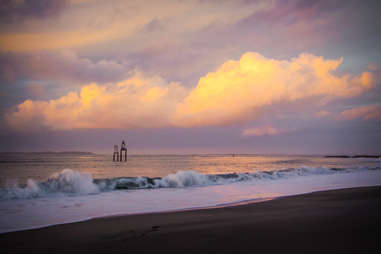 Westport, WA
Distance from Seattle: 130 miles, 2.25-hour drive
Why it made our list: This beachside town is full of the usual seaside fish &chips stands, but you can also spend your trip pulling Dungeness crabs from the ocean and razor clams from the sand. The sleepy shore town is also a huge cranberry-growing region; you can tour farms and pick up local product for your cocktails or morning glass of juice.
Pro tip: If you get sick of the sun (or Washington's notoriously fickle weather gods have it out for you), head over to nearby Tokeland and spend a few hours indoors at the Shoalwater Casino.
Leavenworth, WA
Distance from Seattle: 135 miles, 2.30-hour drive
Why it made our list: The real question is can you come up with any reason NOT to drive into the scenic Cascade mountains to a faux-Bavarian village in order to drink comically-oversized beer and eat sausages served by people wearing lederhosen? Didn't think so. While you're there, the river rafting, hiking, mountain biking, and skiing aren't bad, if you can tear yourself away from the schnitzel for a second.
Pro tip: If you're heading over in the morning -- or just always willing to make a drive for great baked goods -- stop in at Anjou Bakery in Cashmere, WA, about 20 minutes from Leavenworth.
Yakima, WA
Distance from Seattle: 142 miles, 2.15-hour drive
Why it made our list: Washington's first wine region is still one of the best to visit: it's close, the wine is world-class, and the sun is almost always shining. Beyond the vino, Yakima Valley is basically a drinker's paradise: you'll want to add Tieton Cider and Bale Breaker Brewing to your tour. Maybe you should pay someone else to do all the driving on this trip?
Pro tip: Stop in at Los Hernandez in Yakima for the best tamales in the state -- especially the asparagus ones if they're in season.
Vancouver, BC
Distance from Seattle: 143 miles, 2.45-hour drive
Why it made our list: Canada's second biggest city, Vancouver attracts businesses, travelers, and immigrants from all over the world, which really means one thing: it's got way better Chinese, Japanese, and Indian food than Seattle does. Feast your way through dim sum, dosas, and izakayas, and then you can come home and channel your inner food snob by saying, "That's good, but it's better in Vancouver!"
Pro tip: Ditch the car: driving in Vancouver is an unnecessary hassle. Park once and then use the efficient and far-reaching public transportation to get anywhere you need to go in the city.
Lake Chelan, WA
Distance from Seattle: 198 miles, 4-hour drive
Why it made our list: Known for having spectacular weather (even in early summer when Seattle is in the deep, dark depths of June-uary), Chelan is basically adult summer camp: all the lakes, pools, kayaks, fishing, hiking, and biking of regular summer camp, but also speedboat and je tski rentals, and for the evening, wineries.
Pro tip: The restaurants in Chelan leave a little to be desired, so try to book lodging with a grill.
Whistler, BC
Distance from Seattle: 202 miles, 4-hour drive
Why it made our list: It's a top-notch ski resort and, in the spring/summer, it basically becomes the world's premiere spot for downhill mountain biking, but who cares when you can look at the views on the way there. The Sea-to-Sky Highway between Vancouver and Whistler is without a doubt the most scenic in the hemisphere, if not the world. It's almost worth the four-hour drive from Seattle just to stop and take selfies along the way: on cliffs overlooking Howe Sound, under the rush water of Shannon Falls, or being dwarfed by the hulking rock called the Stawamus Chief. If that's not enough, then you get into town and the food is incredible, the beer is flowing, and everybody is just there to have a great time (it'd be hard not to).
Pro tip: Get a killer dining deal if you're in town in the "shoulder seasons" (April/May/June, Sept/October/November). Check the local papers and menus; most fine-dining places will do a multi-course tasting menu for less than 50 Canadian dollars.
Sign up here for our daily Seattle email and be the first to get all the food/drink/fun in town.