From hosting the largest hemp festival in the world, to Kurt Cobain wailing "marijuana" over and over on the "All Apologies/Rape Me" B-side, Seattle's always had a thriving weed culture, but Washington's legal marijuana industry got off to a slow start after 502 passed back in 2012. Oh, how things have changed in seven years.  
Today there are over 516 retailers in the state, where consumers have spent over $1 billion on flowers, edibles, concentrates, and other products. With so many places to purchases legal weed, how can one possibly pick the best one? By reading our list of Seattle's best, obviously.
Recommended Video
Please Don't Hang Up: The Best Things to See, Eat, and Do in Seattle, WA
SODO
Seattle's most stunning pot shop
Deemed Seattle's "Luxury Cannabis Retailer," this ritzy establishment with elaborate decorative tile and Greek-style columns presents its product much like how you'd expect a museum to show off its rare artifacts room. Except here, you get to take this stuff home. Premium options featured on the menu here include Colombian Gold (a Solstice sativa) and Narnia, a potent offering from Soul Shine. They also offer pre-rolled joints, edibles, and concentrates.
Various Locations
Seattle's most visible marijuana slinger
Ike's boasts outposts on Capitol Hill and in White Center, but it's their flagship location at 23rd & Union (and the class shop in the parking lot) that's served as a sort of billboard for recreational weed, and as the location for various blowouts including one of the city's biggest 4/20 celebrations. It's also a pretty good place to learn about the wide variety of products on their constantly rotating menu… or you could just call 'em at 1-800-GET-DRUGS. See what we mean by visible?
SODO
Literally the greenest weed shop in Seattle. Possibly anywhere.
Open until just before midnight every night, GFC is an lofted industrial space with green everywhere: a green ceiling, walls, green counters, and comfy green couches in the lounge space up front. Oh, and it's got plenty of green things for you to buy as well -- flower, pre-rolls, cartridges, concentrates, etc. -- as well as a large collection of beautiful, and fully functional, glass products. Plus it's close to the stadiums, which should make the Sounders' and Mariners' hot starts even more enjoyable.
Various Locations
Prolific purveyors of Pacific Northwest pot
This rapidly expanding cannabis concern boasts six locations in Washington State (plus stores in Oregon, California, and Iowa. Seriously, Iowa.), but it's their Belltown location, just a few blocks away from the Space Needle, with it's vividly hued walls and whimsical contemporary light fixtures, that's the perfect spot to take your out-of-town friends. You won't find a more knowledgeable and eager-to-help staff than the crew here. It's one of the highest rated retailers on this list, so if you're new to the world of legal weed, it's a great place to start.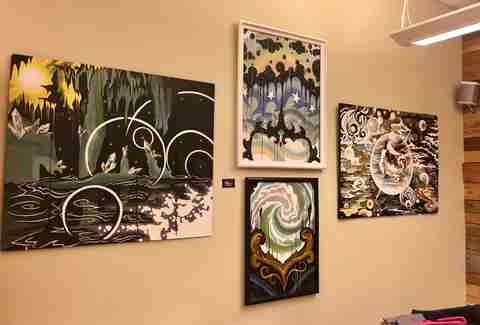 SODO
Part modern marijuana shop… part museum
This big, bright open shop offers an almost overwhelming amount of information for you to browse -- their menu is literally a book -- and one whole corner of the place is dedicated to the history and science of marijuana. But don't worry, they've got an expert crew of budtenders to help walk you through it all and regular presentations from people like Chelsea Cebara, an expert on weed and sex… or sex on weed… or whatever, you get the idea.
Burien
The most convenient pot shop for travelers
Located just five minutes from Seatac -- they also have locations in Pullman and on Vashon Island -- this shop is the perfect place to take someone after a long flight. They've got quality products that're seriously affordable thanks to "rock bottom pricing" ($5 pre-rolls, $3 edibles, etc.), and deals like their morning and late night happy hours where you can score 10% off.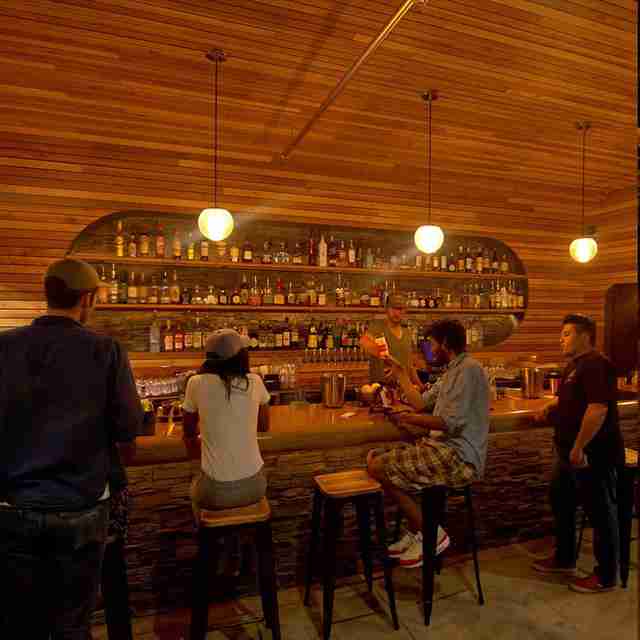 Various locations
Community-oriented cannabis dealer
Formerly called Stash Pot Shop (they changed the name after legal pressure from a tea company), this growing operation now boasts outposts in Ballard and Lake City, the latter of which looks a little like one of the neighborhood's strip clubs thanks to the purple neon lining the building, But everything else about the place is welcoming, from the TVs playing sports on the wall, to regular pop-ups they host, and the concerts they've sponsored at the Tractor Tavern and Showbox. All that is meant to foster a sense of community that sets them apart from other weed retailers.
Capitol Hill
The most stunning pot shop in the city
With a clean concrete and wood-heavy interior designed by famed Seattle architects Olson Kundig, and a giant jellyfish mural on the outside, this arresting shop perched on the western, or "Amazon" slope of Capitol Hill hopes people will focus less on THC content or types of strains, and more on the experience their products provide… but they've still got a full range of hybrids, sativas, and indicas, and a team of budtenders that'll help narrow 'em all down (and even shares their picks online).
Sign up here for our daily Seattle email and be the first to get all the food/drink/fun in town.