Seattle's always had a thriving weed culture, and it's no coincidence that Washington was one of the first two states in the country to legalize it. Almost a decade later there are over 500 retailers in the state, and pot shops have become an essential part of Seattle life. So much so they were actually exempt from the Governor's order to close all non-essential businesses during last year's Coronavirus lockdown. Despite operating at 50% capacity due to the ongoing problems posed by COVID-19, our favorite Seattle pot shops are finding ways to thrive, including an array of online ordering/curbside pick-up options, that help ensure a high quality shopping experience.
Various locations
Seattle's most visible marijuana slinger boasts outposts on Capitol Hill, and in Lake City and White Center, but it's their flagship location at 23rd & Union (and the class shop in the parking lot) that serves as a sort of billboard for recreational weed and, back before COVID-19, as the location for various blowouts including one of the city's biggest 420 celebrations. Oh, and they also have a "daily deals" program that can get you up to 55% off select items, and what might be the coolest phone number ever: 1.800.GET.DRUGS.
COVID-19 protocol: Uncle Ike's offers 5% off all pre-orders and will send a text when your online order is ready for pickup to minimize traffic at the shop.
Belltown
The fact that number 40 only owns 5% of the shop hasn't stopped them from splashing his name on the place, or leaning hard into the Reign Man's legendary Sonics career via everything from the giant mural outside to the NBA Jam video game cabinets inside, but this buzz-worthy new pot shop is more than just fan service. Its spacious interior boasts a seemingly endless array of counters featuring more than 2,500 different products for you to choose from.
COVID-19 protocol: There is free parking in the garage behind the store where you can get curbside pick-up from 8 am to 10 pm.
Various locations
This prolific cannabis concern has five locations in Washington State (plus stores in Oregon and California), but it's their Belltown location, just a few blocks away from the Space Needle, with its vividly hued walls and whimsical contemporary light fixtures, that is normally the perfect spot to take your out-of-town friends. You won't find a more knowledgeable and eager-to-help staff than the crew here, or better organized displays. You'll also find some sweet deals thanks to a generous rewards program, daily promotions, and regular sales like their 10-year anniversary blowout culminating on 4/20.
COVID-19 protocol: In-store pick-up of online orders is available ALL day from 8 am to 11:45 pm.
SODO
Part modern marijuana shop and part museum, what really sets this big, bright shop apart is an almost overwhelming amount of information for you to peruse (their menu is literally a book), and exhibits dedicated to the history and science of marijuana, as well as regular presentations from people like Chelsea Cebara, an expert on weed and sex... or sex on weed... or whatever, you get the idea.
COVID-19 protocol: Currently in-store browsing is prohibited and consultations with budtenders are limited to five minutes, but you do get 10% off all online orders.
Burien
Located just 5 minutes from Seatac—they also have locations in Pullman and on Vashon Island—this shop is ordinarily the perfect place to stop after a long flight. But it's a pretty good choice for anyone thanks to quality products at "rock bottom" prices ($5 pre-rolls, $3 Edibles, etc.), and deals like their morning and late night happy hours.
COVID-19 protocol: All online orders are 10% off, but you can also expect steep discounts on and around 4/20.
Various locations
Formerly called Stash Pot Shop (they changed the name after legal pressure from a tea company), this growing operation now boasts outposts in Ballard and Lake City, as well as a new-ish location in Fremont that just last year despite the impact of the Coronavirus. What sets LUX apart is the minimalist design of its shops, a commitment to the community (up to 20% of vendor sales go to support nonprofits), and their use of technology, including touch screens you can use to shop before meeting a budtender. And if that's not enough, they also have their own streetwear line.
COVID-19 protocol: In-store pick-up is available until at least 11 pm daily.
SODO
Literally the greenest weed shop in Seattle (or maybe anywhere) GFC's lofted industrial space boasts a green ceiling, walls, green counters, and comfy green couches in the lounge space up front. Oh, and it's got plenty of green things for you to buy as well—flower, pre-rolls, cartridges, concentrates, etc.—as well as a large collection of beautiful, and fully functional, glass products.
COVID-19 protocol: All online orders are 10% off.
Capitol Hill
With a clean concrete and wood-heavy interior designed by famed Seattle architects Olson Kundig, and giant jellyfish mural on the outside, this arresting shop perched on the western, or "Amazon'' slope of Capitol Hill typically offers an incomparable in store experience: Customers can browse products at the expansive bar or in their window "bubbles," take advantage of express order lanes, or even use iPads around the store to place orders.
COVID-19 protocol: All online orders are 10% off.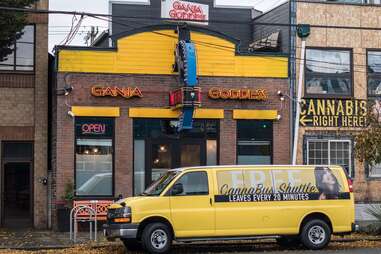 SODO
Follow the twinkling arrow on the Vertigo Builiding's iconic neon sign into GG's lofted, brick-lined interior where you'll be surrounded by jewel-like counters and welcomed by some of the city's most knowledgeable and relaxed budtenders, who will help you choose from a larger selection of strains, edibles, and concentrates than any pot shop in Washington.
COVID-19 protocol: Curbside pick-up is available from 11 am to 6 pm every day.
Sign up here for our daily Seattle email and be the first to get all the food/drink/fun in town.
Chona is a Seattle- and New York-based photographer and writer. You can follow her on Twitter and Instagram here.
Bradley Foster is a former Thrillist editor who never says no to a good brownie. Especially not those kind of brownies.