There are lots of things Seattle is better at than anywhere else (at least 19, in fact). But lawful weed sales are, unfortunately, not one of 'em. That said -- since pot was legalized in 2012 -- Seattle has come a long way in the dispensary department, competing with medical marijuana clinics to bring you top quality green in the form of edibles, smokeables, and even oils. From luxury cannabis shops to expansions of friendly local retailers, here are the five best spots in town.
Recommended Video
France's Fête des Lumières Is a Light Festival Unlike Anything You've Ever Seen
Capitol Hill
Uncle Ike's newest outpost is right off 15th in Capitol Hill and is open until 11:45pm every night, seven days a week with a constantly rotating menu. Got questions about the weekly special? The fastest way to get answers is by calling 1-800-GET-DRUGS. Discretion is a beautiful thing.
Belltown
Just a few blocks away from the Space Needle, Have a Heart is the perfect spot to take your out-of-town friends while you're out giving the requisite Seattle tour. You won't find a more knowledgeable and eager-to-help staff than the crew here. It's one of the highest rated dispensaries on this list, so if you're new to the world of legal weed, it's a great place to start.
Industrial District
Business must be good for Dockside. Its second hub opened up in the Industrial District in September of 2015. From a strain affectionately named after Harambe to a cannabidiol dubiously dubbed Aliens on Moonshine, this place is definitely a good spot to start if you're looking for something a little different and the staff are more than happy to help out.
Industrial District
Also located in the Industrial District (are you detecting a trend here?), Diego Pellicer is a ritzy affair that presents it product much like how you'd expect a museum to curate its rare artifacts room -- adorned with columns, beautiful glass cases, and elegant tile work. Deemed Seattle's "Luxury Cannabis Retailer," premium options featured on the menu here include Colombian Gold (a Solstice sativa) and Narnia, a potent offering from Soul Shine. They also offer pre-rolled joints, edibles, and concentrates.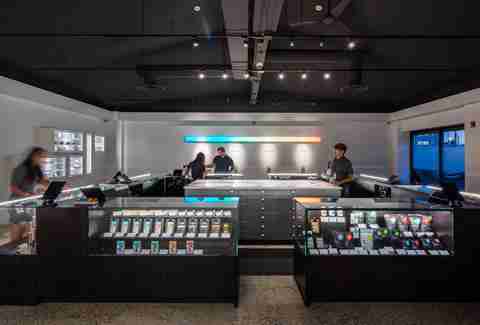 Industrial District
Vela fancies itself a premium cannabis retailer. Just what does this mean? Well for starters, walking up to the storefront feels a little like walking up to a Tesla dealership. Minimalistic and resplendent with its very own grow lab, offerings here run the gamut of deep sleep tinctures for insomniacs to vape cartridges galore. Vela frequently hosts gatherings that you can pop into to learn more about marijuana from scientists and growers, as well as get the lowdown on the newest pot paraphernalia from the makers themselves.
Sign up here for our daily Seattle email and be the first to get all the food/drink/fun in town.