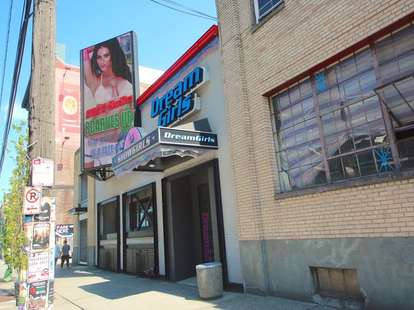 Bradley Foster/Thrillist
Bradley Foster/Thrillist
Let's get a few things about Seattle strip clubs out of the way. You're gonna have to drop a few bucks just to get in the door; most of them are owned by Deja Vu; they (unfortunately) do not serve alcohol; and The Town can't possibly match the number, or variety, of Portland's lauded strip clubs. They also don't have great food. But hey, what the hell are you doing looking for dinner at a strip club? Because the drive to Portland is objectively nonsensical to see dancers, we've rounded up the best spots in Seattle and are giving you the rundown on each and every one.
Downtown
Cover: $20. But that includes free "drink" refills.
VIP Rooms: Yes
Specials: Nightly deals like three dances for $40
What sets it apart: Location
Across the street from Seattle's biggest tourist attraction/farmers market, this Deja Vu outpost is Seattle's most visible strip spot (you can even see it from one of Seattle's best whiskey bars) and is one of The Town's most fun, especially if you climb the stairs to the second-story lounge on 2-4-1 Tuesdays, or when they host touring adult entertainers like Asa Akira or the Melania Trump impersonator who performed the week after the inauguration.
SoDo
Cover: $10, plus a $5 drink
VIP Rooms: Yes. Including new curtain rooms.
Specials: Free cover until 6:30pm
What sets it apart: There's a sports bar next door
The best gentlemen's club in the state, KC is a relatively recent addition to Seattle. It has a rep for the attractive dancers, the playful way it promotes itself (sending scantily clad employees out to wave "nude girls" signs at passing motorists, hosting bikini car washes in the parking lot, etc.), and novel promotions like its nightly "Lady Lotto" that gives you a chance to win $100 in chips you can redeem on lap dances. It's also one of only two Seattle strip clubs that's literally right next door to a bar.
Ballard
Cover: Nope. But you still have to spend $10 on "drinks."
VIP Rooms: Yes
Specials: Not really. But there's free parking!
What sets it apart: It's the only club with a pool table
Open since 1965, SS is the other Seattle club that shares a roof with a bar (the iconic Thunderbird Tavern, with which it boasts a very symbiotic relationship), and is the only one where you can have a discourse with topless woman while shooting some stick on a $.75 pool table, helping the whole place feel kind of like a casual, neighborhood bar... that just happens to have mirrored walls, mostly nude women, and no booze.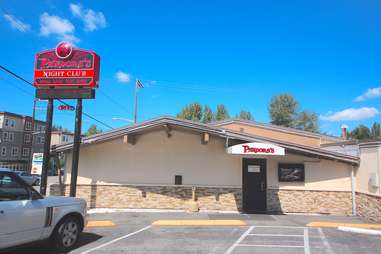 Lake City
Cover: $10, plus a $5 drink
VIP Rooms: Nope
Specials: Nope
What sets it apart: It's a local spot...
... inasmuch as it's owned and operated by local people who used to work at other nearby clubs and not some corporation. It attracts locals who come to this small, well-lit, two-stage space because there aren't any tourists or traveling businessmen. And because it has a reputation for friendliness, as well as having several sought-after dancers, which might be why the private dances here can cost a little bit more.
Downtown
Cover: $20
VIP Rooms: Yes
Specials: Strip Poker, Lady Lotto, and more
What sets it apart: All the damn construction
Seattle's other strip spot/adult superstore (and another run by Deja Vu), LD's used to be on the edge of Downtown, but thanks to... well, Amazon (the company's new HQ is going up right across the street) this subterranean spot is now in the center of the city's most rapidly expanding 'hood. Despite all that the vibe is still mellow and sensual, the dancers are friendly, and the space is clean/comfortable.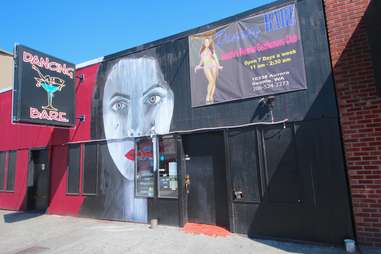 North Seattle
Cover: $10... which also gets you a drink
VIP Rooms: Kinda
Specials: Nope
What sets it apart: It's The Town's oldest club
Making the list mostly for its charmingly seedy location (surprisingly it's the only Seattle strip club on Aurora, a street that feels made for them), DB is Seattle's oldest gentlemen's club -- though it has recently been renovated -- and one of the more affordable. DB also has very personable dancers (though not very many of them), which is something that, when combined with the sort of ironic appeal of the place itself, makes it definitely worth the visit... if even just to say "yeah, I've been there."
SoDo
VIP Rooms: Yes
Specials: Free parking!
What sets it apart: The space
Yet another Vu establishment, this three-poled, pink- & red-heavy adult entertainment spot opened a few years ago just 430ft from Safeco Field, making it one of Seattle's more popular adult destinations. Inside the dim bi-level space, you'll find pulsing colored lights and an upstairs space for private shows, which you'll probably want because, generally speaking, the entertainers here are better than the ones you'll find at all but a few other Seattle spots.
Sign up here for our daily Seattle email and be the first to get all the food/drink/fun in town.
Bradley Foster
is a former Thrillist editor who has never actually been to Dancing Bare but after hearing about the those allegations might just head over there. Like, today.