Dating in Seattle can be difficult. First, you have to wait for the Seattle Freeze to thaw enough to actually get a date. And once that happens, then what? Dinner and a movie? C'mon, you can do better. And although there are some great restaurants in Seattle, that date can get expensive and it's not exactly the most creative or spontaneous idea. 
Luckily we've got 23 date ideas that are both imaginative and affordable. The rest is up to you.
Recommended Video
This Restaurant Reinvented the McGriddle
Bellevue/Ballard
Boasting two Seattle area locations (and one coming to Portland soon), Mox is part geek gaming emporium and part bar. You can play a little Magic: The Gathering, Settlers of Catan, or a slew of other favorites while sipping one of a dozen brews, and munching on nachos or a classic grilled cheese on Marina brioche. They've also got a range of desserts (root beer float, chocolate espresso cake) to share at the end of the night.
University District
While football may be the money sport, the University of Washington's basketball team boasts two of the 10 best players in the country this season, and they play twice as many games. Plus tickets cost as little as $5 depending on the game. Basketball not your game? The women's volleyball and gymnastics teams offer and underappreciated experience, often for as little as a few dollars.
Belltown
Happy hour wine has a tendency to be not great. Not at List Restaurant, where Italian bottles (red, white, and rosé) go on sale every afternoon. Grab one to share and split it on the patio. Your $20 will cover the bottle, tax, and a generous tip, so linger long and enjoy watching the world (read: Belltown) go by.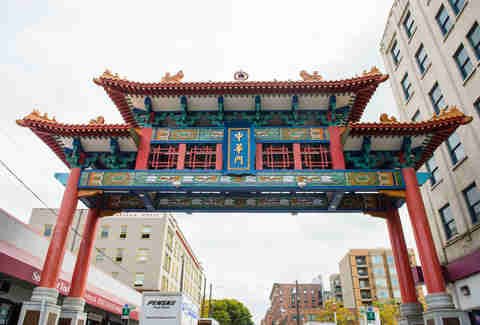 International District
From the Vietnamese food at 12th and Jackson to the stalls inside Uwajimaya, there are hundreds of dumplings, spring rolls, and snacks with big flavor and tiny price tags. Pop in and out of shops and cafes, buying just a bite or two at each place.
Kerry Park
All the views that you'd get if you spent the money to go up the Space Needle, none of the expense. For extra romance -- and fewer people -- head a few blocks away to the lookout across the street from Parsons Gardens.
West Seattle
Getting on a boat is the most Seattle way to spend an afternoon, and the easiest way to do it is the water taxi, which leaves from downtown and takes passengers to West Seattle. While the $4.75 price tag (per person, each way) won't leave you much spending money, the best thing to do on the other side is free: Stroll along Alki Beach.
Pioneer Square
You could both get your own small sandwich, if you're that type, from Seattle's most famous sandwich shop. But it's far more romantic if you split one of the giant, messy beasts for which the place is known. Try the porchetta or grilled lamb (get a few extra meatballs at $2.50 each, if you think you'll still be hungry). Walk a few blocks to eat at Waterfall Garden Park and then pretend you're eating anywhere that isn't Pioneer Square.
Renton/Kirkland
Yes, it requires a trip to the Eastside, but the weekday rates at the Sno-King Ice Arenas mean that you can twirl each other about as you show off your Olympic level skating skills -- or compete for the gold medal in best wipeout.
Pike Place Market
Watching the guys throw the fish at the market is super cheesy. Watching the tourists bumble around watching the guys throw the fish is fun. Stopping for a yogurt at Ellenos afterwards basically guarantees a successful date.
Fremont
Sadly, Theo's Fremont facility doesn't have any Oompa Loompas, but you can still see how chocolate is made and, more importantly, taste it as you do.
Donate blood (one session can save up to three lives)
Around town
Sure, it might seem a bit morbid, but science has shown that good deeds create endorphins -- so afterward you'll both be feeling good. And just a little bit lightheaded. Plus, they even give you free cookies, and who doesn't like free cookies?! 
SoDo
Yup, there's free whiskey to be had. Take the tour and learn how they make the single-malt, then head to the tasting bar to sample the wares. And since it's all free, you'll still have plenty to spend on your date somewhere else.
Eat raw fish after hours at Umi
Belltown
It's happy hour pretty much all night Umi, which means most of the time rolls start at $5.50, and the most expensive thing on the menu is the Sashimi Set for $11 -- not a bad price for some of the best sushi in Seattle.
Downtown
Hear former Under Secretary of State and MSNBC contributor, Richard Stengal talk about combating disinformation, amazing storytelling from The Moth, Mo Rocca reading from his new book, or any number of other events on their packed calendar, all for no more than $5 each.
Capitol Hill
Don't know your bromeliads from your ferns? Here's the place to learn -- or just wander the stunning glass building and look at all the pretty plants.
Phinney Ridge
The tacos served on Tuesdays are not the "authentic" taco-truck styles that are trending around town. These are old-school American, right down to the crispy shell, orange cheese, and shredded lettuce. But the price (less than a $1 -- and the nostalgia -- are just right, so feel free to see how many you can down in a sitting).
Various locations
Dick's is a Seattle icon, and it's open late, which means no matter how long your date lasts you can still end it with a Deluxe and some fries -- or whatever else from the menu catches your eye.
South Park
Not only does this dive serve one of the best burgers in America, Loretta's Northwesterner also boasts a patio out back equipped with a sleek old trailer that they've turned into a lounge, and is the perfect place to eat said burger, or kick back with a $2.50 tallboy of Seattle's signature beer.
Pioneer Square
Since Seattle doesn't have a Golf 'N Stuff (boooo), you've gotta settle for the next best thing, which is actually pretty great: Flatstick Pub. Boasting three Seattle area locations, these bars/epic mini golf destinations are the perfect low-key date spot, especially the stunning subterranean Pioneer Square location with its brick walls and intimate vaulted booths.
Various Locations
It may technically be called the South Lake Union Streetcar, but for most locals it'll always be a trolley, a distinction that gives this public transit line though one Seattle's busiest 'hoods its off-color nickname. Get on at Westlake, and hop off at whatever bars/restaurants along the way -- Suite 410, Re:public, Brave Horse Tavern, etc. -- catch your eye.
Learn to make cocktails from some of Seattle's best bartenders
Multiple Locations
Any number of Seattle's better boozers offer classes that can help you recreate the bar experience at home, including Currant Bistro in the brand new Sound Hotel, which just started a new cocktail-making series the 2nd Tuesday of every month that'll teach you everything from crafting warm, winter appropriate drinks, to making batched beverages for your next holiday party.
Various locations
Most people like to think Seattle roofs are only there to keep the rain off them... not for frivolous things like "getting a drink on" or "enjoying the weather atop of", but you can surprise those people at any number of establishments, like mbar, where the sprawling outdoor space offers uninterrupted views of Lake Union, or the 12th-floor Nest Downtown overlooking Elliott Bay.
Play vintage video games your date's definitely heard of
Multiple locations
Home to Nintendo, Microsoft, Valve, and a slew of other game developers, Seattle has always been a gaming town, so it shouldn't be surprising to find a handful of places still offering the kind of games your date probably grew-up playing, including the no-frills Add-a-Ball arcade in a Fremont basement, and the Seattle Pinball Museum, where you'll find dozens of old school machines.
Sign up here for our daily Seattle email and be the first to get all the food/drink/fun in town.