Seattle Date Ideas You'll Both Actually Enjoy Right Now
Spice things up a bit.
Pandemic-era dating is inarguably difficult no matter the time of year, but in the dead of winter, let's just say it's especially arduous. But hey, I'm not trying to deter you—I'm simply impressed with your perseverance. It's tough out there, and COVID-19 is making it that much tougher. However: that doesn't mean you are doomed to go on a bunch of dull dates. On the contrary, we're here to supply ideas for a certifiably non-boring date, masks and social distancing aside. So, whether you're looking for Valentine's Day inspiration or an evergreen idea for any time of year, we've got you. It's time to change out of your quarantine loungewear and awaken your inner romantic. Godspeed, lovebirds.
Vashon
While far-off destinations are off limits right now, a weekend jaunt to Vashon Island—for a remote cabin in the woods—feels like a no-brainer. Explore 10 acres of forest, visit Dockton Marine Park, and get very cozy in this rustic log hideaway.
Your home
Do you have a secret admirer? Better yet, are you secretly admiring someone? If the answer's yes, consider sending your special someone a Valentine's package from Nordo, which will include either bubbly booze or red wine, a heart-shaped chocolate mousse cake, and a flower bouquet.
U District
If you love a staycation, it's time to book a room at the Graduate Hotel in U District, which is doing a special Valentine's Day "snowed-in" package courtesy of its rooftop bar, Mountaineering Club. This package is only available February 12 - 14 (though you can, of course, stay at the hotel anytime of year) and includes a cheese and charcuterie plate, bubbles, chocolate fondue, and more.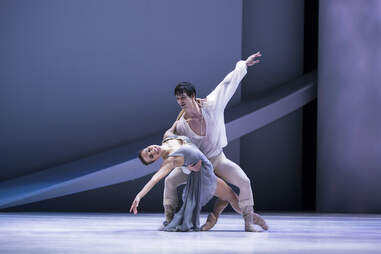 Photo by Angela Sterling
Your home
On its own, the Pacific Northwest Ballet's performance of Roméo et Juliette is already a pretty enticing V-Day activity. Paired with a tea and chocolate tasting (courtesy of Fran's and TeaLeaves), and it becomes sort of irresistible. Call to pre-order and mark your calendar for a 2 pm show on February 14.
Bremerton, Washington
Consider this the pandemic alternative to dinner-and-a-movie dates. Rodeo has new movies playing every week and, unlike some drive-ins that closed for winter, is still going strong. Check their schedule and bring your appetite—those corn dogs are no joke.
Vashon
There is no shortage of picturesque islands in the Puget Sound, nor ferries to take you there—and Vashon just happens to be one of the largest and most scenic. Check out Point Robinson Park for those aforementioned scenic views, then pay a visit to
Palouse Winery
for some adult refreshments, which is currently open by appointment only.
Belltown
If you're going on a first date and still taking precautions when it comes to social distancing, let us suggest Olympic Sculpture Park—with nine acres of expansive green lawn to tour, you'll have plenty of room to stay six feet apart. Keep in mind that the visitor pavilion is still closed—otherwise, feel free to explore to your heart's content.
Various locations
When Oprah endorses the chicken, you know it's good. Do your Southern alter ego a favor by picking up some Heaven Sent fried chicken, which tastes exactly as good as the name suggests.
Alki
Alki Beach is sort of famous for having spectacular views of the Puget Sound; bring lunch to-go and settle in for an afternoon of coastal bliss. While you're there, take a walk on the Alki Beach Trail, which runs four miles and will lead you to the industrial area of West Seattle.
Ballard
Seattle is like the Mecca of craft beer, so we won't limit you to just one brewery. Instead, take a self-guided, socially distant pub crawl and pay a visit to the likes of Fair Isle Brewing, Stoup Brewing, Reuben's Brews, and Lucky Envelope, all of which are open (and within a few blocks of each other) with coronavirus precautions in mind.
Courtesy of Sabine
Ballard
This is the only kind of outdoor dining we're participating in until May. Sabine, which is perched on a very cute (read: date-worthy) cobblestone street in Ballard, is practically swimming with cozy fireplaces and delicious cocktails. Oh, and if you go on Valentine's Day, save room for one of the dessert specials: the Rose Hibiscus Broken Glass Pie or the Chocolate Tahini Cake.
Pike Place Market
The Gum Wall is obviously a tourist trap, but consider reclaiming it to commemorate the occasion of actually going on a successful date (no small feat). As you probably already know, it's literally right next door to Pike Place Market, so you have your pick of activities pre- or post-photo-op.
Pike Place Market
Remember the last time you stood in a crowded room full of strangers, lukewarm beer in hand, waiting for the band onstage to play your favorite song? Sadly, we're not going back there anytime soon, but hosting your own listening party for you and your date is a pretty good consolation prize. Pick up some vinyl at, say, Holy Cow Records, and get your fix.
Pioneer Square
Most offices downtown are still totally closed, meaning that art galleries and other cultural mainstays are feeling the pain of lost foot traffic. Silver lining? No crowds. Take your date to Pioneer Square to support and explore SOIL Gallery, the local artist collective and nonprofit which has been doing the work of exhibiting, developing, and advancing "innovative art of diverse media and content" since 1995.
Pioneer Square
Get ready for your most meditative date yet. This garden, which memorializes the location where UPS was founded in 1907, will calm your nerves and—here's hoping—prompt some deep, thoughtful conversation. Win-win.
Fremont
The best things in life are (almost) free. Case in point: a coffee on a waterside bench on the Burke-Gilman Trail, which will run you about $4 and provide the perfect backdrop for an early morning romance.
Sign up here for our daily Seattle email and be the first to get all the food/drink/fun in town.